Katie Archibald column: Wearing a helmet for a living is a licence for slap-dash hair dyeing
Life under a helmet means getting away with slap-dash hair dyeing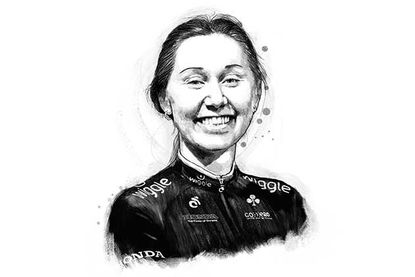 "Don't mess too much with your hair, or by the time you're 40, it will look 85." Baz Luhrmann's advice in Everybody's
Free (To Wear Sunscreen) and advice that I've had soundly passed on to me countless times.
I don't remember the very first time I dyed my hair but that's because it was unremarkable: I dyed it brown. Please note I already have brown hair. I think I was about 13 years old though, so we can mark that as the point my interest was sparked, even if the resulting ambition was a very small flame.
>>> Katie Archibald column: Three minutes of fame for Gus Gillies, bike mechanic
When I was 16 I got my tongue pierced and, though I can't remember if this was a deliberate distraction ploy or not, I bleached my hair the same day and managed to keep the tongue piercing hidden from my mother for a week. A trained hairdresser, I expect she was suitably occupied stressing about my garish yellow mop to wonder why I wasn't speaking.
My true flair for destructive hairdressing, however, came when I was about 17 and in my final year at school. Attendance would eventually become more of an optional feature, but this was fairly early in the academic year so I remember that — like it or not — I had to go to school that day.
Which isn't to imply I wanted to hide my fantastic new turquoise green hair. It was wondrous. What I wanted to hide was my new turquoise green hand. Age 13 I'd had the desire but no vision.
Age 17 I was full of desire, full of vision, but lacking in practical application. I forgot to buy gloves to put the dye onto my hair but was so convinced I needed turquoise hair TODAY, that I pasted it on with one ungloved hand. It took over a week for the dye to leave my hand. Less than a day for the Avatar jokes to wear thin.
I'm now 24 and still dye my hair. It's with less vigour and haste than before, but with similarly low-skilled methods. I wear a helmet every day, which could be a reason not to bother dyeing it.
Instead I mark it as a reason not to bother dyeing it well. I'll listen to Baz Luhrmann when I'm 40.
Thank you for reading 20 articles this month* Join now for unlimited access
Enjoy your first month for just £1 / $1 / €1
*Read 5 free articles per month without a subscription
Join now for unlimited access
Try first month for just £1 / $1 / €1