Conservatives come under fire over plans to crack down on 'dangerous cycling'
Walking and cycling minister Jesse Norman has since apologised for the tweet, but Cycling UK says the measures proposed to protect cyclists and walkers are not good enough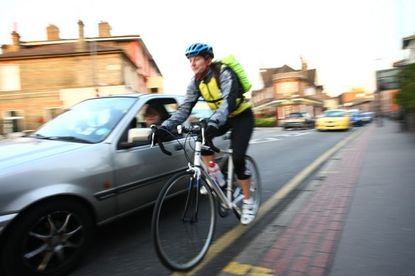 (Image credit: Grant Robinson)
The Conservative party has come under fire after tweeting that it would be "cracking down on dangerous cycling" to protect the "most vulnerable road users."
The tweet accompanied a press release from the Department for Transport (DfT), which outlined plans for a consultation into the introduction of a new offence for cyclists, equivalent to causing death by dangerous driving.
The consultation is part of a larger drive, which also includes clamping down on dangerous drivers and aims to get more people commuting via "two wheels, or two feet".
However, the tweet which targeted cyclists alone prompted anger and disappointment.
The DfT's own figures show that in 2016, 448 pedestrians were killed on Britain's roads – three of those deaths involved bicycles.
In the last decade, 99.4 per cent of all pedestrian deaths have involved a motor vehicle.
Focus on the minority of cases involving bicycles ramped up after fixie rider Charlie Alliston collided with Kim Briggs – killing her - in February 2016.
Alliston, then 20, was cleared of manslaughter but received an 18-month prison sentence, after a court found him guilty of "wanton and furious driving."
Theresa May committed the Government to considering new laws designed to tackle "dangerous cycling," soon after, in September 2017.
In its tweet, which has since been deleted, the Conservative party said: "we're launching a consultation into dangerous cycling so that our most vulnerable road users are protected."
Olympic medalist and Tour de France rider, Chris Boardman, responded by saying: "it makes me feel genuinely sick."
The cycling and walking commissioner for Greater Manchester added that those unhappy about the message being sent by the conservatives should complain to the party, and walking and cycling minister, Jesse Norman.
He said "it's not me that needs to know how you feel – that's me, with the dead mother, crushed to death by a car" – referring to the tragic death of Carol Boardman in July 2016.
Norman has since apologized for the message put out on social media.
Replying directly to Boardman, he said "it [the tweet] did not reflect either this set of policy announcements or the very careful work the Government has done to improve road safety for all users, including cyclists. On behalf of all involved, I would like to apologise."
In June 2018, the DfT announced plans to clamp down on close passes and spend money on training driving instructors about cycling safety.
On launching the consultation into dangerous cycling, Norman is quoted to have said: "Now we are taking further steps. These include a consultation on new cycling offences, further work on national guidance on cycling and walking infrastructure, and improvements to the Highway Code."
The national charity, Cycling UK, believes that these plans are simply "tinkering round the edges", expressing disappointments at the steps taken since the Government first promised in full review in 2014.
Head of campaigns at Cycling UK, Duncan Dollimore said: "The way the justice system deals with mistakes, carelessness, recklessness and deliberately dangerous behaviour by all road users hasn't been fit for purpose for years."
"Adding one or two new offences specific to cyclists would be merely tinkering around the edges. If the Government is serious about addressing behaviour that puts others at risk on our roads, they should grasp the opportunity to do the job properly, rather than attempt to patch up an area of legislation that's simply not working," Dollimore said.
The DfT has also announced a review of the Highway Code, to make it clearer to motorists how to pass cyclists safely.
Cycling UK has long campaigned for a review of the code – and it was once of its key recommendations in response to the Governments Cycling and Walking Safety Review.
In 2017, the charity launched its 'Too Close for Comfort' campaign, and has since provided 38 of 45 police forces in the UK with 'close pass mats' to be used to educate the public about appropriate passing distance.
Supporting the approach of education over prosecution, Roger Geffen, Policy Director: "Most close passes come from a position of ignorance rather than malicious intent and it's heartening to see the Government is acknowledging the problem of close passing with a review of the Highway Code."
Alongside its promise to crack down on "dangerous cycling" the DfT says it plans to design new guidance for local authorities when planning cycling infastructure.
Mr Geffen said: "This is a vital move in the right direction. At present, the confusing plethora of often-contradictory design guidance is clearly failing to ensure safe and sensible designs.
"Too many cycle facilities in the UK are still worse than useless, and in some cases even downright dangerous."
Thank you for reading 20 articles this month* Join now for unlimited access
Enjoy your first month for just £1 / $1 / €1
*Read 5 free articles per month without a subscription
Join now for unlimited access
Try first month for just £1 / $1 / €1