Government to help police forces crack down on close passes with additional resources
Government is introducing spending designed to train driving instructors about cycle safety and providing police forces with educational material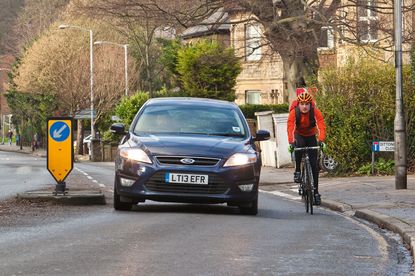 Police will be given greater resources to help them 'crack down' on close passes and driving instructors better educated around cycle safety as part of new government plans to encourage cycling and walking.
At a conference today, transport minister Jesse Norman MP unveiled plans to spend £500,000 training driving instructors to incorporate cycling safety into their lessons for learners.
The training for driving instructors will be provided by Bikeability - the government-funded training standard for cyclists and will "ensure cyclists' safety is at the forefront of their minds when they teach new drivers."
Training materials will also be provided to police forces, to help support them in ensuring "more drivers are made aware of the need to leave safe distances when overtaking cyclists".
Mr Norman said at the Cycle City Active City conference in Manchester, and : "The benefits of cycling and walking are enormous. For people, it means cheaper travel and better health. For businesses, it means increased productivity and increased footfall in shops, and for society as a whole it means lower congestion, better air quality, and vibrant, attractive places.
"But we will only achieve our ambitious aims if people feel safe when they walk and cycle.
"We shouldn't only concentrate on catching and punishing drivers when they make a mistake, but try to ensure that they have the skills and knowledge to drive safely alongside cyclists in all conditions."
The measures are being introduced following a government review into bike safety and are part of the Department for Transport's plans to spend over £7 million as part of its first response to the Cycle Safety review.
The speech comes two days after the city's walking and cycling commissioner, Chris Boardman unveiled plans to build 75-miles of segregated cycle lanes, amongst 1000-miles of walking and cycling routes.
It's also just weeks since a Cycling UK commissioned poll showed that 56 per cent of UK adults were put off cycling by the threat of close passes.
Some police forces are already actively discouraging close passes.
For example, in the West Midlands they've been doing it since September 2016. Police there set about educating drivers, using visual aids to teach drivers what an appropriate distance was, then operated undercover to catch those who did not provide enough room.
The result is a reported 20 per cent drop in casualties among vulnerable road users and a 50 per cent reduction in close passes.
PC Mark Hodson, from West Midlands Police's Road Harm Reduction Unit, said: "Cycling groups are telling us that, on the whole, motorists are becoming more considerate and understand we will prosecute them if they endanger vulnerable road users.
"Drivers who endanger vulnerable road users need to understand that we run operations to catch them, and if they avoid our officers we can still prosecute them using footage provided by cyclists and other motorists."
The Highway Code Rule 163 advises that drivers "give motorcyclists, cyclists and horse riders at least as much room as you would when overtaking a car" - but research carried out by Rachel Aldred, a reader in transport at Westminster University, has shown that riders on UK roads are subject to a close pass roughly every 10 to 20 miles.
A ComRes survey of 2039 British adults reveals that 52 per cent are not aware of the recommendation made by the Highway Code. Indeed, eight per cent of respondents reportedly state that Highway Code recommends you should only give cyclists "space that is at least the width of their handlebars."
Duncan Dollimore, head of campaigns at Cycling UK, said: "Cycling UK has long argued that the driver training and testing processes should ensure that drivers are made aware of and understand both cyclists' needs and their safety.
"Training the trainers, and embedding cyclists' safety in the mindset of driving instructors, is a fantastic first step towards achieving this."
Dollimore added: "Education and awareness on its own is not enough, which is why close pass operations by police forces have proved so effective in places like the West Midlands.
"It's fantastic that there's now a commitment to make additional government resources available to help the police crackdown on close passing."
* This story was updated at 16:00pm on June 29 to remove mention of the government encouraging police forces to fine drivers for close passes
Thank you for reading 20 articles this month* Join now for unlimited access
Enjoy your first month for just £1 / $1 / €1
*Read 5 free articles per month without a subscription
Join now for unlimited access
Try first month for just £1 / $1 / €1