Plans for Manchester to receive 75-miles of Dutch style cycling lanes unveiled
Chris Boardman says 'crucially, the proposed network is not for people who already cycle or walk'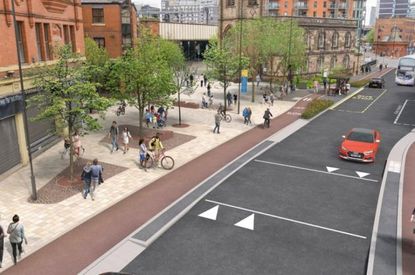 Manchester city has unveiled plans for a thousand miles of cycling and walking routes including 75-miles of Dutch style segregated lanes.
The network – called Beelines after the city's 'worker bee' emblem - will be the largest of its kind in the UK and the will cost £500m, an initial investment that's part of a larger plan to spend £1.5billion in sustainable transport.
Championing the plans, Manchester's first ever walking and cycling commissioner, Chris Boardman says that the Beeline sign will indicate a path suitable for "a competent 12-year-old" to use safely.
Announcing the plans, which are due to be formally approved by Greater Manchester combined authority on Friday, Boardman commented: "Crucially, the proposed network is not for people who already cycle or walk for the majority of their journeys. Its focus is to enable the two thirds of people who currently use their car as their main mode of transport, to walk or cycle."
On major roads, the paths will be segregated, Boardman said: "these must be safe, attractive spaces alongside high quality footways."
>>> Tips for commuting to work by bike
The plans - which are detailed on the Transport for Greater Manchester website - include 1,400 'safe crossings' marked out with zebra crossings at every side road, as well as 25 "filtered neighbourhoods", where the priority is given to the movement of people.
Boardman added: "We can unlock the potential of our local roads and communities by providing easy crossing points, thereby unlocking opportunities to walk and cycle. These strategically-placed crossing points will feed local bike traffic into the more costly, fully-segregated routes, enabling even longer journeys to be made actively."
>>> Is the Cycle to Work scheme still relevant in 2018?
It is hoped that the provision, afforded by greater spending, will turn the city around from its current state – where 250 million car journeys a year are less than 1km. A large percentage of those 0.6 mile journeys are school runs, and currently two per cent of children cycle to school – versus 50 per cent in the Netherlands.
The plans were published on Wednesday and the investment is comparable to expenditure the likes of Amsterdam and Copenhagen.
Greater Manchester's mayor, Andy Burnham said: "Greater Manchester has a long history of doing innovative things and our approach to Beelines is no different. This proposal is bold and I make no apology for that. If we are to cut congestion and clean up our air, decisive action is needed.
"I want to make Greater Manchester one of the top 10 places in the world to live and it is action of this sort which will help to deliver that promise."
Boardman worked with each of Greater Manchester's 10 combined authorities on the plans, and each borough could choose one key route for the segregated lanes to appear on – most of them opted for the road into Manchester city.
Thank you for reading 5 articles this month* Join now for unlimited access
Enjoy your first month for just £1 / $1 / €1
*Read 5 free articles per month without a subscription
Join now for unlimited access
Try first month for just £1 / $1 / €1