Lorries and close passes are the biggest deterrents putting people off becoming cyclists, poll concludes
Better bike lanes and more serious approach to bad driving would encourage people to cycle more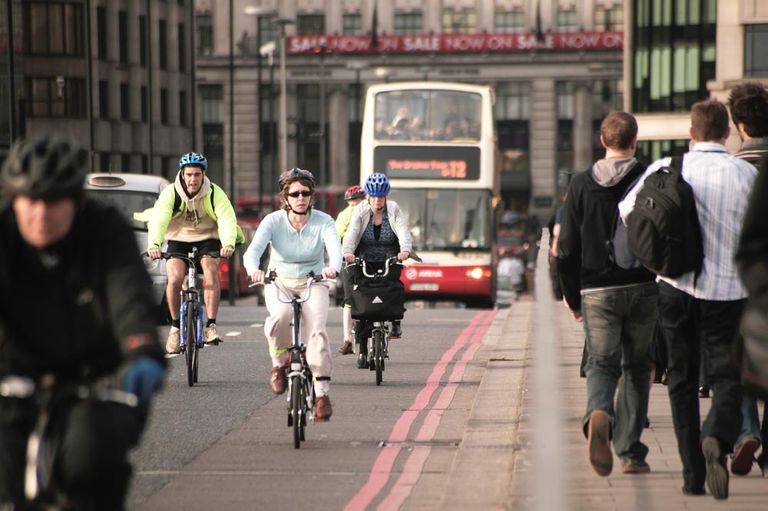 (Image credit: Richard Baybutt)
Sharing the road with lorries, the threat of being passed too close by vehicles, and poor road surfaces are the top three factors putting people off cycling on Britain's roads, a survey has shown.
The YouGov poll - which was sent to a random selection of individuals from a pool of 800,000 individuals - was completed by 2,024 adults.
It was commissioned by Cycling UK, and publication of the results coincides with the national cycling charity's submission to the Government's Cycling and Walking Investment Strategy safety review.
Over half of those who responded - 57 per cent - said they were worried about sharing the road with lorries and large vehicles. In a joint close second, 56 per cent said they were worried by close passes and the same number selected poor road conditions, such as potholes, as a factor.
Other concerns included crossing busy junctions and roundabouts alongside other vehicles (49 per cent) and car doors being opened in their path (40 per cent).
The questionnaire also asked participants what would encourage them to cycle more - with separate cycle pathways away from the roads being selected by 46 per cent of respondents, segregated bike lanes chosen by 45 per cent and 42 per cent wanting better road conditions.
More traffic officers on the roads (14 per cent), speed limits being more strictly enforced (17 per cent) and cycle training (11 per cent) proved to be less popular suggestions. However, 30 per cent of respondents were in favour of bad driving being taken more seriously by police.
"The Government wants more and safer cycling, but as Cycling UK's research shows, people who don't currently cycle need change if they're going to choose to cycle short distances rather than drive," said Cycling UK's head of campaigns Duncan Dollimore.
The charity is calling on the government to make fundamental changes in six areas:
Changes to the Highway Code
Safer vehicles, especially lorries
Road and street design
Enforcement
Road traffic offences and penalties review
Funding
In 2016, 64 per cent of all trips between one and two miles were made by car - with bike rides adding up to just 2 per cent of all journeys.
Cycling UK believes making the bike a more viable option could yield improvements in air quality, relieve some of the burden on the NHS and improve congestion and accidents on the roads.
"Cycling is still a minority activity in the UK... Those who do cycle put up with the potholes and dangerous traffic conditions daily and still continue. However, it's not always pleasant and it's no surprise most people do not consider cycling for their short every day journeys.
"Making cycling more accessible and safer will give people the alternative transport solution they need. Cycling UK's 'Cycle safety: make it simple' explains how this can be achieved, simply and cost effectively, and we look forward to working with the Government to help bring about the long awaited cycling revolution the UK desperately needs," added Dollimore.
Michelle Arthurs-Brennan is Cycling Weekly's Tech Editor, and is responsible for managing the tech news and reviews both on the website and in Cycling Weekly magazine.
A traditional journalist by trade, Arthurs-Brennan began her career working for a local newspaper, before spending a few years at Evans Cycles, then combining writing and her love of bicycles first at Total Women's Cycling and then Cycling Weekly.
When not typing up reviews, news, and interviews Arthurs-Brennan is a road racer who also enjoys track riding and the occasional time trial, though dabbles in off-road riding too (either on a mountain bike, or a 'gravel bike'). She is passionate about supporting grassroots women's racing and founded the women's road race team 190rt.
She rides bikes of all kinds, but favourites include a custom carbon Werking road bike as well as the Specialized Tarmac SL6.
Height: 166cm
Weight: 56kg
Michelle Arthurs-Brennan on Instagram
Michelle Arthurs-Brennan on Twitter