Consistent funding required to increase cycling in the UK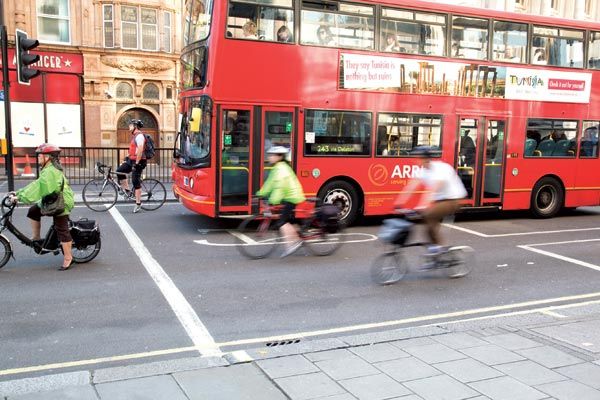 This week's All Party Parliamentary Cycling Group report firmly asserted government needs to recognise the powerful case for "substantial investment in cycling" with ambitious targets to achieve 25% of journeys by bike by 2050.
The report, published on Wednesday, says with moderate sums of money - an average of £3 million each - so called Cycling Demonstration Towns, which include Exeter and Darlington, have increased cycling by a third.
It adds consistent funding is required to increase cycling in the UK, referencing Holland's consistent £24 annual spend on cycling per head and the economic benefits reaped that brings.
In response to the report, Sustrans' Policy Director, Jason Torrance, told Cycling Weekly: "Significant funding needs to be invested in enabling everyday cycling consistently over a number of years if we are to transform our roads into places where cyclists feel they belong and are safe.
"England outside the capital still spends less than £2 per head on cycling; far too low when compared to our European neighbours. Governments across the UK need to create cycling budgets of at least £10 per person per year, increasing to £20 - if we are to realise the full potential that cycling is able to contribute to the health and wealth of the nation, and the quality of life in our towns and local communities."
The report adds we "should not be daunted" about reaching European levels of cycling. It says in New York, cycling doubled in four years thanks to "investment in high-profile cycling improvements"; and Seville which achieved a tenfold increase in three years as a result of concerted political commitment.
Funding is among the report's five broad topics of recommendations, along with redesigning roads, safety, training and political leadership.
In Prime Minister's Question Time this week, David Cameron commended what the London Mayor has done to promote cycling, adding it is up to councils to do more.
However, Chris Boardman on Politics Today on Thursday said more commitment is needed, including that we need to look at the cycling budget within the greater transport spend, rather than something marginal, as inactivity costs millions of lives annually.
Boardman added that cyclists and pedestrians need to be incorporated at every stage of development, rather than simply considered.
Cycling should be for everyone, the report concludes, not just stereotypical affluent young men; that it is a cheap, healthy means of transport that should be available to all.
Related links
Remove barriers to get Britian cycling say MPs in new report
Thank you for reading 5 articles this month* Join now for unlimited access
Enjoy your first month for just £1 / $1 / €1
*Read 5 free articles per month without a subscription
Join now for unlimited access
Try first month for just £1 / $1 / €1