Contador now cleared of clenbuterol charges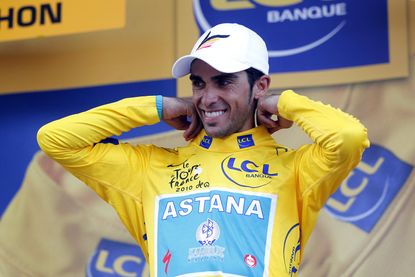 The Spanish cycling federation has cleared Alberto Contador of charges of doping with clenbuterol. The news was communicated to his lawyer this afternoon in Madrid and a statement later released by Contador's press office.
Contador is expected to give his full reaction to the news in an interview on Spanish television later this evening.
The Spaniard faced up to a two-year ban for doping over his positive for clenbuterol in the Tour 2010, but it would appear that the Spanish Cycling Federation [SCF] has been swayed by his lawyers arguments that he did not intentionally dope.
Contador is now free to race, and it is widely believed that he will be a starter for the Saxo Bank squad in the Tour of the Algarve, in Portugal, on Wednesday. He has already won the race twice, including last year.
The SCF has reacted angrily to suggestions that its decision has been influenced by the large numbers of Spanish politicians, including president Jose Luis Rodriguez Zapatero, who lined up recently to claim that there was no legal reason for Contador not to be cleared.
In an official release, the SCF has denied that it has been affected by any outside pressure , and indeed - prior to the decision being published - UCI spokesman Enrico Carpani praised the quality of their work in the Contador case. Afterwards, though, the UCI has merely limited itself to saying it will study the decision, whilst observing the discrepancies between the yearlong proposed sentence and what has finally happened.
What then is going to happen? The chances of the case ending up in the Court of Arbitration for Sport are high. WADA have yet to react, because although key official at some of their anti-doping labs have said a threshold on certain products like clenbuterol - a key question in the Contador case - could be necessary, others appear to disagree completely.
And for the SCF there is no getting away from the fact that for the last ten days ago they were planning to give Contador a one-year sentence, which, had the federation actually been able to stop its officials from leaking information for once, should never have been made public. That one-year sentence would have been partly in line with anti-doping legislation, which states clearly that all athletes are responsible for all banned substances in their body, unless they can prove it was unintentional. Given Contador had eaten the meat he said had caused the positive, not an easy thing to do.
However, in the Contador case it has backtracked completely, faced, so it is said, with new evidence. The principal shift in the SCF's stance has come about, apparently, thanks to WADA deciding it would not challenge the German Table Tennis Federation's decision to clear Dimitrij Ovtcharov after he tested positive for clenbuterol allegedly as a result of contaminated meat.
Curiously enough, Ovtcharov was backed in his claims of innocence by the director of the same Cologne laboratory who found Contador's traces of clenbuterol.
There is one key difference, of course, which is that Ovtcharov tested positive after eating meat in China, where clenbuterol use is widespread. Even WADA's deputy director of their lab there has recognised that.
But how widespread is clenbuterol use in Europe, where it is banned? Contador's lawyers say that the testing procedures in the Basque Country at the very least are woefully inadequate, and they've produced scientific research to back up their case. Others, though, disagree.
Whatever the truth, the case - highly controversial, extremely complex and more than a shade tedious - rumbles on. It has taken a hugely unexpected turn. Contador for now remains Tour 2010 winner and is free to race.
But ultimately regardless of the SCF there is still only one final verdict that will matter: at the Court of Arbitration for Sport. The next question is: will the UCI and WADA actually appeal?
Related links
Spanish media claims Contador could avoid ban
Contador could use 'Gasquet's Kiss' theory to back case
Contador says he will fight on despite provisional ban
UCI awaits final Spanish decision in Contador case
Thank you for reading 20 articles this month* Join now for unlimited access
Enjoy your first month for just £1 / $1 / €1
*Read 5 free articles per month without a subscription
Join now for unlimited access
Try first month for just £1 / $1 / €1