Contador's lawyers maintain contamination cause of doping positive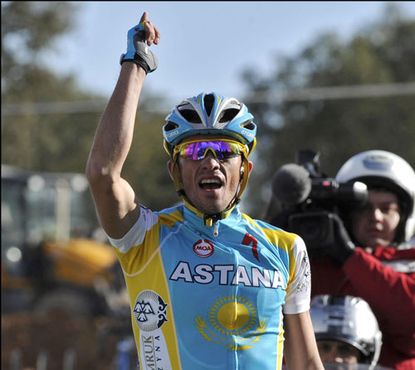 Alberto Contador's lawyers will use Richard Gasquet's successful cocaine contamination appeal in their defence of the Spanish cyclist. They are defending him against a positive test for Clenbuterol at the Tour de France.
"Not one of the scientists we have worked with has said it couldn't have been anything but contamination," Contador's lawyer, Andy Ramos told the Associated Press in an article yesterday. "The levels are ridiculous - it couldn't be anything else."
Spain's Contador tested positive on July 21 in Pau, the second rest day of the Tour de France. He went on to win the race for a third time by 39 seconds over Luxembourg's Andy Schleck. However, once the test was processed after the race, it revealed the levels of Clenbuterol in Contador's urine at 50 picograms or 0.000 000 000 05 grams per millilitre.
The World Anti-Doping Agency (WADA) prohibits Clenbuterol and its presence is considered a doping positive. The drug helps breathing and weight loss, and some farmers use it to produce lean beef. WADA says, though, that an athlete is ultimately responsible for what they consume.
Italian cyclist Alessandro Colò, like Contador, tested positive for Clenbuterol (200 picograms) in April. He said it came from a contaminated steak but he received a one-year suspension from the Italian cycling federation in September.
The Spanish federation is investing Contador's case now and may rule by February. The International Cycling Union (UCI) and WADA, however, have both said that they will appeal an acquittal to the Court of Arbitration for Sport (CAS).
Contador's lawyers are pushing for an acquittal based on contamination from a steak that team Astana bought in Irún, Spain. According to yesterday's Associated Press article, they will use a similar defence that lawyers used in tennis player Richard Gasquet's case. The Frenchman avoided a lengthy ban, receiving three months only, after his lawyers proved he ingested cocaine from kissing a woman.
Andy Ramos will also use the case of Dimitrij Ovtcharov. The German table tennis player also tested positive for Clenbuterol, 75 picograms, and was eventually acquitted. WADA, however, has since appealed the case to CAS.
Ramos has to prove that the Irún butcher shop sold team Astana a contaminated steak. WADA reportedly sent investigators to the butcher shop and found no evidence to back Contador's defence. Their findings correspond with European Union rules, which since 1996, ban farmers from using Clenbuterol. The EU controlled 83,203 animals in Europe between 2008 and 2009 and only one was contaminated, and it was not from Spain.
Spanish investigators may also consider the plasticizers that were reportedly found in Contador's urine on July 20. Manufacturers use them to make blood bags and their presence may indicate a rider had a blood transfusion. The analysis to test this link, however, is not yet approved by WADA.
Contador met with his new team, Saxo Bank last week in Spain to prepare for the season. He may never wear the Saxo Bank jersey or be forced to wait for months as his case is likely to span months with the possibility of appeals from both sides.
Related links
WADA to appeal to CAS over contaminated meat case
Contador doping case: WADA ready to appeal, Landis critical
Contador slams Astana for lack of support during clenbuterol case
WADA dismisses Contador's clenbuterol claims
Contador welcomes disciplinary hearing into clenbuterol case
Contador strengthens defence team in clenbuterol case
What next for Contador?
Spain's sports minister urges patience in Contador case
Saxo Bank to continue team sponsorship with or without Contador
Riis has a plan B is Contador is banned
How does clenbuterol testing work
Contador considers quitting cycling due to doping scandal
Tension rises over Contador's clenbuterol case
Contador case splits experts' opinions
Alberto Contador: The clenbuterol, the beef excuse and traces of plastic
Spanish authorities investigate source of Contador's mystery meat
McQuaid quiet on Contador case but says Spain can do more
Did Contador have a transfusion during the Tour?
Contador points finger at imported meat for clenbuterol positive
Contador tests positive for clenbuterol says governing body
Thank you for reading 20 articles this month* Join now for unlimited access
Enjoy your first month for just £1 / $1 / €1
*Read 5 free articles per month without a subscription
Join now for unlimited access
Try first month for just £1 / $1 / €1