Bike shops fear 'turmoil' if Wiggle floods market with discounted stock
As online retailer enters administration, smaller businesses are both concerned and optimistic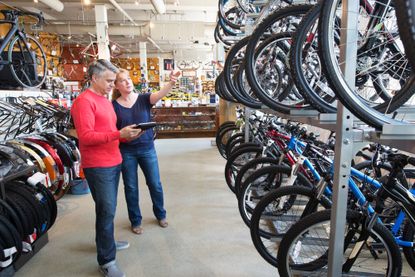 (Image credit: GettyImages)
Independent cycling dealers have warned the industry could face "turmoil" if discounted stock floods the market as part of the administration of online retail giant Wiggle Chain Reaction Cycles.
News that WiggleCRC had appointed administrators broke on Friday morning, following a turbulent financial period for the group and its parent company, Signa Sports United (SSU), who lost €150m (£130m) in financing.
Despite assurances from the administrators that WiggleCRC will continue to trade as normal, independent retailers are now fearful of potential discounting.
"There's going to be a lot of disruption," said Jonathan Harrison, director of the Association of Cycle Traders, an organisation that supports specialist cycle retailers. "At the moment, the industry is going through so much discounting because of overstocks. This is only going to fuel that fire a bit further.
"There are going to be so many bikes on the market that are discounted."
Much of today's overstocking comes after retailers increased supplies during the Covid pandemic cycling boom.
Last week, Wiggle and Chain Reaction Cycles launched their Black Friday sales two weeks earlier than last year, slashing prices by up to 60% on some items. There are worries now that any additional discounts could undercut smaller businesses even further.
"That's my biggest concern," said Luke Humphreys, owner of the UK-based wheel brand Pacenti. "I think the industry will be in turmoil because you have to think about how much stock [WiggleCRC] have got.
"We're already flooded with cheap products at the moment and that cheap product is killing our ability in the industry to sell at a profit."
Humphreys added that the products offered by WiggleCRC have "very high stock value", which, if sold at bargain prices, could be "very damaging" for the industry.
Another industry source told Cycling Weekly that there are already a number of smaller companies "on life support", who could be forced out of business if the market price of stock falls.
It is unknown at this stage whether WiggleCRC's administrators, FRP Advisory, will strip the group's assets and sell them off individually. Buyers are currently being sought for the entire business.
Wiggle began trading as a bike shop in Portsmouth in 1999 and went on to build a vast online empire. In 2016, the company merged with Northern Irish brand Chain Reaction Cycles, also previously a humble bike shop, before the group was acquired by Berlin-based Signa Sports United in 2021.
Despite concerns of discounting, there is, however, a feeling of optimism among local bike shops in the face of WiggleCRC's troubles.
Ben Robinson of Oxford-based Summerton Cycles, is hopeful that WiggleCRC's administration will lead to "a renewed trust in brick and mortar stores".
"I expect we'll see a short-term decrease in sales on parts and accessories as savvy consumers take advantage of the discounts on offer," Robinson said. "Conversely it may help our bike sales if consumers become wary of the lack of warranty and after-sale support should they have any issues with their purchases."
The same sentiment is shared by Gavin Hudson, owner of Butternut Bikes in North London, who said "many people in the trade will be rejoicing".
"We will have to see what the impact of clearance stock, unpaid bills and the possibility of taking down other brands and distributors will be," Hudson said. "But it's an opportunity for us to re-engage with customers and to show our customers that we can provide good value on stock. .
"It would be nice to have people visit their local bike shop as their first port of call."
WiggleCRC and the company's administrators chose not to provide comment when approached by Cycling Weekly.
If you've been affected by WiggleCRC entering administration in any way we'd like to hear your story, email: cycling@futurenet.com
Thank you for reading 20 articles this month* Join now for unlimited access
Enjoy your first month for just £1 / $1 / €1
*Read 5 free articles per month without a subscription
Join now for unlimited access
Try first month for just £1 / $1 / €1