Wiggle and Chain Reaction offer Black Friday deals of up to 60 per cent off amid financial uncertainty
Black Friday sales launched early at both brands as it emerges that they are in financial trouble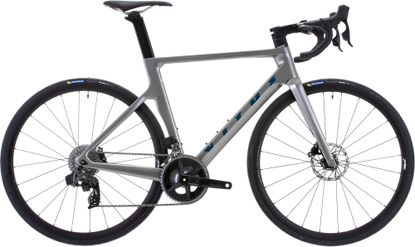 (Image credit: Vitus)
Both Wiggle and Chain Reaction have launched their Black Friday bike deals early, offering up to 60 per cent off items across both retailers, amid reports of financial woes for their parent company.
A month before the weekend of sales is due to take place, both Wiggle and Chain Reaction have gone big with their sales, with up to 60 per cent off kit, 40 per cent off wheels and tyres, and 30 per cent off bikes across the websites.
Last year, Wiggle launched its Black Friday sales on November 2, and none of its main competitors in the online cycling retail market have yet launched their equivalent offers.
Deals range from over £1,000 off a Vitus ZX-1 EVO RIVAL AXS Road Bike to a third off many items of dhb kit. Helmets, like a Kask Rapido, are similarly reduced, with this model 50 per cent off, while parts, like a Shimano 105 5800 11 Speed Road Cassette, has over 50 per cent off.
The move to bring forward Black Friday follows a week in which it emerged that the parent company of Wiggle Chain Reaction Cycles (CRC) has hit further financial trouble as €150m of financing from its parent company was withdrawn.
Signa Sports United (SSU) , the parent company of Wiggle CRC and a host of other retail websites, announced on Tuesday that its own parent Signa Holding had terminated its commitment to provide equity to the company.
In a statement SSU added that it had relied upon that commitment to "draw funds to meet its near-term obligations and for its going concern assessment". The statement did not make it clear how it intended to continue operating without the financing.
Now, many of the own-brand offerings from Wiggle Chain Reaction Cycles, like Vitus, Dhb and Nukeproof are now on sale at reduced prices.
This week's news was just the latest financial blow to the cycling mega-retailer's parent company.
Last week, CW reported the firm was suffering "'severe liquidity challenges" and that it would restructure and delist from the New York stock exchange.
As a result, SSU said that it would begin a review of its operating model, which it says will include the "termination or winding down of non-performing assets", while noting that it's bike segment had "continued to lag management expectations" of financial performance.
"As the company enters FY24, it is the belief of SSU management that the market disruptions associated with market overstock are likely to persist into late FY24 and will adversely impact the company's ability to achieve its near-term growth and profitability targets."
In August this year, Cycling Weekly reported that Wiggle Chain Reaction Cycles recorded a pre-tax loss of over £97million in the year to 30 September 2022.
Thank you for reading 20 articles this month* Join now for unlimited access
Enjoy your first month for just £1 / $1 / €1
*Read 5 free articles per month without a subscription
Join now for unlimited access
Try first month for just £1 / $1 / €1