Cycling report to be debated in House of Commons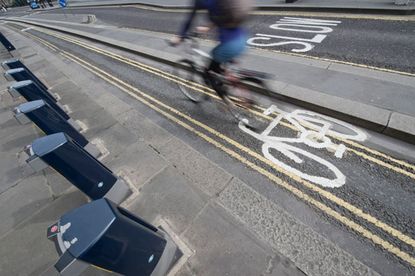 The Get Britain Cycling report, will be debated in the House of Commons with a vote on 2nd September, it was announced yesterday.
The All Party Parliamentary Cycling Group (APPCG) report recommends £10 per head spending on cycling, urban speed reductions to 20mph and widespread cycle training for children, among other measures.
The APPCG's Chair and MP for Cambridge, Dr Julian Huppert, told Cycling Weekly: "I am delighted that a date has been set for this debate.
"The cycling report made important recommendations which the government must act on if we are serious about improving safety for cyclists in our towns and cities and encouraging more people to take up cycling.
"This debate will keep the momentum going to make sure cycling stays at the top of the government's agenda."
An e-petition calling for implementation of the report's recommendations achieved more than 69,000 signatories. Usually 100,000 are needed to trigger a Commons debate.
The All Party Parliamentary Cycling Group is now urging people to ask their MPs to attend and vote, though this does not guarantee the government will implement the recommendations.
Cycling achieved a debate in Westminster Hall last February, attended by 77 MPs, while the last Commons cycling debate was in 1997.
This announcement comes after government figures showed a 10% increase in cyclist fatalities in 2012 from 2011, while Friday saw the first Barclay's Cycle Hire fatality in London, when a 20-year-old French student was killed while riding on a Cycle Superhighway.
Thank you for reading 10 articles this month* Join now for unlimited access
Enjoy your first month for just £1 / $1 / €1
*Read 5 free articles per month without a subscription
Join now for unlimited access
Try first month for just £1 / $1 / €1