Cycling worth £2.9bn to UK economy, says report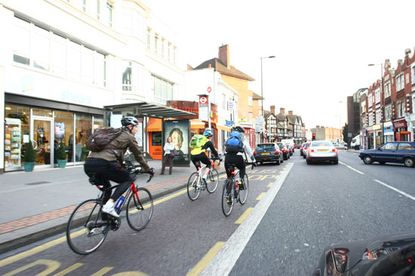 A report prepared by the London School of Economic (LSE) for Sky and British Cycling estimates that cycling is worth £2.9 billion to the UK economy - or £230 for every cyclist in Britain.
According to the LSE's findings, nearly a quarter of all the UK population is now a cyclist, with 13 million Britons regularly riding a bike.
The number of cyclists in Britain has increased 11 per cent on the previous year, with 208 million journeys made by bike in 2010.
LSE's report calculated the 'gross cycling product' figure of £2.9 billion based on retail figures, cycle-relating manufacturing and cycle-related employment. It found that 3.7 million cycles were sold in the UK during 2010 at an average price of £439.
Rather than just contributing to the country's finances, cycling also helps boost the health of the workforce. Regular cyclists were more healthy than their non-cycling colleagues, and took one day less a year off due to ill health.
"The good news is that structural, economic, social and health factors seem finally to have created a true step-change in the UK's cycling scene," said LSE's Dr Alexander Grous. "The growth in involvement we've witnessed in recent years feels like a sustainable trend for the first time.
"In order to build on this momentum and follow the lead, in participation terms, of countries like Denmark and the Netherlands, it's now essential that the industry focuses on converting the many occasional, lapsed and leisure cyclists into regular and frequent riders."
Gross Cycling Product report - highlights
Net addition of 1.3 million cyclists in 2010 take total UK cyclists to 13 million representing 27 per cent of the population, of these new cyclists 500,000 are frequent or regular.
Of total cyclists in the UK 3.5 million (41%) are Frequent Cyclists (those who cycle once a week or more), 4.3 million (33%) are Regular Cyclists (those who cycled 12 or more times in the past year), 3.5 million (27%) are Occasional Cyclists
208 million cycle journeys made in 2010
Over 200,000 people took part in Sky Ride events across the UK in 2010
22,000 people daily share 5,000 bikes through the Mayor of London's Barclays Cycle Hire scheme
£2.9 billion gross value of cycling to the UK economy, equalling a gross cycling product of £230 per cyclist per year
3.7 million bikes were sold in the UK in 2010 representing a 28 per cent increase over 2009 figures.
Bike sales in the UK in 2010 had a retail value of £1.62 billion
£51 million of UK retail sales was accounted for bikes manufactured in the UK
The average price per bike in 2010 was £439, lower than an average bike price of £493 in 2009
Around 2,000 retail stores currently operate across a spectrum of activities including sales, servicing, workshops, and other speciality areas
There are around 1,000 additional independent specialist cycling shops
Thank you for reading 5 articles this month* Join now for unlimited access
Enjoy your first month for just £1 / $1 / €1
*Read 5 free articles per month without a subscription
Join now for unlimited access
Try first month for just £1 / $1 / €1