Dutch headwind championships cancelled – due to high winds
Storm Ciarán has proven too much even for the hardy riders of this quirky event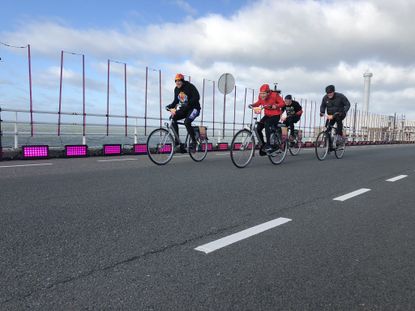 (Image credit: NK Tegenwindfietsen / X)
Organisers have been forced to cancel the Dutch National Headwind Championships – due to high winds.
With Storm Ciarán battering the Dutch coast, conditions have gone way beyond the force seven winds required for the event, which pits competitors against the elements on tradition sit-up Dutch bikes with coaster brakes.
Thursday's event would have been the eighth edition of the championships – officially the Eneco NK Tegenwindfietsen.
Eneco is an international energy company with cycling history – it used to sponsor the Eneco Tour (now the Renewi Tour).
The event, which sets riders off with the shout "we kreihe sturm" (we're getting a storm), is usually given the go-ahead with three days to go, weather permitting.
Usually organisers and competitors are hoping for strong enough winds – with force seven being the minimum acceptable requirement. But with Storm Ciaràn set to reach force 11, organisers decided that discretion was indeed the better part of valour.
"We've been closely monitoring the development of Storm Ciarán and unfortunately [it has become] so strong that we can't start. Everyone's safety is our top priority," said the organisers on social media.
"We were really looking forward to it, but have had to make this decision in cooperation with different parties and with pain in our hearts."
It's not the first time the event has been thwarted by the weather – the sixth edition was called off when Storm Ciara (close relation to Storm Ciarán perhaps?) hit in 2020.
The race is held on the 8.5km Oosterscheldekering – the storm surge barrier which connects two of Zeeland's peninsulas – and riders are totally exposed to whatever mother nature has to throw at them.
This year's edition was to be known as the Re-Cycle edition, thanks to its focus on sustainability and recycling. Everything from bidons to medals to start and finish arches were to be recycled or recyclable, and organisers requested that previous participants wear caps and t-shirts from past events.
"The evidence of the typical and enormous counter-wind force on the Oosterscheldekering is [to be] undoubtedly strikingly displayed again in this edition by flying caps, grim heads and moments when the snot literally hits the eyes," the organisers says on the event website. Sounds a delight.
Whether the event will be rescheduled this year has yet to be announced.
Thank you for reading 20 articles this month* Join now for unlimited access
Enjoy your first month for just £1 / $1 / €1
*Read 5 free articles per month without a subscription
Join now for unlimited access
Try first month for just £1 / $1 / €1