Ed Clancy wins Eddie Soens after perfect Rapha performance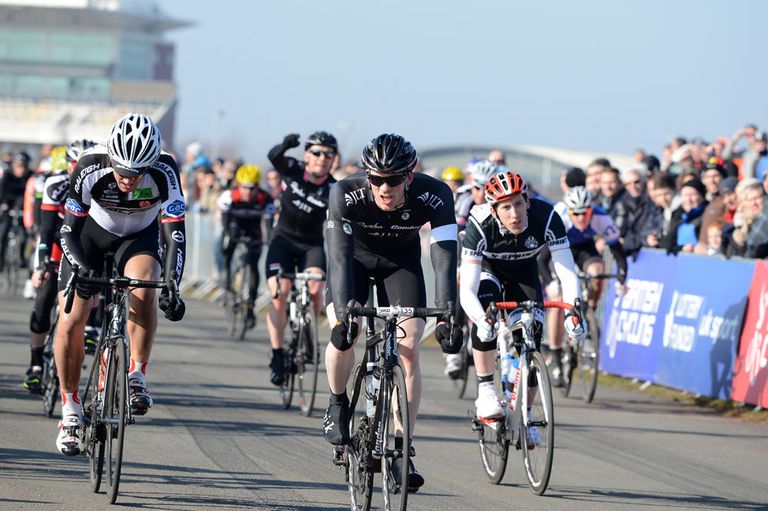 Ed Clancy capped off a perfect team display from his Rapha Condor JLT to win the Eddie Soens Memorial in Aintree this morning.
Clancy comfortably outsprinted Tom Scully (Raleigh) and Ian Bibby (Madison Genesis) to take victory in the popular handicap race, letting out a loud cheer as he crossed the line.
Supported by nine team-mates, many of whom were racing with the double Olympic champion for the first time, Rapha worked hard to control the race throughout.
He praised their efforts after wards, saying: "We went for our pre-season tests at the Claremont Hospital [during the week], and John said 'the other riders are going to work for you'.
"I thought bloody hell - I was at the track worlds a week ago! I felt quite nervous today, with all the young kids riding for me, I didn't want to let them down. Coming into that last turn, I felt so good. The plan was to go on the inside, but I went right round the outside of everyone.
"Two laps out it's always a bit dodgy but Richard Handley got on the front and did the biggest hero turn.
"Felix [English] was on the front going into the last bend, then a Raleigh rider then Jimmy [James McCallum] , so it all went to plan.
"I haven't spent a lot of time with this team, with the Olympics and all that I've hardly raced so it's nice to come back and get a win."
It didn't take long for the elite and first-category group to successfully close down the three mini-pelotons who had started the race a handful of minutes before them.
With other teams - most notably Raleigh - also looking to set up a bunch kick for the line, combined with perfect racing conditions throughout, the chances of a successful breakaway looked slim.
Nonetheless, some riders tried to get away; Tom Murray (Metaltek-Knights of Old) and Simon Wilson (Corley Cycles) were among those who unsuccessfully attempted to jump clear. Murray still made it onto the podium, however, as he took the sprints prize.
A big crash in the front group on the back straight halfway through the race put paid to Clancy's fellow team pursuiter Andy Tennant's chances; although he stayed upright, he was one of a number of riders delayed by the collision.
IG-Sigma Sport and Madison Genesis' riders began to show themselves at the front of the bunch as the race progressed, but come the latter stages Rapha's lead-out train mobilised and once in full flight it proved unstoppable.
Results

Eddie Soens Memorial, Aintree Racecourse, 50 miles

1. Ed Clancy (Rapha Condor JLT)

2. Tom Scully (Raleigh)
3. Ian Bibby (Madison Genesis)
4. Richard Lang (Raleigh)
5. Ryan Mullen (IG-Sigma Sport)
6. William Goulbourne (V-Sprint)
7. Rob Britton (Raleigh)
8. David McGowan (Metaltek-Knights of Old)
9. James McCallum (Rapha Condor JLT)
10. Matthew Gibson (Velocity WD-40)
Aintree in the sunshine
Ryan Mullen
Raleigh on the front
Ed Clancy takes the win
Eddie Soens 2013 podium
Related links
Eddie Soens Memorial RR 2013 photo gallery