Ed Clancy on his peak power of 1,700 watts, not going to the gym, and his top fitness tips for you
More than a decade competing at the top of cycling, with three Olympic gold medals to his name, Ed Clancy passes on some essential fitness advice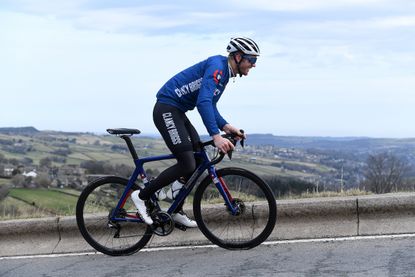 (Image credit: Andy Jones)
Get The Leadout Newsletter
The latest race content, interviews, features, reviews and expert buying guides, direct to your inbox!
Thank you for signing up to The Pick. You will receive a verification email shortly.
There was a problem. Please refresh the page and try again.
A three-time team pursuit Olympic champion, Ed Clancy has rightly earnt the tag of 'greatest team pursuiter'. The Yorkshireman won three consecutive golds at the the 2008 Bejing Games, his home Games in London 2012 and finally in Rio 2016. He also won five world and four European titles along the way before announcing his retirement, aged 36, at the Tokyo Olympics.
>>>>Subscribe to Cycling Weekly magazine for more great fitness features
More than this, his sprint endurance abilities changed how countries approached the race. Clancy's defining ability was as Rider One, getting the team off the line, up to speed and then be able to recover in the line and still pull turns at the end of the four minutes without slowing the team down. He was unique in this, and sent other nations in search of non traditional endurance riders with similar physical make up.
Clancy was also dominant figure on the domestic criterium scene riding predominantly for John Herety's Rapha backed teams before that team folded. Clancy took 10 Tour Series wins as well as three UCI victories. Speaking to Chris us by video call from his home in Holmfirth, Clancy agreed to share the fitness knowledge he acquired from 15 years at the highest level of cycling.
Keep it simple: fuel your sessions
When you're an athlete, you identify things that will help you get where you want to be, whether it's physiology, aerodynamics or biomechanics. As for nutrition, apart from a period early in my career, it wasn't something I focused on – ultimately, it boiled down to getting the basics right. This meant getting 60g sugar an hour into me during a ride and having a protein drink afterwards. In my head, as long as I fuelled well for the session, that was all that mattered. I had a reputation for drinking a litre of Coca-Cola on long rides. I liked the taste of it and it worked – it's better than any sports drink I've had. Sugar and caffeine is the ultimate combination.
Food is fuel: Don't stress about the rest
I have mates like Graham Briggs who get excited about the evening meal and head down to Marks & Spencer to carefully select all the ingredients. I'm the opposite – Mr Last Minute, grabbing this or that. I realised early on that food was just fuel, and that's it. I got the quantities right and got the correct amount of minerals, vitamins, fruit and veg into me. I did what I had to do, nothing more, nothing less, and I never suffered.
Regularly check in with yourself mentally
I remember the first time I sat down with Steve Peters and afterwards getting really involved with his ideas, reading books on mindset. I always kept a daily journal alongside my Training Peaks, and it acted as a mental check of where I was. It wasn't just happy thoughts, although confirmation bias is important, so I'd remind myself of the good things. One of the lessons Steve taught me is that there's an awful lot of things in life you don't control – accepting that was a big step. The journal helped keep me on top of my values and performance, and helped clarify what ultimately I was aiming for. My day-to-day goals were clearly defined and that gave me some control.
Identify your strengths and capitalise on them
I had a big peak power [1,700W], being able to get off the line really quickly. I had an anaerobic tolerance that could go over and above threshold power for short periods of three to four minutes, which meant I was well suited to team pursuiting. I learned early on that my functional threshold power of 382W [at 80kg] on a good day was high, and if I wanted to make a success of myself, I needed to take advantage of my strengths.
Do gym work if you actually need strength gains
I twice tried going to the gym, for short periods in two different Olympic cycles, but neither worked. My weakness was the aerobic aspect of training, and going to the gym meant that I was spending more time recovering – two to three hours I could have been training or racing on the road. I had loads of top-end speed, almost an excess of it, so I didn't need to work on it in the gym.
Strive to excel, not to suffer
Look at Victoria Pendleton, Chris Hoy and Bradley Wiggins – these riders didn't go to the depths of hell to suffer; they were organised, logical and had the commitment to stick with the process day to day, focusing on the next goal, the next challenge. It's the Aristotle thing: excellence is a habit, not an act. You can't turn up on the day, act out a performance and take home the gold medal.
Don't look back
Building up to 2012, I didn't care about what we had done in 2008. I owe a lot of my longevity to the fact I really wasn't interested in what I had done before. It didn't bother me that we had won gold the last time. I always had a willingness to learn, to move on. Evolution progresses over time, and you have to keep pace with it.
Accept that it's going to hurt
Even warming up is at 80% effort. You have to get your head around the fact that you're going to suffer at least four or five times during that session. How do you do that? I think you need to clarify it in your head, get to a point of acceptance. Know that you will have to go as hard as you can until you have no more left. It's good to remember why you're there and what you're aiming for.
Recognise your limitations
If someone asked me about a previous experience or a thought, I would respond, but I was mindful that I have limitations. Ultimately, most [topics in cycling] are of interest to me but few are my expertise. If the subject required a professional, I would recommend the right person instead. I got to the point of knowing that I didn't know very much at all, which is better than trying to help when others can do it better.
Keep it in perspective – you're just a tiny dot in the universe
You sit on the startline of an Olympics Games, billions of people watching across the world, and all these thoughts go through your head – catastrophising every possible situation. You'll lose your mind if you don't keep things in perspective, so you have to talk sense into yourself. Sure, it's a big bike race, and it has the ability to change some aspects of your life, but the truth is that, whether you win or lose, the fundamentals of life aren't going to change.
You've got to zoom out of the situation and say "I'm a 27-year-old man riding around a big wooden track in a Lycra skinsuit". You think about the universe and the space-time continuum and you realise that what we do is such an insignificant dot on the landscapes of where dinosaurs began and ended and where mankind begins. People care for four minutes, and they might crack the champagne if you win, but it doesn't really matter – and that was the only way I could cope with it.
Back problems? Don't blame the bike
I had back surgery in 2015 after a prolapsed disc. The worst years of back pain were between 2016 and 2019, but it progressively got better as I approached retirement. Speaking to surgeons and doctors, they said that I would have had degenerative disc disease whether I'd been a truck driver or a professional cyclist.
Make recovery part of your daily routine
Organising my training around how my back [from 2015] felt was different and new. But I always had a big dream of getting back on the bike and winning the Olympics again. It meant I stuck with the process: this meant eating my five fruit and veg a day, as much as I didn't want to, getting enough sleep and seeing Hannah [Crowley] the physio four times a week. The routine kept the motivation high.
Race yourself fitter
I really enjoyed road racing, and the JLT days under John Herety were so much fun. I just loved it, travelling around UK town centre criteriums, and across Europe and Asia in a bus with half a dozen of my best mates. I strongly believe that my road experience, especially crits, complemented my track career. You can sit on the turbo trainer in the garage and do threshold for an hour, but you won't go to the same depths as you would to win £40 in a town centre crit in Otley! During the road season, I'd be in a winning environment and that was so key because it made it easy to go training.
Prioritise slog over specialisation
For a rider of my physical make-up and experience, there was limited benefit to riding the track all the time, except in the build-up to the Olympics. The performance gains were made from slogging away on the road, hanging on in horrible stages and trying to fight with a random Belgian guy not to be the lanterne rouge. The track was about refining the details. I look back on my career and recognise that much of my time on the track would have been better spent road racing.
This article was originally published in the 19 May 2022 print edition of Cycling Weekly. Subscribe online and get the magazine delivered direct to your door every week.
Thank you for reading 20 articles this month* Join now for unlimited access
Enjoy your first month for just £1 / $1 / €1
*Read 5 free articles per month without a subscription
Join now for unlimited access
Try first month for just £1 / $1 / €1
Get The Leadout Newsletter
The latest race content, interviews, features, reviews and expert buying guides, direct to your inbox!
Chris first started writing for Cycling Weekly in 2013 on work experience and has since become a regular name in the magazine and on the website. Reporting from races, long interviews with riders from the peloton and riding features drive his love of writing about all things two wheels.
Probably a bit too obsessed with mountains, he was previously found playing and guiding in the Canadian Rockies, and now mostly lives in the Val d'Aran in the Spanish Pyrenees where he's a ski instructor in the winter and cycling guide in the summer. He almost certainly holds the record for the most number of interviews conducted from snowy mountains.