German Olympic champion Kristina Vogel airlifted to trauma unit after track crash
German national team coach says "it looks very bad"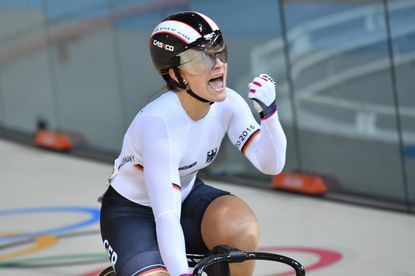 (Image credit: Watson)
One of Germany's best track sprinters has been seriously injured following a crash whilst training on the Cottbus velodrome.
Double Olympic champion Kristina Vogel had been training with four-time junior World Champion Pauline Grabosch.
According to sportschau.de, when Grabosch drove off the train of riders, Vogel accelerated and collided with another athlete who had "suddenly hit the train."
The BDR Media service has stated: "[she] collided at full speed." Vogel crashed on the tarmac surface, resulting in what's been called a "severe spinal injury."
The 27-year-old was initially taken to hospital in Cottbus, before being airlifted to the trauma centre in Berlin.
National team coach Detlef Uibel has told the German press agency: "We are very worried about Kristina, it looks very bad."
Her manager Jörg Werner added "she is badly injured" but no more detail has been given.
Vogel has already returned from serious injury over the course of her career - in 2009 she was hit by a vehicle when training on the road. Then 18-years-old, she was in an induced come for two days and suffered a broken vertebrae, broken jaw and fractures to her arm and hands.
Since then, she's scooped up 11 world championship titles, plus two Olympic gold medals - one in the team sprint in 2012 and one in the solo event in 2016.
Thank you for reading 5 articles this month* Join now for unlimited access
Enjoy your first month for just £1 / $1 / €1
*Read 5 free articles per month without a subscription
Join now for unlimited access
Try first month for just £1 / $1 / €1