Graeme Obree - IHPVA Land Speed Record Attempt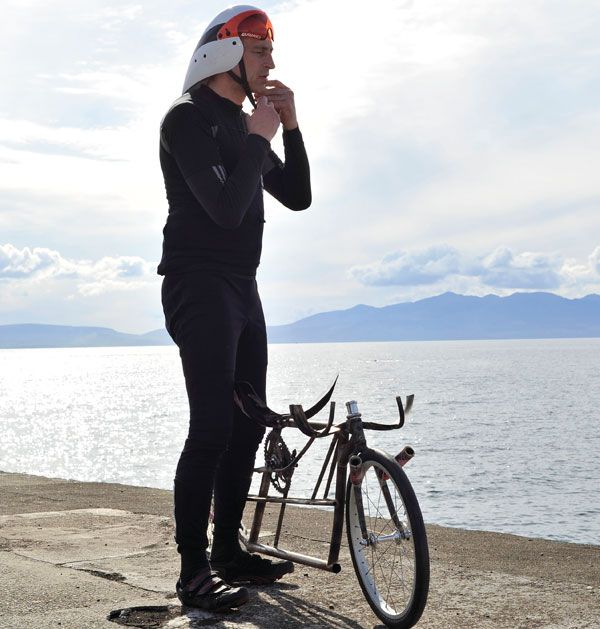 "There is no losing situation which could come out of this," said Graeme. "It's not like it used to be - 'If I lose the World Pursuit Champs, I will go and chuck myself off a bridge.' This is different, I don't know what's going to happen but it is a win win for me regardless."
Graeme Obree, talking candidly about his I.H.P.V.A. (International Human Powered Vehicle Association) Land Speed Record attempt.
However you look at it, this is the perfect record for Graeme Obree, now aged 47. No rules, except you need to be a human to power the bike. More importantly, no men in blazers with tape measures from the UCI.
Obree is former World Hour record holder
The aim is to ride over a 200 metres timing strip as fast as possible. The IHPVA World Human Powered Speed Challenge will take place at Battle Mountain, Nevada in September and Graham Obree, former World Hour record holder and World Pursuit Champion is going for it - building his own machine (in his kitchen), using his own skills and his own intuition and doing it the Obree way; through innovation, engineering and sheer bike riding talent.
In these heady days where UK Cycling boasts many World and Olympic Champions and stage race contenders, it's easy to forget the impact which Graeme Obree had in the 1990's. Graeme Obree became known to many UK cyclists through his UK time trial battles with Chris Boardman in 1991.
The innovator with his radical new creation
The two rivals gave a real buzz to the events in which they rode together which always ended in close marginal wins by either Obree or Boardman; the pair seemingly light-years ahead of their next nearest challengers.
In May 1993, Obree broke Dave Lloyd's British Hour Record at the Herne Hill Velodrome, riding with his arms tucked in - which had became known as the Obree position. The non-cycling wider community first got to know about Graeme's exploits when he broke Fransesco Moser's World Hour Record on 'Old Faithful' (homemade bike which featured bearings from a washing machine) in July 1993.
The fact that he missed breaking the record and then took it the very next day has became the stuff of legends (Graeme downed pints of water during the night so he could wake up regularly to stretch and get the fatigue out of his body for the next morning).
Obree's strategy worked and he took a record which many pundits had thought was unbreakable by anyone, let alone a relatively unknown Scottish amateur. Chris Boardman broke Obree's Hour Record a week later in Bordeaux. Obree re-took the record in 1994, before the UCI stepped in and banned Obree's riding position.
While many riders would have walked away, Obree re designed his position to meet the UCI legislation with the stretched out 'Superman' position, winning the 1995 World Pursuit Championships.
Life story in his hands...


Boardman utilised the same riding position to take the World Record Hour Record to over 56 Kilometres. After testing the waters to potentially attack the 'Athletes Hour' record (UCI Introduced bike rules - traditional round tubed diamond frame, spoked wheels and drop handlebars) Obree retired from the Hour Record quest in 2009.
His well documented turbulent life through the 1990's was captured in the film 'The Flying Scotsman' in 2006. More recently Graeme launched his Sportive in July last year around his training roads in Ayrshire and has written and published his training manual "The Obree Way".
Aiming for 83mph
The current IHPVA record set by Canadian Sam Whittingham in 2009, stands at 82.8mph and was achieved in a seated upright 'sopine' position, as was Jason Queally's (Olympic Gold Medallist) UK record of 63mph. (Obree assisted as an advisor on the Blue Motion / Jason Queally attempt back in
2001). However, the Obree HPV position is completely different (Anyone getting déjà vu?). Graeme will be on the HPV laying on his front - head first which will reduce drag significantly, in addition the HPV will be narrower and lower to the ground than Whittingham's machine.
When in position on the chassis, the minimal frontal area becomes apparent; frighteningly fast looking even stood still, less like a bike and more like the French TGV train, fitting for the man also known as the 'Flying Scotsman'.
When the HPV is complete, it will be covered with a Carbon / Kevlar shell. It's not an idea that's new to Obree, "I had a prone recumbent (ridden stomach down) which I messed around with in the 90's and it went pretty quick, it's the most aerodynamic way when you look at the human body shape - shoulders are widest and need to be at the front, feet narrowest at the back - the trailing edge.
The prone position, chin just above the wheel, is aerodynamically optimal
It's always been in my mind that this would be possible. A great deal of thought has gone into it and It's the right time for me to do it. When you break the record down, it's a pretty simple case of building speed and going as fast as you can over 200 metres.
"On paper it's easy to think a powerful track sprinter would be best suited to the chasing the record, however the gradual build up of speed over a few minutes before hitting to the 200m timing strip, would suggest it could suit a rapid pursuit rider far more than a track powerhouse.
However travelling in a straight line at high speeds does have its dangers. Current record holder, Sam Whittingham crashed in 2004 at over 80 MPH when his tyre exploded, lifting his HPV into the air before he hit the ground hard.
Breaking the mould
The current fastest HPV's are built onto an aluminium chassis, it's fair to say that Graeme's build is raising a few eyebrows in the US and there has been a fair bit of scepticism on US cycling forums surrounding his HPV build. "The machine is all recycled too," Graeme adds.
"All the steel frame tubing is reclaimed Reynolds 531 and 653, only Reynolds mind - it's still the best. I've always been a huge fan of steel and it's ideal for this project." Graeme went on, "It's like the pot, it was sitting in the cupboard and it was exactly what I was after, with a little bit of re-shaping.
It is stainless steel and I weld with silver solder so it worked a treat! The recycling aspect is huge and very important to me. It's a great message to be sending out these days, re-using things which most people are happy to chuck into landfill - I do talks for primary kids about the project - the kids are fascinated by it and that's really great."
Using a cook pot in the construction of a bike which is designed to break the world record, has strong echoes of the past and the washing machine bearings in 'Old Faithful' which broke the World Hour Record in 1993. Re using parts from unlikely sources makes for great headlines but the reality is that Graeme can see things which will work to solve a problem, it doesn't matter whether the component was cooking soup or washing clothes if it fits what Graeme's after and solves the problem.
Home-welded the Obree way


You have to look fairly hard at the chassis to work out where the pan sections are, they do an important job of squeezing his shoulders together as well as supporting them. "The squeezing together is vital to reduce the width of the HPV when its covered in its shell, with the outer shell in place each centimetre in width is worth 3mph."
I asked if he could still get a good 'lung fulls' of air "Oh yeah, it's fine - no different to being on tri bars" Graeme continued, "Obviously I need to cut the fork stearer tube! - Its sticking right into my throat!"
While discussing the HPV build, Graeme showed me a large cut on his thumb, explaining "Trouble is there are no frame building jigs for this sort of thing! - It's all holding together and welding which isn't good for your fingers!" Graeme continued "People don't get burnt and cut fingers building bikes anymore." I chipped in, "blistered thumbs from thumbing though Chinese carbon frame brochures?"
Tartan bars provide a Scottish twist
Unorthodox spec
The 20 inch wheels are fairly light but very solid, Graeme built them using some track hubs, tyres are temporary and will be replaced before testing begins. The next stage will see the transmission mounted and the gearing in place, this will involve another modified chainset in the space under the sprockets visible in the pictures.
There's a recess in the frame for a rear gear which is next to the sprockets, the pedal cranks will be mounted above the rear wheel. The transmission will involve multiple gears, the final drive top gear, Graeme has estimated to be around 300 inches which puts into perspective the speeds which are involved. The hip supports (black plastic sections) were two pieces of recumbent seat mounted on some a Reynolds 653 fork blade curved into shape.
As well as supporting Graeme's hips this component also shields him from the upper transmission sprockets. Graeme got into position on the bike he added "it's actually very comfortable". The tartan bar grips add a touch of Scottish identity to the build and complete the front end.
The design of the chassis has been well thought out "I have considered every weld and shape in the structure - it's not something which you can knock out quickly and say ah we'll give it a go. It's been a long process to get to this stage.
This position is not for the faint-hearted
We know mathematically and in terms of physics what is possible and the calculations come out right where we need to be." Earlier in the day we had ridden the route of Graeme's July Sportive and he was looking in good shape.
"I've been quite busy with speaking engagements and things related to the book, but I should have some solid time on the build in the next few weeks" Graeme continued, "I know I can get into very good shape pretty quickly - in terms of fitness, so we're on schedule".
Initial test locations are planned, including a quiet, smooth section of Scottish dual carriageway. So if you happen to be driving in Scotland and notice a 'Tiny TGV' in your rear view mirror waiting to overtake, it could just be Graeme! The next stages of the build are designed and ready to go.
Bearing in mind the source of the stainless steel shoulder supports, many people throughout the world will be wondering how this record attempt will pan out. However, given the history of the man French newspaper L'equipe's headline creators labelled "L'incroyable Mister Obree" - you just would not bet against him.
Stats
82.8 MPH Current record
5.402 Seconds for 200 Metres! - Current Record
2 times World Hour Record Holder
This article was first published in the June 7 issue of Cycling Weekly. You can also read our magazines on Zinio and download from the Apple store.


Thank you for reading 5 articles this month* Join now for unlimited access
Enjoy your first month for just £1 / $1 / €1
*Read 5 free articles per month without a subscription
Join now for unlimited access
Try first month for just £1 / $1 / €1
Founded in 1891, Cycling Weekly and its team of expert journalists brings cyclists in-depth reviews, extensive coverage of both professional and domestic racing, as well as fitness advice and 'brew a cuppa and put your feet up' features. Cycling Weekly serves its audience across a range of platforms, from good old-fashioned print to online journalism, and video.