Graeme Obree's record attempt gathers pace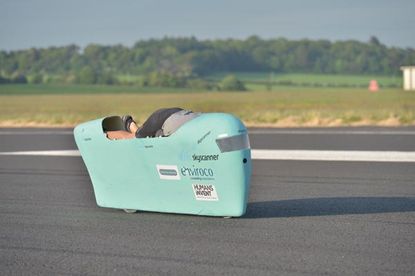 Graeme Obree has taken his human powered vehicle (HPV) world speed record attempt one step further with a test at Prestwick Airport, near Glasgow.
Obree's self-made machine for the attempt - nicknamed 'Beastie' - is now in the final stages of completion. Gone is the old transparent fairing, replaced with a sleek fibreglass and Kevlar outer skin painted in light blue.
One of the problems with the previous, all-enclosed design was that Obree struggled to breathe in enough air. A typical Obree solution has been found - a small air intake has been added to the nose of the fairing connected to a sink waste pipe, which Obree places in his mouth via an attached snorkel mouthpiece.
The Prestwick Airport test run saw Obree push up to speeds of around 50mph in a cross-headwind and without the top section of the fairing. This is already not far short of the British HPV speed record of 63mph. The current world record stands at 82.819mph clocked by Sam Whittingham at Battle Mountain, Nevada, USA in 2009.
Further tweaks will be made by Obree to his design, with more testing over the next few months before a date is set for the record attempt.
For the full article on Graeme Obree's HPV world speed record attempt see Rick Robson's piece in this week's Cycling Weekly magazine (June 27 2013 issue)
Related links
November 2012: Obree gets ready for speed record attempt
September 2012: Obree plans to go for HPV speed record in UK
September 2012: Obree Land Speed Record attempt
External link
Thank you for reading 20 articles this month* Join now for unlimited access
Enjoy your first month for just £1 / $1 / €1
*Read 5 free articles per month without a subscription
Join now for unlimited access
Try first month for just £1 / $1 / €1