Hannah Barnes: RideLondon GP is not just about Laura Trott and me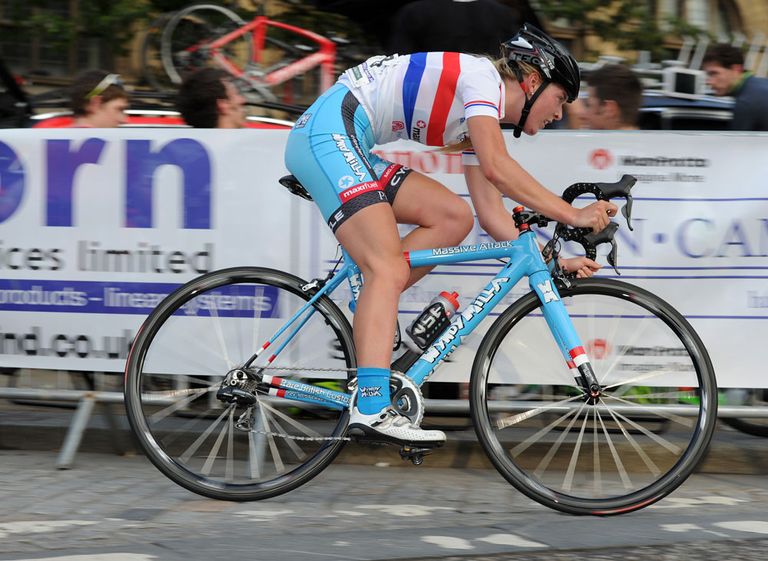 Three-time National Circuit Race champion Hannah Barnes has played down talk of a rematch against Laura Trott at the Prudential RideLondon Grand Prix.
20-year-old MG-Maxifuel rider Barnes got the better of the double Olympic champion in the controversial IG London Nocturne in June, but told Cycling Weekly that Saturday's race is not just about her and the Wiggle-Honda rider.
"I think the chances of Laura being up there on Saturday are going to be high and people keep on saying it's going to be a repeat of our battle at the Nocturne, but I'm not so sure of that," Barnes admitted.
"There are plenty of good riders who can win the race, especially within her team - don't forget they've got Dani [King], Joanna [Rowsell], Elinor [Barker] and Amy [Roberts] racing, too."
>>>Prudential RideLondon Grand Prix: Women's startlist
Orica-AIS will also add top-level competition for Barnes on the 1.3-mile loop around St James's Park, something she hopes will strengthen the race for future years.
Barnes said: "It's always nice to have the chance to go up against the top riders, so I'm glad Orica have sent a team to race. Big-name riders like Amanda Spratt, who has been the Australian road race champion before, will hopefully help the event become stronger for 2014."
Completing the line-up are a number of domestic-based riders, and Barnes feels they will not merely be bystanders in the action.
"We saw in the Johnson Health Tech GP Series that the level of quality in Britain has increased so much this year. Matrix Fitness are consistently up there and active in races week in, week out and I think that will be the case once again on Saturday. MuleBar-Girl had a really good Tour Series, too, so their riders are worth looking out for.
"I feel like I'm going well at the moment and MG-Maxifuel have got a strong team going, so I'm hopeful of getting a good result."
Racing begins at 5pm with a handcycle race, before a youth race at 5.45pm precedes the main event of the night, which commences at 6.30pm.
Click on the picture for a full-size image
Related links
Scott Thwaites reflects on 2013 season to date ahead of RideLondon-Surrey Classic
Boris Johnson: "I'll be happy to complete the RideLondon 100 in under 12 hours"
Prudential RideLondon: How the British teams are preparing How the Prudential RideLondon went from bold idea to reality
RideLondon-Surrey Classic provisional start list
WorldTour teams for RideLondon-Surrey Classic
Sam Harrison aiming to make impression at RideLondon-Surrey Classic
Peter Sagan to start RideLondon-Surrey race
Prudential RideLondon details announced
50,000 register for RideLondon cycle challenge