Hayles to retire after national hill-climb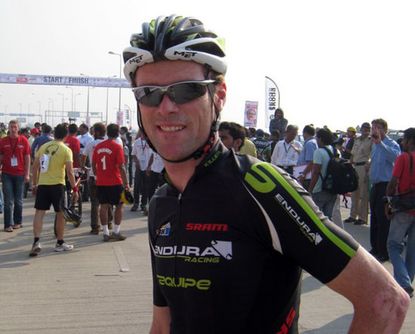 British track and road cyclist Rob Hayles is set to retire from professional cycling after competing at this weekend's national hill-climb championship.
"After nearly 27 years of racing, 19 of those full time, and 16 as a professional, I have had an amazing time. But I feel it's now time to concentrate on other very exciting things I will be doing in the future," Hayles said via his Twitter account on Thursday morning.
Hayles took the role of rider/manager at the British-based Endura squad at the start of the 2010 season after a long career in the saddle.
The 38-year-old from Portsmouth first made his mark on the track when he won the national kilometre title in 1993. He enjoyed a long and fruitful association with the Great Britain track team, winning Olympic medals in the 2000 and 2004 Games and taking world and commonwealth titles. He helped to win the team pursuit and madison world titles in 2005, the latter partnered with Mark Cavendish.
On the road, Hayles won the British road race title in 2008 and also held the national 10- and 25-mile time trial titles. He spent three years from 2001-2003 racing on the continent for the French Cofidis squad.
He has also taken several high-profile road and criterium wins in the UK including the Beaumont Trophy and Tour of Pendle in 2008.
Hayles will bow out of his riding career at the 2011 national hill-climb championship held on Long Hill near Buxton on Sunday, October 30.
Rob Hayles: Wins and highlights
2009
Tour Series, round ten, Southend
Tour Series, round five, Blackpool
Clayton Velo Spring Classic
2008
Team pursuit - Manchester world cup (track)
Scratch race, Round two Revolution Series
British road race national championship
Beaumont trophy (Prem Cal)
Tour of Pendle (Prem Cal)
2006
Team pursuit - Commonwealth Games (track)
2005
National circuit race championships
Team pursuit - world championships (track)
Madison - world championships (track)
2004
Silver: Team pursuit - Olympics (track)
Bronze: Madison - Olympics (track)
2000
Bronze: Team pursuit - Olympics (track)
National points race champion (track)
National pursuit champion (track)
1999
National Madison champion (with Jonny Clay) (track)
National points race champion (track)
National pursuit champion (track)
1998
National Madison champion (with Jonny Clay) (track)
National points race champion (track)
National pursuit champion (track)
National 10m time trial champion
National 25m time trial champion
1997
National Madison champion (with Russell Williams) (track)
National points race champion (track)
National pursuit champion (track)
Grand Prix of Essex (Prem Cal)
March Hare (Prem Cal)
Girvan (Prem Cal)
1996
National10m time trial champion
National points race champion (track)
1995
National Madison champion (with Russell Williams) (track)
1994
National Madison champion (with Brian Steel) (track)
National kilometre champion
National 10 mile time trial champion
1993
National kilometre champion
Related links
Endura sign Dempster, Tiernan-Locke and Windsor
Rob Hayles: Rider profile
Thank you for reading 5 articles this month* Join now for unlimited access
Enjoy your first month for just £1 / $1 / €1
*Read 5 free articles per month without a subscription
Join now for unlimited access
Try first month for just £1 / $1 / €1