Heathrow Cycle Hub a success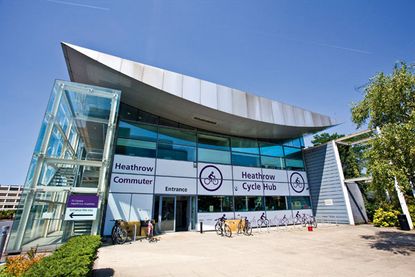 Get The Leadout Newsletter
The latest race content, interviews, features, reviews and expert buying guides, direct to your inbox!
Thank you for signing up to The Pick. You will receive a verification email shortly.
There was a problem. Please refresh the page and try again.
Each day nearly 1,300 planes arrive and depart on one of the two runways at Heathrow airport, taking more than 190,000 people to destinations around the world. Yet while planes may rule the skies around West London, there's a bike phenomenon taking place on the ground due to the Heathrow cycling hub.
As odd as it seems to ride a bike to a place where flying is the order of business, in 2011 Heathrow became the first airport in the UK to offer its 76,000 employees a cycle to work scheme and their own onsite bike shop.
And in the two years it has been open, there's been a 45 per cent increase in Heathrow employees cycling to work, with around 570 doing so every day.
Despite being located by both a main road and runway where planes land almost every two minutes, the cycle hub on the northern perimeter of the airport is a quiet, relaxed place. Located on the ground floor, on the side of an office building, it is fronted with white and glass panels. Next to the bike lockers outside, there's a shelter that's almost permanently home to a cluster of plane-spotters.
Inside the hub's busy workshop
Inside there's a workshop and retail space open all day and manned by full-time, fully trained bike experts. Heathrow employees can sign up to the hub for free and get 10 per cent discount on products in the shop, free bike servicing, free maintenance classes and bikeability training. There's even an emergency call-out available for anyone that has a breakdown in the airport.
Already 1,921 Heathrow workers have signed up. And it doesn't stop there. Although non-Heathrow workers are already able to use the cycle hub shop and services (though they don't get the same discounts as staff), the team are considering ways of reaching out to even more people in the local community so everyone from residents to schoolchildren use the facilities in the future.
Environmental balance
Although air travel is notoriously bad for the environment, Heathrow has been striving to improve sustainable travel for the last decade. In 2002, a car share commuter scheme for employees was launched. Heathrow also effectively exists in its own London travel zone, where bus transport in the airport and surrounds is free.
Bikes galore in the Hub shop
But according to Theo Panagi, head of sustainability at Heathrow and a driving force behind the hub, cyclists have been a bit of "an afterthought". He said: "Heathrow has traditionally had a cycling community, but it's not been well maintained."
By September 2011 the Cycle Hub opened its doors and members have continued to grow steadily since. The shop, Runway Cycling, is actually owned by two of the people that work in the hub with Heathrow then subsidising the cost for their staff to use the services and facilities for free.
Inside, the hub is relatively small but every inch of space is utilised. The floor is covered in bikes for sale from Brompton, Trek and Eastway; bikes waiting to be serviced or waiting to be picked up by their owners. Every wall has components and accessories hanging from it. At Christmas they get children's bikes in for people who may be looking for gift ideas.
"We sell everything from entry-level stuff to high end stuff. We stock everything we can and cater for everybody really," said Alfie Purdue, one of the hub's owners.
Although around 520 bikes have so far been sold since the hub opened, selling is not the hub's main order of business according to Panagi. Instead it's about making sure people are "riding the right bike, doing things properly. If we don't get them to cycle here but they are cycling - it's that added value."
Every day there are at least two mechanics on site, working on about eight or nine bikes, doing everything from frame cleaning and basic maintenance to complex repairs. As hub members only have to pay for the parts that need replacing, they are constantly kept busy.
"Usually a lot of people haven't got on a bike in years and decide to dig the bike out of the shed," said Will Bridgman, one of the mechanics. "The bike is really old and hasn't been serviced in decades."
L-R: Ceri James, Theo Panagi and hub owners Alfie Purdue and Iain Taylor
As well as servicing, the mechanics run maintenance courses with six cyclists per class, teaching them to be more self-sufficient and ensure they are cycling safely.
"[They are] mainly aimed at people commuting, so we cover punctures, looking after tyres, how to repair them, cleaning the bike, basic adjustments of brakes and gears. Anything that could stop you getting around," said Bridgman.
"We're not trying to turn people into mechanics," said Panagi, "but we're trying to make sure they can get home."
Leave it with us
Everything at the hub is done on a supply and demand basis to make things as easy as possible for people to cycle to Heathrow.
Most people at the airport work shifts, some starting at 4am when there is limited or no public transport. As the hub doesn't open until 9am, bike lockers have been put outside. The clever thing here is the mechanics also have a set of keys so services can be carried out even for someone on earlies.
Similarly, part of the cycle hub's success, Panagi believes, has been down to breaking the stigma that Heathrow is not suited to cycling.
Although Heathrow is vast, and due to the runways and terminals people cannot travel across the middle, the landscape is very flat. "People don't realise how easy it is to cycle to," said Panagi. "Most of the staff live within the four local authorities around the airport, all within a reasonable rideable distance."
And to show this to any would-be cyclists, staff at the hub are developing a map that highlights quieter routes that avoid the myriad of surrounding motorways, dual carriageways and junctions - each with estimated journey times - that can be downloaded from their website. The map started with 10 main routes and they hope to add to it as cyclists send in their suggestions.
Fettling an employee bike
"One of the barriers we found was that people don't know how to get here," said Ceri James, Heathrow commuter initiatives manager. "The map shows actual routes they can take and how long it'll take. We're hoping that map will give them a starting point to say ' I live in Slough or I live in Farrow and that's the route someone else did' so they can start to cycle as well."
On Tuesday evenings during the summer there are organised cycle rides through the nearby countryside open to everyone. There's even talk of extending this to lunchtime rides, where staff who don't have a bike can temporarily loan or hire one to cycle while at work.
Considering the success the hub has in the two years it has been open, it's no wonder those behind it have big plans for its future.
As well as the 76,000 airport staff, there are another 10,000 people working in the hotels around the airport and even more people who live in the surrounding areas - all whom Panagi would like to reach out to next.
Central hub
"We want to be more engaged with the cycle community. We want to make sure the space we have is utilised. Heathrow is 351 different companies and we want all those companies to be integrated and running their cycle to work schemes through the hub."
Already the hub works closely with the local authorities around the area and Transport for London (TFL), a relationship they want to continue to build on. "The next stage is to talk about the local community," Panagi said. "We want this to be a west London hub for cycling, not just for the airport.
"When they are running cycle training or working with kids in school, they [the cycle hub team] can help by going and talking about bike maintenance," Only time will tell the impact the Heathrow Cycle Hub can have on the rest of the community, but it is clear so far that the hub is managing to successfully tap into its workers' needs by persuading more of them to get out on their bikes.
The hub could become the blueprint for other airports or companies from other sectors to follow in the future. In its tireless drive for increased membership, British Cycling recently struck up a partnership with the hub. And back in April, the team won the 'Best workplace initiative' at the London Cycling Awards.
"Without organisations committed and making this kind of change to cycling, cycling won't grow," said Panagi. "You've got to have something to anchor people and we feel the cycle hub is that anchor. This is the start of the cycling journey, not the end."
What's so good about the hub?
Ray Fitzgerald 41, Feltham
"I cycle to work every day and I work at the airport, I always cycled to work. I signed up within the first month of it opening.
I like the convenience, the level of service and I've got to know the guys quite well."
Jason Brookes 43, Leicestershire
"I'm from Leicestershire but live on a narrow boat down here during the week. I cycle because of ease. It can take me up to 40 minutes in a car and I can do it in 25 minutes on a bike. The hub provided me with a bike at a very exceptional price, the services are very good - a free service on your bike saves you time so you don't have to think about it."
Brian McAdam 52, Uxbridge
"I bought a bike in December last year.
I didn't use to cycle but I was over in Terminal 4 before and now I'm in Terminal 2b and it's easier to get here by bike. It's such a unique facility it must encourage more people to cycle. It did me!"
Mark Higgins 39, Thames Ditton
"I used to keep my bike in the offices then they started doing these bike boxes [outside the hub to store bikes]. They fix my bike regularly. I went in yesterday and they booked it in for a service. They just take it out of the lockers and put it back for me. It's a very good thing."
Since the hub was first introduced
Swipe to scroll horizontally
| | | | |
| --- | --- | --- | --- |
| 45% more employees are cycling to work | 520 bikes have been sold at the hub shop | 116 people attended maintenance classes | 2,700 bikes have been serviced or repaired |


This article was first published in the August 22 issue of Cycling Weekly. Read Cycling Weekly magazine on the day of release where ever you are in the world International digital edition, UK digital edition. And if you like us, rate us!
Thank you for reading 20 articles this month* Join now for unlimited access
Enjoy your first month for just £1 / $1 / €1
*Read 5 free articles per month without a subscription
Join now for unlimited access
Try first month for just £1 / $1 / €1
Get The Leadout Newsletter
The latest race content, interviews, features, reviews and expert buying guides, direct to your inbox!
Founded in 1891, Cycling Weekly and its team of expert journalists brings cyclists in-depth reviews, extensive coverage of both professional and domestic racing, as well as fitness advice and 'brew a cuppa and put your feet up' features. Cycling Weekly serves its audience across a range of platforms, from good old-fashioned print to online journalism, and video.