'I don't have a plan B': Domenico Pozzovivo says he may retire if Qhubeka-NextHash fold
The 38-year-old Italian climber has put in some of his best performances at the South African team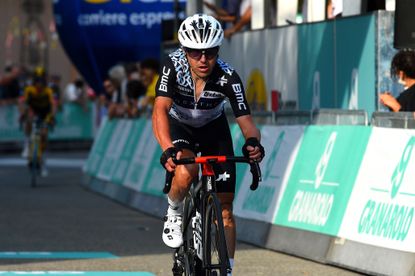 (Image credit: Getty Images)
Domenico Pozzovivo has said that he doesn't "have a plan B" if Qhubeka-NextHash fold at the end of the year and suggests he could retire.
Pozzovivo, who has been a professional since 2005, has been at the South African team for just two seasons, but has already stated he hopes a sponsor comes in to save the team.
Qhubeka-NextHash are facing the possibility of folding yet again after last season saw the team somehow salvage a sponsor just in time for the 2021 season. The clothing brand Assos stepped up at the last minute to co-sponsor before NextHash and Burberry also joined.
>>> 'I don't want to end my time with the regret of not ever trying': Julian Alaphilippe wants to try and win Tour de France before retiring
But now the team is looking down the same barrel once again. However, according to BiciPro, bike sponsor BMC and car supplier Mercedes have both committed to the team and will continue with the team if a title sponsor is found.
"I know as much as you do. The situation is completely open. The idea is to stay with the Qhubeka group," Pozzovivo told BiciPro.
"It wouldn't be good if it doesn't happen but I don't have a Plan B, so there's a risk I might have to retire."
When asked if he would drop down to Qhubeka's Continental development team he was straight back with a "no."
He added: "To continue the game must be worth the candle and if I do not have the opportunity to ride a high-level calendar, the motivation also suffers. And this applies to both a young and old team."
The Italian veteran would prefer a deadline from team manager Doug Ryder to ease his anxiety.
"I talked to him, but then the reality is that time passes," Pozzvivo said. "It would have been better to have a deadline at least I would have had a certain date, a deadline. It would take away my anxiety. Maybe others would not have reasoned in this way, but at least in this way I focus and do not let myself be distracted by anything else.
Pozzovivo will soon be graduating with a degree in motor sciences but is also keen to go into coaching after finishing his racing career.
"If I have to stop racing, I'll quickly do my thesis and see if someone wants to hire me," he continued.
"I've coached myself for a few years now under the supervision of the team. I think I know how to prepare for pro races. But first I want to race on for one more year. I hope it happens. I think Doug can pull it off."
Thank you for reading 20 articles this month* Join now for unlimited access
Enjoy your first month for just £1 / $1 / €1
*Read 5 free articles per month without a subscription
Join now for unlimited access
Try first month for just £1 / $1 / €1