Insurance cuts proposed for drivers who pass cycle training
Department for Transport unveils a host of proposals, but walking and cycling alliance says an emphasis on speed is needed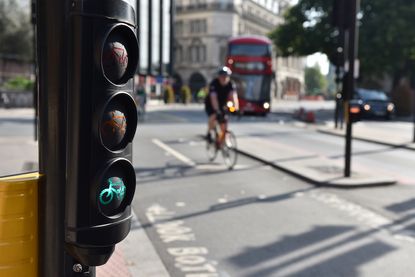 (Image credit: Getty Images)
Drivers who complete a cycling proficiency test could receive cheaper insurance, as part of a government plan to protect vulnerable road users.
The insurance cuts will be available to drivers or motorbike riders who pass the national cycle training system, Bikeability.
The Department for Transport (DfT) is proposing 50 new measures - including appointing a 'cycling and walking champion', ring fencing 15 per cent of council transport spend for active travel, and appointing a 'cycling and walking champion'.
They'll also make it easier for people to submit video footage - such as that from helmet and dash cams - to the police.
>>> National portal makes it easier to submit action camera footage to police
Alongside this, changes to the Highway Code have been proposed, that will see more emphasis on how drivers should behave around vulnerable road users.
These should include guidance on the 'Dutch Reach', which aims to cut down on 'dooring', clearer guidance on overtaking and providing priority for cyclists and walkers at junctions.
Unveiling the plans, transport minister Jesse Norman said: "Greater road safety – and especially the protection of vulnerable road users such as cyclists, pedestrians and horse riders – is essential. We want to improve air quality, encourage healthy exercise, reduce obesity and boost our high streets and economic productivity.
"That means more support for cycling and walking, and that's why these new measures are designed to deliver."
The 'walking and cycling alliance' - made up of Cycling UK, The Ramblers, British Cycling, Living Streets and Sustrans - welcomed the suggested measures.
However, they said that the proposals needed to place a greater emphasis on speed reduction.
"Lowering vehicle speeds around people walking, cycling and horse riding doesn't just reduce the danger to them, but also their perception of the danger," said Cycling UK CEO Paul Tuohy.
"While the DfT's proposals for amendments to the Highway Code will help save lives, ignoring the threat and dangers of speeding is disappointing."
The alliance believes that support is needed from the Government, outside of the DfT, for active travel to become normalised.
"If we want more people cycling and walking in England, and enjoy the consequential health, environmental and economic benefits, it's clear the Department for Transport needs support from across Whitehall. Other departments – health, justice, local communities and government all need to start mucking in and working with the DfT," Tuohy said.
"Every department will share in the benefits of more people cycling and walking, so it's only right that they should actively support the DfT, financially and administratively, to help to make this happen."
Thank you for reading 20 articles this month* Join now for unlimited access
Enjoy your first month for just £1 / $1 / €1
*Read 5 free articles per month without a subscription
Join now for unlimited access
Try first month for just £1 / $1 / €1