Jens Voigt: Why Johan Bruyneel had to leave RadioShack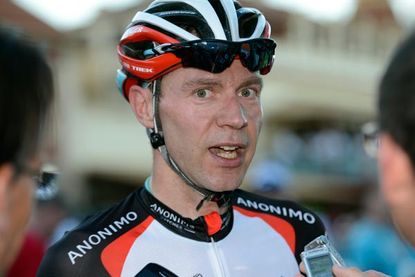 Jens Voigt has admitted a lot of the problems that contributed to a disastrous 2012 season for his RadioShack Leopard team were "self-made" adding it could not have justified keeping general manager Johan Bruyneel.
Bruyneel - the man who helped Lance Armstrong to all his seven of his Tour de France victories that the American last week admitted to doping throughout - is awaiting an arbitration hearing that he elected to undergo in the wake of the damning US Anti-Doping Agency (USADA) report.
The report implicated Bruyneel and Armstrong, amongst others, in what the agency called sport's most professionalised doping programme and led to Bruyneel's demotion in October.
"In the light of the last days there is no chance we could have kept him," Voigt told Cycling Weekly at the Tour Down Under where he opened his 2013 WorldTour season last week.
"There was no reason or no way to justify the decision to say we put trust in him. There was just too much obvious things went on in the past that you go, look, we can't keep working together like this."
Voigt and Bruyneel were brought together last year when the Leopard and RadioShack squads, respectively, announced a "sudden" merger at the end of 2011.
"It definitely was a change," Voigt said when asked what it was like working with Bruyneel.
"Johan had a different way of running a team than people I used to work with before. With the teams before it was more like a group of friends really working together, and Johan was more, 'No, this is a job, we do this and this and this, we are professionals, we work and when you go home, you go home.' Other teams before they would call you a day or two days after a race and say, 'Hey, how are you? How is it? Are you ready for the next race?' Here we had less of that.
"It was good in one way because then you had your own peace of mind at home but I was just used to this more close, family like, or friendship like, orientated team spirit, and I prefer that."
Each of the merging teams featured strong, long-standing partnerships so the marriage was never going to be instantaneously harmonious.
However, media reports of in-house squabbles could almost have been interpreted as purposeful publicity, albeit bad, in the absence of early season results.
"I think we underestimated the challenge of merging two teams together," Voigt said.
"It would be like you put the soccer teams together from whatever, Canberra and Sydney, that wouldn't work within two weeks time. We struggled a little bit with that.
"The merger happened unexpectedly even for most of us. There was a while I wouldn't know anything more about it than what I read in the press. You didn't really have time to get your mind around it, it was just here it is and that's how we go next year. It came a little bit too sudden, too unprepared, and we didn't work hard enough to make it a smooth transition. It was partly our own fault.
"It's not a big secret, we had a lot of big arguing going on in the press. He's shooting against the team, the team manager shoots back against him, and in an interview people are asking questions. It was more or less all out in the press - not getting paid, yes getting paid, Johan not happy with Andy (Schleck), Andy not happy with Johan, Fabian (Cancellara) having this and that issue, Chris Horner not getting selected for the Tour.
"Asked in an interview, 'Why is that?' Johan answers, in an interview, 'We don't select you for this and this reason.' I mean, Jesus, we've got fax, emails, WhatsApp, FaceTime, Skype, you've got a million, a million, chances to contact each other in this modern day and age. There is no need to make it public like that. We made a lot of mistakes there."
Andy Schleck raced alongside Voigt at the Tour Down Under in what is the start of a heavier race programme designed to ensure he is race fit for the Ardennes Classics and the Tour de France. The Luxembourger was forced to skip the Tour last year due to injury and missed a large chunk of the season.
Voigt is hopeful his team can move forward after what he described as a mixed 2012 campaign, which at best saw Cancellara win the Tour prologue and wear the yellow jersey for the first week and, at the other end of the scale, Frank Schleck test positive for a banned substance on the second rest day.
"We had some good moments where you go, 'Oh, that was better than we thought' and we had also a few moments where we thought, 'OK, that was a lot worse than we thought'," Voigt said.
"There's definitely room to improve.
"The first job of being a business would be being a bike team and winning races," he continued.
"If we're not really coming up with that we should then at least go to Plan B providing a really nice, cool family image and we also failed sometimes even doing that.
"We had a lot of self-made issues, there's no other way to say it. We did create part of our own problems. Hopefully we all learn from that and we are back on a straight line here and back on being a bike team and performing."
Related links
Bruyneel and RadioShack separate following USADA findings
Tour Down Under 2013: Coverage index
Andy Schleck shares his insights on Bruyneel's management at RadioShack Leopard in this week's Cycling Weekly magazine, out now for £2.99.
Thank you for reading 20 articles this month* Join now for unlimited access
Enjoy your first month for just £1 / $1 / €1
*Read 5 free articles per month without a subscription
Join now for unlimited access
Try first month for just £1 / $1 / €1