Kirklees shows the way for future Olympians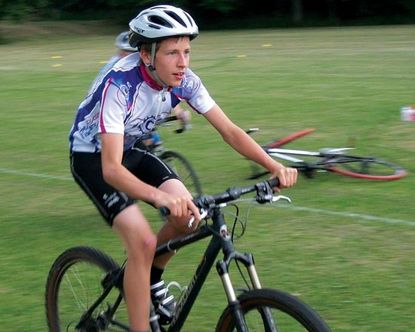 Get The Leadout Newsletter
The latest race content, interviews, features, reviews and expert buying guides, direct to your inbox!
Thank you for signing up to The Pick. You will receive a verification email shortly.
There was a problem. Please refresh the page and try again.
Discovering the existence of a new children's cycling club in Yorkshire was an unexpected spin-off from attending Brian Robinson's 80th birthday reception in his home town of Mirfield recently.
This is the Kirklees Cycling Academy, which aims to train Britain's stars of the future by providing a pathway to British Cycling's Talent Team programme.
Could it be that Mirfield's unique cycling heritage is spreading its influence across the Kirklees area?
Robinson heads a number of cycling stars from the town; two are family - his older brother Des and his daughter Louise. There's also Lisa Brambani. That stylish force of the 1960s, Albert Hitchen, also made a rare public appearance for Robbo's 80th.
While Robbo's guests and old compatriots relived old rivalries, I learned of the aspirations of the Kirklees kids from a younger element.
One was Dave Sowerby of Sowerby Brothers Cycles, one of the Academy's backers. The other was Martyn Bolt, a Kirklees councillor, member of the Dave Rayner Fund Committee and a bikie through and through.
Sowerby put me in touch with the man who got the club off the ground, Darren Stringer.
Stringer, Kirklees CA club secretary, is an IT salesman from Huddersfield. He explained how the club began: "Myself, Dave Sowerby and coach Ivan Boyes - who does Go-Ride at Huddersfield Star Wheelers - came up with the idea.
"I've only been in cycling four years - done a few time trials. Did cycling as youngster, but then football for local league. Also half-marathons, but knee trouble stopped that so I turned to the bike again.
"And I discovered that cycling clubs are mostly all older people, not so interested in kids. So we decided to set up our own club."
Stringer says British Cycling's Peter Root, regional development manager, has been a great help.
The Kirklees CA has put 58 kids through this year, and 28 are attending club meetings most weekends. They have an impressive list of sponsors and what must surely be a record number of rollers - 34 sets! They also have two Wattbikes - bought with the aid of a Sport England grant - that measure a rider's power output. The club's next big promotion is in January 2011 - a TT series on rollers.
"The idea is to promote an indoor Go-Ride TT league in January," explained Stringer. "Five races to end of March over 3km, 5km, 8km. Best four results to count."
He says the club owns bikes and loans them to the kids: "They're not kept in a lock-up between sessions. Kids are encouraged to take bikes home, to use them."
It's an arrangement that saves parents the expense and the kids get to see if they like cycling before parents splash out. Even then, the club offers to help. "We say to the parents - you buy a frame and we'll loan them top-notch wheels and a groupset for a year."
The club boasts two coaches accredited to British Cycling Level 2 and above, and they also have access to the closed road racing circuit at Spen Valley Sports College. Boys and girls aged 8-18 are welcome.
The annual membership is £10, but youngsters can attend the club for four weeks before deciding if they wish to join. Besides Sowerby Brothers Cycles, sponsors include Da Sandro Pizzeria and the Normanton Advertiser.
Council backing
The creation of the Kirklees Cycling Academy by three cycling enthusiasts is just the sort of youth project councillor Martyn Bolt had suggested the council should encourage way back in 1999.
Back then, he proposed the following: "This council recognises the beneficial effects for youth cyclesport activities of a sporting development programme to foster and improve the competitive aspects of cycling for children under the age of 17 years.
"This council therefore resolves to undertake an immediate evaluation of the existence of such projects in other areas and act as a catalyst for inaugurating a similar scheme within Kirklees."
So when the Kirklees club came into being, Bolt says it was second nature to want to support them: "A while ago using council funding I produced a DVD detailing the achievements of Mirfield's cycling heroes - Brian, Des, Albert Hitchen, Lisa Brambani, Louise Robinson and a passing mention of Ed Clancy, Olympic and world track champion.
One thousand were produced and they are now on sale at £5 with all proceeds going to KCA. I also donated £500 from the proceeds of the Brian Robinson Challenge ride I organise each year."
But he adds: "My role is very back-room. All credit to the professional approach and thriving membership goes to Darren, Dave, Ivan and their helpers."
But in at least one area, Bolt hopes to make a huge contribution to cycling in the area.
"We are looking at the potential to build a one-kilometre tarmac road circuit." And Bolt puts the word out: "Any benefactors out there for a £200,000 project?"
----------------------------------------
Kirklees club is just the ticket, says British Cycling

John Mills, British Cycling's coaching, education and development director, is impressed by this addition to the growing number of Go-Ride clubs.
"In the space of less than a year Darren Stringer, Ivan Boyes and Dave Sowerby have succeeded in setting up a very active Go-Ride club," says Mills.
"As a direct result, Kirklees Cycling Academy is a well organised, welcoming and well resourced club for young people. Darren and Ivan also sought advice from regional development manager Peter Root and regional talent coach Simon Watts in order to link into the development and talent programmes respectively. The club moves forward into 2011 in partnership with British Cycling and Sowerby Brothers Cycles."
There are 227 Go-Ride clubs.
This article originally appeared in Cycling Weekly magazine January 6 2011
Thank you for reading 20 articles this month* Join now for unlimited access
Enjoy your first month for just £1 / $1 / €1
*Read 5 free articles per month without a subscription
Join now for unlimited access
Try first month for just £1 / $1 / €1
Get The Leadout Newsletter
The latest race content, interviews, features, reviews and expert buying guides, direct to your inbox!
Keith Bingham joined the Cycling Weekly team in the summer of 1971, and retired in 2011. During his time, he covered numerous Tours de France, Milk Races and everything in-between. He was well known for his long-running 'Bikewatch' column, and played a pivotal role in fighting for the future of once at-threat cycling venues such as Hog Hill and Herne Hill Velodrome.