Lance Armstrong plays astronaut on reality TV show; does he have the right stuff to win?
I watched the first episode of "Stars on Mars" to see how the disgraced pro cyclist would fare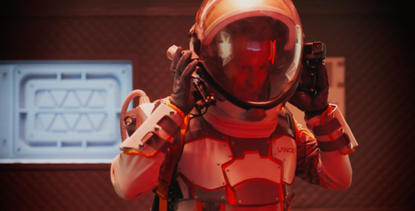 (Image credit: FOX)
Get The Leadout Newsletter
The latest race content, interviews, features, reviews and expert buying guides, direct to your inbox!
Thank you for signing up to The Pick. You will receive a verification email shortly.
There was a problem. Please refresh the page and try again.
Lance Armstrong is remembered as the only cyclist to have won seven Tours de France only to later have his yellow jerseys nullified and his results vacated after a lengthy doping investigation and an admission that he took performance enhancing drugs.
Banned for life from sanctioned cycling events, Armstrong now appears to be seeking new and different challenges out of the saddle. On June 5, the Texan appeared as one of a dozen celebrity contestants on a new Fox television show titled Stars on Mars, which airs at 8 p.m. EST Mondays.
Among the contestants who join Armstrong are Marshawn Lynch and Richard Sherman, both of the American professional football team Seattle Seahawks; Olympic wrestler and MMA fighter Ronda Rousey; actress Ariel Winter of Modern Family; and Olympic medalist figure skater Adam Rippon. The series is hosted by William Shatner of Star Trek fame.
Armstrong and the others are presented with challenges which aim to simulate an exploratory mission to the red planet—including living, eating, and sleeping in very close quarters—over 25 days. Contestants are eliminated through voting by their peers.
"During their stay, they will be faced with authentic conditions that simulate life on Mars, and they must use their brains and brawn—or maybe just their stellar social skills—to outlast the competition and claim the title of 'Brightest Star in the Galaxy,'" according to Fox.
There are no superdomestiques or leadout men, no team car, no rest days, and no doping controls on Mars. Does Armstrong have what it takes to win? I watched the first episode of the new reality TV show to find out.
Does Lance Armstrong have what it takes to win a reality TV contest?
During his career, Armstrong had a reputation for bossing the peloton and demanding unwavering loyalty from his teammates when leading the Discovery Channel and the USPS outfits in the early 2000s. The American has never been one to ride as a domestique or settle for second, and he knows to keep eyes on his competition and even make friendships to suit his athletic goals.
How does the Texan interact with athletes, TV and movie stars, and personalities who eclipse his ego? While accustomed to living on team buses and sleeping in tiny hotel rooms, he seems to bristle at the close-quarter living conditions when forced to bunk with strangers.
When he was introduced to the other Stars on Mars contestants, there seemed to be some excitement, and even some confusion. Actress Ariel Winter seems to confuse Lance Armstrong with astronaut Neil Armstrong.
The retired cyclist noted his name similarity with the first man to set foot on the moon, but noted, "I'd rather be Lance."
The recognizable former cyclist was one of the first to be considered as "base commander" to lead the group, but he let this leader's jersey chance pass without contest, and Lynch quickly seized this opportunity.
The Lance and Marshawn show
In the first episode, Lynch and Armstrong quickly become frenemies and the egos start to clash. The retired NFL player and the former pro cyclist were seated next to each other on indoor bikes, and the Superbowl champion asks if Armstrong calls himself an athlete.
Armstrong retorts, "shut up," and notes his athletic prowess is proven over weeks, not seconds. "I came from an endurance sport, and to me, this thing is all about endurance," says Armtrong.
But Armstrong was quick to compliment the player nicknamed "Beast Mode" and recognize the Superbowl champion's abilities. He observes that Lynch is "one of the toughest humans on the planet and not in any hurry to leave."
Throughout the episode, some attention was given to the other contestants like Rousey, Rippon and Superbad actor Christopher Mintz-Plasse. But Lynch and Armstrong seem to command much of the action, and they both recognize this and play to their strengths of personality.
When the camera is on Armstrong as he embarks on one of the challenges thrown at the group, Lynch singles out Armstrong, and gives him a recognizable nickname. "I got your back Louis Armstrong."
Team tactics and solo wins in space
Armstrong appears to be strategizing about the overall podium rather than the day's contest. He seems affable but borderline arrogant at times. He recognizes the competition from other athletes, but he occasionally overlooks the other celebrity personalities, who are accustomed to gaming their environment to suit their needs.
Bike racing is a team sport, and teams have to frequently work with each other to achieve short- and long-term victories. Some teams hunt stages while others concern themselves with a singular goal. While Armstrong is a master tactician, we've seen him succeed through intimidation and dominance, among other methods.
So far, Armstrong demonstrates an understanding of his environment. But he won't be able to rely on teammates or temporary alliances for long. I'll tune in to see if his wheels come off, or not.
Thank you for reading 20 articles this month* Join now for unlimited access
Enjoy your first month for just £1 / $1 / €1
*Read 5 free articles per month without a subscription
Join now for unlimited access
Try first month for just £1 / $1 / €1
Get The Leadout Newsletter
The latest race content, interviews, features, reviews and expert buying guides, direct to your inbox!
Greg has been on and around bikes since his early teens. He got his start when tubulars and freewheels were still a thing, while working at local bike shops, and dabbling in the Philadelphia racing scene. Greg still geeks-out on bikes, cycling gear, apparel, and accessories as much now, as when he first discovered the sport. Greg has been on staff at VeloNews and Bicycling, and also was a contributor at Active.com.