Lance Armstrong confesses to doping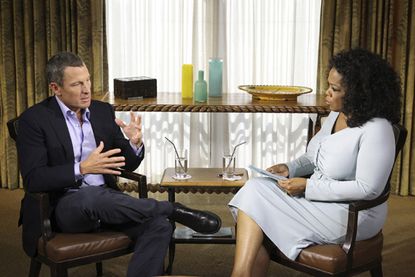 Lance Armstrong confessed to doping during his Tour de France reign and began an offensive to restore his name, according to various reports on Tuesday.
On Monday, he gave his first interview since the US anti-doping agency proved his cheating and stripped of his wins. The interview with US talk show host, Oprah Winfrey will air Thursday in the USA and 2am on Friday in London, but details are seeping through.
The Associated Press news agency reported that "a person familiar with the situation" told it Armstrong confessed in the pre-recorded interview.
The US Anti-Doping Agency (USADA) uncovered Armstrong's years of lies and tactics over the last 12 months. Last summer, it found him guilty and stripped him of all his results since 1998, including the seven Tour wins he achieved after coming back from cancer.
The agency's detailed 202-page Reasoned Decision made public the severity of Armstrong's doping, everything from blood doping to threatening team-mates. It had the help of 11 of Armstrong's former team-mates. Tyler Hamilton and Floyd Landis both testified to Armstrong telling them about the governing body, the UCI, helping cover up an EPO positive from the 2001 Tour of Switzerland.
Since the agency released the Reasoned Decision, team Rabobank folded, Sky fired staff members and the UCI formed an independent commission to investigate corruption claims.
USADA CEO Travis Tygart said, "The evidence shows beyond any doubt that the US Postal Service Pro Cycling Team ran the most sophisticated, professionalised and successful doping program that sport has ever seen."
Instead of immediately testifying to USADA, Armstrong appears to be spinning his situation to survive in the new world. A preview of the interview gives fans an idea of what is in store.
Before the interview, Armstrong met with around 100 staff members from the Livestrong cancer foundation that he started in 1997 to apologise.
"Lance came to the Livestrong Foundation's headquarters today for a private conversation with our staff and offered a sincere and heartfelt apology for the stress they've endured because of him," Livestrong spokeswoman Rae Bazzarre said. He encouraged them "to keep up their great work fighting for people affected by cancer."
Armstrong, according to the New York Times, is "planning to testify against several powerful people in the sport of cycling who knew about his doping and possibly facilitated it". The newspaper reported he would go after officials from the UCI, possibly Pat McQuaid and his predecessor Hein Verbruggen, and from his team's former management company, Tailwind Sports.
He is also working with the feds because long-time team sponsor, US Postal Service is a government agency. He will reportedly "testify against several of the team's owners, including the investment banker Thom Weisel, and other officials." The offensive move will help minimise losses in the whistleblower lawsuit that Landis filed in 2010.
Overnight, according to the Wall Street Journal, Department of Justice officials recommended joining the whistleblower lawsuit.
A whistleblower lawsuit, under the False Claims Act, allows citizens to sue on behalf of the government. Landis reportedly pointed out that Armstrong and Tailwind Sports defrauded the US Postal Service by agreeing to sponsorship contracts that stated doping would not be tolerated. Armstrong's manoeuvring could help him limit his share of the penalty, which may reach up to three times US Postal Service's payment, or $90m (£56m).
If Armstrong is successful then he will pay a little now out of a net worth the Wall Street Journal estimates to be $100m. He will enable himself to return to triathlons, Ironman competitions and regain his marketing value.
Oprah Winfrey is keeping quiet on the interview, but is building for the televised event. She wrote on Twitter, "Just wrapped with @lancearmstrong More than 2 1/2 hours. He came READY!" Today, Winfrey will appear on CBS network's This Morning show to talk about Armstrong.
Related links
Lance Armstrong will 'answer Oprah questions honestly'
Lance Armstrong interview with Oprah Winfrey raises doubts
Lance Armstrong to talk to Oprah Winfrey about doping
Lance Armstrong: Rider Profile
Thank you for reading 20 articles this month* Join now for unlimited access
Enjoy your first month for just £1 / $1 / €1
*Read 5 free articles per month without a subscription
Join now for unlimited access
Try first month for just £1 / $1 / €1