Adam Hansen: Oleg Tinkov is a 'mad cycling fan'
Adam Hansen has raced in the last 10 Grand Tours, and says Oleg Tinkov's Grand Tour Challenge is mad but achievable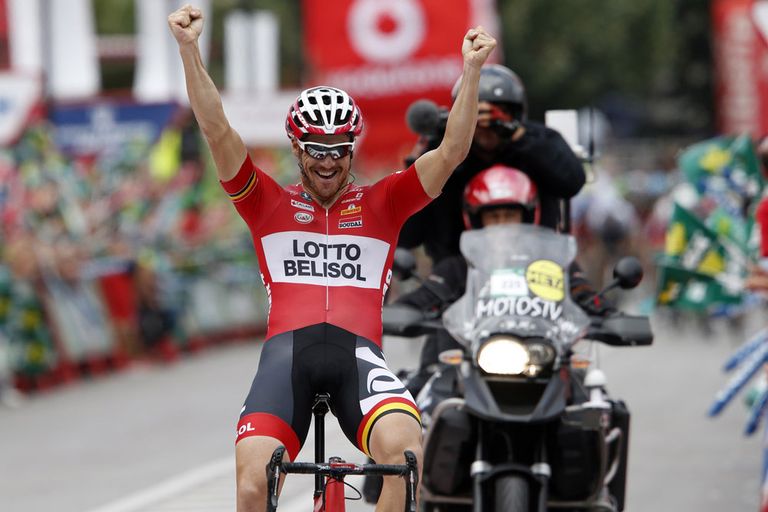 (Image credit: Graham Watson)
Oleg Tinkov is crazy about cycling and has a "cool" idea to get the top stage racers in all three of the 2015 Grand Tours, says Adam Hansen. The Australian professional has consecutively raced all three Grand Tours for the past three years – the Giro d'Italia, the Tour de France and the Vuelta a España – and wants to see the stars do the same next season.
"Is Tinkov just throwing around his money to make himself look good? No," Lotto-Belisol's Hansen told Cycling Weekly. "I think he wants Alberto Contador to do this and he wants the rest to join him.
"He is a mad cycling fan. It would be cool if for a one-off year they all did this. I truly think he loves this and would love to watch them all gun it out."
The Russian businessman and owner of team Tinkoff-Saxo launched a challenge to have cycling's top four stage racers – Contador (Tinkoff), Chris Froome (Sky), Vincenzo Nibali (Astana) and Nairo Quintana (Movistar) – in the 2015 Grand Tours.
Tinkov said that he would give them €1m or £795,000 if they race all three. They could fight for the prize or split it to €250,000 each.
With the Vuelta a España in September, Hansen set a record in cycling by completing a 10th consecutive Grand Tour. Hansen has won stages in this year's Vuelta and last year's Giro, but is largely a domestique for his team's leaders.
"They have different body weight, leadership roles, number of race days and an extra zero on their contracts!" Hansen said.
"They will miss a lot of the other races and in the end, you won't have all four finishing all three Grand Tours. Every year, at one major Grand Tour, you have at least two of them crash out.
"I'm more surprised I'm able not to crash out of mine and make it through in one piece."
The last serious contender to complete all three was 2008 Tour winner, Carlos Sastre. In 2006, the now-retired Spaniard placed 43rd in the Giro, third in the Tour and fourth in the Vuelta. In 2010, he placed eighth, 20th and seventh, respectively.
Adam Hansen during this year's Vuelta a Espana, where he won stage 19
2014 Tour winner Nibali dismissed Tinkov's idea as attention grabbing and inhumane.
"Already to prepare for a big race like the Tour requires a lot of self-sacrifice and a lot of work," Nibali told Italy's Tutto Bici.
"Cyclists are away from home often. We neglect our family to go race or to train for long periods at camps. Fitting in three Grand Tours would not be humane."
"In some was yes [it is inhuman]," Hansen said. "For me after the Vuelta, the Worlds team time trial was too much mentally. I couldn't go home before. Mentally, it was so tough to be away from home for so long. I think people forget what two days at home can do for the mind."
All four cyclists ride in first division teams that are required to race the 2015 schedule that includes 27 WorldTour races. However, teams switch out riders for each race to target the race and allow their men to rest.
Nibali explained that if he and the other three cyclists did take Tinkov's challenge, races such as Tirreno-Adriatico, Paris-Nice and the Critérium du Dauphiné would suffer.
"[You would have to skip] almost all races just before and directly after," Hansen added.
"One positive thing is that you have less travel days, which do add up. I have a lot of periods where I can have big blocks at home and have more recovery time by racing all three Grand Tours."
Tinkov said that he will meet with the managers of the others teams at the Tour de France presentation in Paris next Wednesday. Sky and Movistar indicated that they are open to the idea even if Nibali is calling it "inhumane."
Fabio Aru will lead Astana at the 2015 Giro d'Italia, as Vincenzo Nibali looks to defend Tour de France title
Tour de France champion Vincenzo Nibali gives his response to Oleg Tinkov's offer of €1m to try and get the
Tinkoff-Saxo team owner and businessman Oleg Tinkov wants to see Froome, Contador, Nibali and Quintana race all three 2015 Grand
Adam Hansen surprises sprinters with solo win; No change to top 10 overall
Australian dam Hansen is more used to helping team-mates take stage wins, and says he felt uncomfortable standing on the