Alex Dowsett's five training tips to make you fitter and faster
Former Hour Record holder Alex Dowsett tells us how to go faster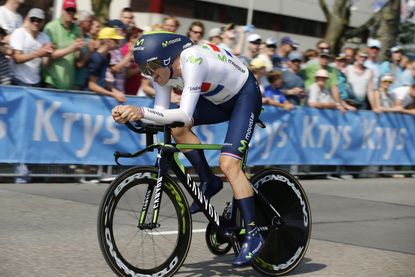 (Image credit: Yuzuru SUNADA)
Having won a time trial stage at the 2013 Giro d'Italia and been an Hour Record holder, Britain's Alex Dowsett knows what it takes to be at optimal fitness and peak race condition.
The 27-year-old has launched his own coaching company, Cyclism, and here he tells Cycling Weekly five ways to improve your fitness and prepare for your race or event.
Don't be afraid to rest
"You have to know when you're tired and when to take a rest. You can be tired from work - don't be afraid to rest.
>>> How to improve your V02 max
"There's time to train and time to rest. A clever coach could be the one who could assess when a rider's tired, and a power meter and heart rate monitor can also be a good judge of that. It's being realistic with how much you can train within a week."
Make the most of little time
"How much you should train is completely dependent on people's workloads. If you do have a job that's quite intensive and it's only allowing you to have eight hours a week training, you have to be really clever with how you use those eight hours.
"People say that they're doing base mileage in the winter but they are only riding six to eight hours. If you have the time to do base mileage, that's fine, but it needs to be 25 hours a week of base miles.
Dowsett shows us his scars from his career
"One of our coached riders at Cyclism is in a similar position: he's an elite level road racer and he has to use the time he has really wisely. He had to do fairly grueling intervals in November/December time because he has to maximise the time he has."
Tailor your training around your objectives
"If you're doing crits, your training has to be punchy and repeating real top end over-your-threshold training and intervals.
>>> Training zones: what are they and why do they matter?
"If you are a time trialist your training needs to geared around your functional threshold power (FTP), so your training needs to be going a little bit over your functional power, and then coming back and then back over and under.
"It's an absolutely disgusting session but it's one of the only ones that will lift your FTP up."
Just get on the turbo
"I am one of the world's worst for getting on the turbo trainer when I need to. I despise the thing.
"I have Zwift set up now which has made it a lot more bearable. The thing is, there's no getting away from it in the winter. You need to use the turbo."
>>> Turbo training sessions: Get the most out of your indoor training
You have to believe in your training if it's going to be successful
"I have to believe in my training. If my coach sets me something and I don't really believe in it, especially if it's a real hard session, I'll make sure I ask him.
"I have to know the end game to the session. If he sent me intervals, and I'm saying 'why am I doing 20 second intervals when I want to be good at 25 mile time trials?', then he'll explain all the science behind it and then I'll see that it makes sense and I can commit myself to it.
>>> Pro rider tips for winter cycling.
"On the turbo, especially, minutes become hours so if it's fully broken down, I find the time goes a lot quicker because you're constantly thinking about the next interval. The more structure you have, the better I train and that's especially true on a turbo trainer."
Thank you for reading 20 articles this month* Join now for unlimited access
Enjoy your first month for just £1 / $1 / €1
*Read 5 free articles per month without a subscription
Join now for unlimited access
Try first month for just £1 / $1 / €1