ANC-HALFORDS: Adrian Timmis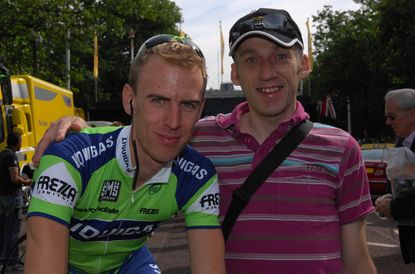 Get The Leadout Newsletter
The latest race content, interviews, features, reviews and expert buying guides, direct to your inbox!
Thank you for signing up to The Pick. You will receive a verification email shortly.
There was a problem. Please refresh the page and try again.
Swipe to scroll horizontally
The cliché about Adrian Timmis is that the Tour de France finished him off.
?Nowadays I?d be diagnosed with chronic fatigue.? The quiet man of the team played a key role in securing the team?s invite to the Tour when he won a stage of the respected warm-up race Midi Libre in May.
?I remember the stage to Strasbourg was so fast and so hot. It was unbelievably hot and hilly. Heavy roads. The flat stages were so fast. The last two hours as Superconfex wound it up for Van Poppel was amazing. It couldn?t possibly have been any faster.
?We were just surviving. There were rumours Palov went into Berlin on a different passport because he couldn?t go in as a Czech. Graham [Jones] wasn?t going well because he was ill. Watty [Paul Watson] didn?t want to be there. Shane [Sutton] was calculating how much time he could lose every time he had a bad day but he just kept going and going. I think Guy [Gallopin] was ill during the first week and he hung onto a few car doors. He wouldn?t have got round unless he?d done that.
?The hotels weren?t that brilliant. Perhaps a handful that were alright. We had a bad one in the mountains where we were in a dormitory. Malc spat his dummy about that one.
?There was only one day that I thought I wasn?t going to finish and that was the one that went over the Galibier. It was false flat from the start and I thought the grupetto had to start soon. Eventually I swung out and [Paul] Kimmage said: ?Get back in, it?s too early?. We chased in the valleys and by the time we finished at La Plagne we were nearly 40 minutes down.?
The pace still didn?t let up at Paris. ?Everyone said that the final stage is a relaxed promenade to the Champs-Elysees but Panasonic attacked from the gun.? The Dutch team attacked because their big rivals Superconfex had come to an arrangement with race leader Stephen Roche that Van Poppel would win the green jersey. Roche led Van Poppel narrowly but the two teams agreed not to contest the intermediate sprints. Panasonic found out and caused havoc.
?We were lined out in the gutter almost from the start. I asked Millar [Robert, who rode for Panasonic] what was going on and he just shrugged. I remember coming over the brow of the hill and seeing the Champs-Elysees and thinking ?I?ve made it?. The next day was a massive anti-climax. We stayed Sunday night, then drove straight back the next day.?
Swipe to scroll horizontally
"When I see an ANC truck on the road I think 'Where's me money?'"
How does Timmis react when he sees an ANC vehicle on the road? ?Where?s me money?!
?I didn?t have a family or mortgage at the time so I wasn?t so concerned about the money during the race. My last pay cheque was in June so I rode the Tour for free. We hardly made anything out of the Tour. People couldn?t believe how much I was paid the year I rode the Tour for ANC. I think I earned about three grand. It would have been six if I?d got everything I was owed.
?Capper didn?t know anything about cycling. He?d say ?Why didn?t you get in that soft break?? and we?d point out the soft break went at 35 miles an hour.
?I thought it?d be my first Tour and it?d stand me in good stead but I suppose it finished me really. I didn?t have a coach or anyone to talk to. Now you?d get advice. I just did what everyone did, got on my bike in January and rode until I was fit.
?After the Tour I was tired and I suppose I never recovered. Going to Z-Peugeot was a struggle.?
Barry Hoban fixed Timmis a place to live in Knokke but Joey McLoughlin, who also signed for Z-Peugeot, got a place in Charleroi so Timmis went too. ?It wasn?t a great place to go. There wasn?t anyone to train with. It wasn?t a nice place. There weren?t the flights there are today so it was quite isolating.?
PICTURE: Twenty years on Timmis (right) returned to the Tour as an invited guest at the start in London. Here he's with Charly Wegelius, another slight climber in the Timmis mould.
Swipe to scroll horizontally
ANC-Halfords ? The Class of '87
Thank you for reading 20 articles this month* Join now for unlimited access
Enjoy your first month for just £1 / $1 / €1
*Read 5 free articles per month without a subscription
Join now for unlimited access
Try first month for just £1 / $1 / €1
Get The Leadout Newsletter
The latest race content, interviews, features, reviews and expert buying guides, direct to your inbox!
Sports journalist Lionel Birnie has written professionally for Sunday Times, Procycling and of course Cycling Weekly. He is also an author, publisher, and co-founder of The Cycling Podcast. His first experience covering the Tour de France came in 1999, and he has presented The Cycling Podcast with Richard Moore and Daniel Friebe since 2013. He founded Peloton Publishing in 2010 and has ghostwritten and published the autobiography of Sean Kelly, as well as a number of other sports icons.