Armstrong heckled at first race back in Europe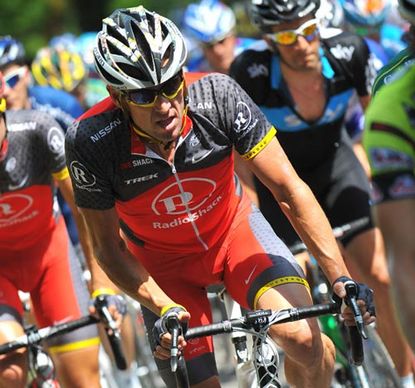 Lance Armstrong broke his calm when agitated by a heckler yesterday at the Tour of Luxembourg, his first race in Europe following accusations made by former team-mate Floyd Landis that he and his team-mates doped.
Following the final stage and a shower, Armstrong signed autographs outside the team RadioShack bus before leaving for his base near Nice, France. There, amongst nearly 100 fans, one person caught Armstrong's ear, according to Belgian paper Het Nieuwsblad.
"Liar, cheat," yelled a man from the fourth row of fans gathered. He repeated it three or four times, until the seven-time Tour de France winner broke his calm.
"Why don't you say that right to my face," Armstrong responded.
Police pulled the man out of the crowd while RadioShack general manager, Johan Bruyneel, took a photo of him.
"This may come in handy if he comes to the Tour," said Bruyneel.
At the Tour de France, Armstrong could face more heckling, and not only from one man identified as a Frenchman. Last month while Armstrong raced the Tour of California, his former US Postal team-mate Landis made public his accusations that Armstrong doped during the time they raced together.
Armstrong spoke to the press and decidedly more supportive American fans in Visalia the morning before the fifth stage, in which he would crash and abandon.
"With regard to the specific allegations and the specific claims, they are not even worth getting into," explained Armstrong. "I'm not going to waste your time or my time."
Despite the recent troubles, Armstrong is showing some form ahead of next month's Tour de France. He finished the Tour of Luxembourg third overall behind winner Matteo Carrara (Vacansoleil) and Fränk Schleck (Saxo Bank).
Though he left Luxembourg, he will remain in Europe through the start of the Tour de France, July 3. He will race the Tour de Suisse and recon some of the mountain stages.
Thank you for reading 5 articles this month* Join now for unlimited access
Enjoy your first month for just £1 / $1 / €1
*Read 5 free articles per month without a subscription
Join now for unlimited access
Try first month for just £1 / $1 / €1