Armstrong raises the stakes in battle with AFLD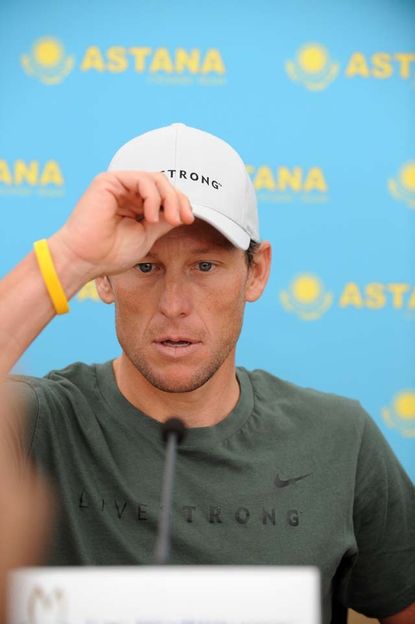 Lance Armstrong has raised the stakes in his battle with the AFLD to a whole new level by claiming that there is a very high likelihood that the French Anti-Doping Agency will try to stop him riding this year?s Tour de France, meaning he will not be able to promote his crusade against cancer.
The AFLD accused Armstrong of misconduct for allegedly failing to remain under their constant supervision during an out of competition drugs test.
Speaking in a video message recorded in Colorado where Armstrong is recovering from his broken collarbone and training for the Giro d?Italia, the seven-time Tour winner made it clear he feels that the AFLD want to stop him trying to win a eighth Tour de France.
Armstrong has dubbed the spat with the AFLD about respecting anti-doping rules as ?showergate? and has tried to ridicule the French with sarcastic twitter messages. The AFLD has yet to decide if it will investigate Armstrong for breaking anti-doping rules but true to character, Armstrong has decided to go on the attack.
?We have a long history. I know that my comeback wasn't welcomed by a lot of people in France," Armstrong said in the video message, fuelling his perceived hate campaign from the French.
"It's unfortunate. I expect this will escalate and that we will see more antics out of the AFLD in the near future. There's a very high likelihood that they prohibit me from riding in the Tour."
?It?s too bad. The Tour is something I love dearly, something I wanted to ride, to race in, to be competitive in, either go for a victory or help Albert (Contador) or Levi (Leipheimer) get a victory.?
?We shall see. The comeback has been important to me for two main reasons. Obviously I have a passion for cycling still, but more importantly I have a passion for the global fight against cancer. I wanted to tell that story in France but if we can?t do that we can?t do that it?s their call, it?s their country, their event, their rules so we have to play by those.?
Fortunately for Armstrong, it seems he will be fit to ride the Giro d?Italia and the organisers recently changed the route to avoid entering France, where the Texan could eventually be stopped from racing.
Armstrong confirmed in the video message that he should recover in time to ride the Giro but was unsure if he will be an overall contender.
RELATED LINKS
AFLD accuse Armstrong of breaching anti-doping rules
Dope testers give Armstrong a haircut
Armstrong stunned by tough Giro time trial
Armstrong and Catlin drop anti-doping programme
Cancellara express derails the Armstrong show
Armstrong and Astana train for Tour of California
Armstrong Down Under: Job done
Watch Armstrong make his comeback (video)
Contador says Armstrong will take the pressure off him
Armstrong in Adelaide... and Astana kit
Armstrong to get elite security team for Tour Down Under
Armstrong to ride Tour of Ireland?
Lance Armstrong press conference transcript
Lance Armstrong: Exclusive interview
Armstrong trains with Contador for first time
Armstrong to ride 2009 Tour de France
Armstrong: still no drug-testing program
Armsrong visits Paris but doesn't want to talk about Tour de France
Armstrong speaks to Cycle Sport
Armstrong vs Hincapie at Tour Down Under
Armstrong to meet Tour officials before deciding on participation
Armstrong still playing it cool over Tour
Armstrong says he could not have hoped for a different Tour
Contador to stay with Astana and Armstrong
Lance Armstrong's Tour de France comeback in doubt
Armstrong to ride the 2009 Giro d'Italia
Armstrong rejects offer to re-test 1999 samples
Armstrong knew about six month rule
French offer Armstrong re-test of his 1999 Tour samples
Amrstrong hopes UCI show 'common sense' for Aussie return
Armstrong comeback in Tour Down Under faces possible delays
Watch Armstrong in Vegas 'Cross race
Armstrong confirms Ventoux time trial for 2009?
Armstrong's comeback starts in Australia
Wednesday Comment (September 24)
Contador says riding with Lance could be difficult
UCI president rubbishes Armstrong Tour buyout claims
Bruyneel talks up Armstrong's chances
The Wednesday Comment, Armstrong Edition (September 10)
Tour de France: Lance can race in 2009
Contador: Lance could win eighth Tour
Lance confirms 2009 comeback
Armstrong: No smoke without fire?
Thank you for reading 20 articles this month* Join now for unlimited access
Enjoy your first month for just £1 / $1 / €1
*Read 5 free articles per month without a subscription
Join now for unlimited access
Try first month for just £1 / $1 / €1