Best cycling sportives near Manchester
We pick out some of the highlights of the 2017 cycling sportive calendar around the Manchester area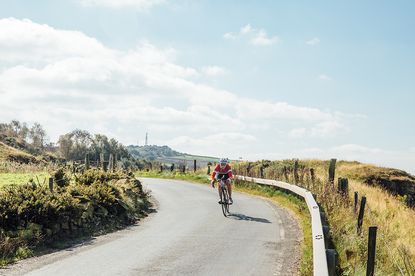 Manchester and the north west of England is one of the best places in England for the cyclist - why do you think British Cycling bases itself there?
With the flatter areas of Lancashire and Cheshire for the easier days, there are plenty of hills to keep you occupied. Head north to the Lake District and the Yorkshire Dales, south west to Wales or East into the Peak District and you can find the toughest roads the country has to offer.
>>> What is a cycling sportive? Everything you need to know
This landscapes attracts a proliferation of events, so why not try one?
>>> 12 of the best upcoming cycling sportives to ride
Forest of Bowland Sportive
When: Sunday April 9
Where: J36 Rural Action Centre, Crooklands, Milnthorpe, Cumbria
More information: www.ukcyclingevents.co.uk/events/forest-of-bowland-sportive/
A 100 mile ride with 8,000 feet of climbing is not to be sniffed at, especially this early in the year, so you'll need to have some training under your belt, or expect a very long day. If something shorter is for you, the 81-mile route loses 1500 feet of that climbing, though still tackles some of the toughest climbs of Bowland's Area of Outstanding Natural Beauty.
Gran Fondo Conwy
When: Sunday April 23
Where: Conwy Quay, Conwy, Gwynedd
More information: granfondoconwy.com
Head west into North Wales and you will find this three route event, each with a slightly different name. All begin with the Storm the Orme Challenge, a one mile timed ascent of the legendary Great Orme climb, the only opportunity to ride the Orme in the wrong direction as it's closed on the day.
At 102 miles, the Mawr is the longest route, and with over 6000 feet of climbing around the edge of Snowdonia, no mean challenge.
Brewin Dolphin Peaks Tour
When: Sunday May 14
Where: Bakewell Showground, Coombes Road, Bakewell, Derbyshire.
More information: www.ukcyclingevents.co.uk/events/peaks-tour-sportive/
This events provides three routes all of which are set entirely within the Peak District and are sure to set a stern test. The longer course takes the rider over 9,455 feet of climbing during its 98 miles, a ride not to be taken lightly. Coming after just 20 miles, all three distances tackle the limestone gorge of Winnats pass, where the 20 per cent slopes will set the tone for the day.
>>> Best cycling sportives in Scotland
Tour de Manc Chas Collins Memorial Sportive
When: Sunday June 4
Where: Virgin Active Lancashire Health and Requests Club, Heywood Old Road, Middleton.
More information: tourdemanc.co.uk
A charity event, the day before the main sportive a team para-cycle ride takes place at the Tameside Cycling Circuit in Ashton-Under Lyme, the idea being for teams to ride the 100 miles of the sportive.
The longer route skirts Manchester, taking in Stockport in the south before looping round the edge of the Pennines to Rochdale. After heading west, you ride to the finish via Botlon and Bury, and with nearly 8,000 feet of climbing behind you the after ride party will be truly welcome.
Bike Chester
When: Sunday June 11
Where: King's School, Wrexham Road, Chester.
More information: www.bikechester.co.uk/home/
Though there are three distances, unusually there are four routes for this event beginning in the picturesque city of Chester. While all the routes head south-west towards Wrexham, those less able or fond of going up hill, but still up for an 80-mile ride, can select the flatter version with 3,800 feet of climbing, as opposed to the tougher 4,500 feet on the alternate route.
West Coast Classic
When: Sunday June 18
Where: Preston College, St Vincents Rd., Fulwood, Preston
More information: www.ukcyclingevents.co.uk/events/west-coast-classic-sportive/
If savoury rather than sweet is more your thing for a mid-ride snack, then this could be for you. After heading west into the Forest of Bowland for some climbing the route will bring participants back to the coast at Lytham, where organiser will lay on a portion of fish and chips. Be careful not to eat too much as you'll still need to ride more than 20 miles to the finish.
>>> Best cycling sportives for beginners
Evans Cycles Hoy 100
When: Sunday July 2
Where: Arley Hall and Gardens, Arley, Northwich, Cheshire
More information: www.evanscycles.com/evans-cycles-the-hoy-100-sportive-cheshire-sunday-8th-may-2016-EV264242
Ride in the company of Olympic track legend Sir Chris Hoy in this event around Cheshire. Both routes hit a century, one in 100 miles, the other kilometres. The shorter of the two rides remains on relatively flat countryside, while the 100-miler heads east to the edge of the Peak District where riders will tackle some of the climbs around Macclesfield, before a flat run home.
Evans Cycles Peak District Road Sportive
When: Sunday August 20
Where: New Mills School, Church Lane, New Mills, High Peak, Derbyshire
More Information: www.evanscycles.com/evans-cycles-peak-district-road-sportive-sunday-20th-august-2017-EV292080
Perhaps the most comprehensive sportive around the heights of the Peak district, this is no easy day in the saddle. You'll visit some of the area's best known climbs like Snake Pass and Mam Tor. Whoever you are the long route is a stern test with 10,000 feet of climbing over its 80 miles.
>>> Best cycling sportives in Yorkshire
The Fell Beast
When: Sunday September 3
Where: Carlisle Race Course, Durbar Rd., Carlisle.
More information: www.ukcyclingevents.co.uk/events/west-coast-classic-sportive/
With a summer's riding in your legs head it's worth heading to the far north western corner of England for this glorious ride around the Lake District. Not only will you get the chance to ride through the stunning beauty of this part of the country, you will ride some its toughest roads including Honister Pass. Hold something back on its 20 per cent slopes as once over the top you'll only be half way through the 101-mile route.
The Cycling Weekly 125
When: Sunday September 10
Where: Oulton Park Circuit, Little Budworth, Tarporley, Cheshire
More information: www.ukcyclingevents.co.uk/events/cycling-weekly-125-sportive/
Introduced last year to celebrate Cycling Weekly's 125th anniversary, this event remains on the calendar for 2017. The 125-mile route may only have 4,747 feet of climbing, but that includes the infamous Mow Cop and it's killer 23 per cent gradients. The finish is a timed lap of the Oulton Park Circuit, though you're likely to struggle to match the times of the British Super Bikes competing there the following week.
Liverpool Roubaix
When: Sunday October 1
Where: Knowsley Velodrome, Longview Drive, Knowsley, Merseyside.
More information: cycleclassics.co.uk/liverpool-roubaix/
For the genuine Paris-Roubaix experience head not for France, but for Liverpool! A relatively flat ride, you will ride over a series of gravel and cobbled roads. There are two distance options, neither of which are as log as the Queen of the Classics, but 100km and 100-mile routes should provide a good day out. Both finish at the velodrome. Of course.
>>> Best cycling sportives near London
Wiggle Forest Ranger Sportive
When: Sunday October 22
Where: Uttoxeter Race course, Wood Lane, Uttoxeter, Staffs
More information: www.ukcyclingevents.co.uk/events/wiggle-forest-ranger-sportive/
The Forest Ranger provides three routes which start from the north Midlands town of Uttoxeter, and all of which head south to take in the lanes around the National Forest. Though the long route has only 3,300 feet of climbing , there is barely a flat mile of road on the 82-mile long route, making the perfect way to wind down your season with a decent, if not massively testing event.
Thank you for reading 20 articles this month* Join now for unlimited access
Enjoy your first month for just £1 / $1 / €1
*Read 5 free articles per month without a subscription
Join now for unlimited access
Try first month for just £1 / $1 / €1