Boardman: Helmet debate being used to avoid making real decisions
Chris Boardman says he doesn't want to 'waste time' talking about helmets, saying that the focus should be on stopping accidents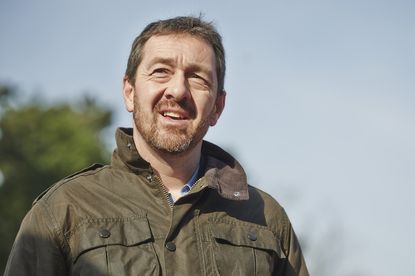 (Image credit: Luke Webber - British Cycling)
Chris Boardman has said that he "won't waste air time" discussing the safety effects of helmets and says the debate over them is "being used to deflect from making real decisions" about cycle safety.
The Olympic gold medalist was speaking to the Western Morning News in Exeter after a filming a new road safety video in the local area when he said that decisions should focus on how we stop accidents and not on whether a cyclist should be wearing a helmet or not.
Boardman, who has spoken out a number of times on the issue, was heavily criticised in November 2014 after appearing on the BBC Breakfast news programme discussing cycling safety while not wearing a helmet.
"I had the audacity to ride a bicycle in normal clothes and was pilloried for it," he said.
"I dressed as I would to drive down the shops. I have nothing against helmets.If I go on long ride I wear one – sometimes out of habit, often on a mountain bike – but I am under no illusion about the effect on my safety. I manufacture the things. In an incident with a car they will have almost no effect.
"They are being used to deflect from making real decisions and I won't waste air time talking about them. The danger for me is being hit by a vehicle doing something it shouldn't. We should focus on how we stop accidents not what happens to people who have them."
>>> Boardman calls on David Cameron to 'get moving' on cycling promises
The 46-year-old, who has been a long-term campaigner on cycle safety and now acts as British Cycling's policy advisor, also says that the huge amount of data available to those in charge should be a wake-up call to promoting cycling as a primary means of transport.
"We are drowning in data – economic, health, pollution, you pick any battleground you want and using cycling as a mode of transport for short journeys wins hands down," Boardman said.
"The only way to get people to exercise more is to get them to include it in their daily life. It is not about cyclists but communities. We need infrastructure and there need to be laws to protect people.
"At the moment the easiest way to kill somebody is to do it in a car with the minimum penalty. As a logical person I am desperately frustrated that we are even talking about this. The fact that we have to push for it is ludicrous."
Boardman has previously said that he wants "to focus the debate on the cause and campaign for things that will really make cycling safe" but understands "exactly why people feel so passionately about helmets or high vis."
After coming under criticism last year he responded by saying that helmets were "not even in the top-10 things" to keep rider safe.
"That is why I won't promote high vis and helmets," he said. "I won't let the debate be drawn onto a topic that isn't even in the top 10 things that will really keep people who want to cycle safe."
Thank you for reading 20 articles this month* Join now for unlimited access
Enjoy your first month for just £1 / $1 / €1
*Read 5 free articles per month without a subscription
Join now for unlimited access
Try first month for just £1 / $1 / €1