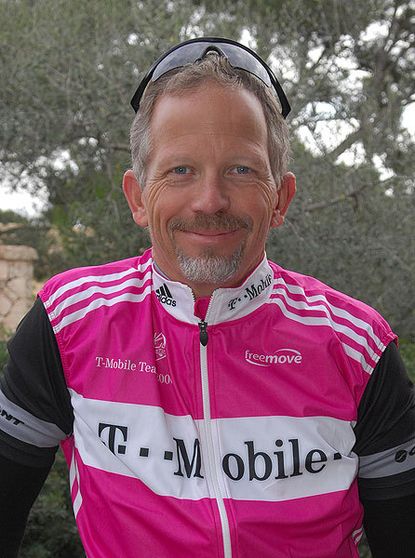 Ever since Patrik Sinkewitz?s positive test for testosterone was announced during the Tour de France, speculation has been rife as to the future of the T-Mobile team. Yesterday, Deutsche Telekom, of which T-Mobile is a subsidiary, announced their intention to stay with cycling.
Cyclingweekly.co.uk spoke to team boss Bob Stapleton about the decision, the future of the team and where professional cycling goes from here.
CW: How close was T-Mobile to pulling out of cycling sponsorship?
BS: Well, they have real value concerns about the sport, I have to recognise that being a business man myself. I think it was a decision that nobody really wanted to make but they had to really look at it analytically.
The biggest issue for T-Mobile is just the incredible scrutiny that doping gets in Germany. They?re such a high profile company that they have to show a diligent process and very open view on the sport.
Most of the issues were focused on ?where is the sport headed? Is there real potential here to have a clean and fair environment, or is that just a dream??
The broader issue is the status of the sport. All the doping revelations around the Tour, even tests that came before or after the Tour, really raised a lot of issues about the health of the sport and the attractiveness for investment, and the risk of negative brand image.
When we started this process we knew that it was going to be risky and it was going to be tough, and I think there is a recognition that this is the price of progress. The question from a brand perspective is, ?can the sport survive?? Not only the illness, but the cure.
CW: Do you think the sport can survive?
BS: I do think that people getting caught is part of the cure, that?s what?s different now. The consequences of doping has been big for a while, what?s different now is that you have a real chance of getting caught. And it?s remarkable for me how many positive tests there have been in really just a few months of testing.
I think there have been about 200 to 300 tests that have been done since the first of April, and look at the results, they?re pretty big.
CW: Has T-Mobile asked the team to go even further in the fight against doping?
BS: They want to make sure we?re doing everything possible in our team. They want us to be even more active in the sport, and they want to see the team and the team management do more internationally to fight doping.
We?re going to make a contribution, the riders the management, so that we?ve got skin in the game, and what I?m very personally focused on is what can be done across the sport, and I think there?s a lot that can be done.
It?s been widely criticised, but if you look at the 100% against doping programme that?s what?s producing the results right now. It?s a very modest effort, it?s not well funded, it didn?t get good support from the teams, it got implemented late, but it?s structurally a pretty sound programme.
But one tactical thing we could do is improve whereabouts. Get whereabouts information that?s shared across all the ProTour teams and teams that have athletes that are accountable for. That solves the Rasmussen problem right there.
Likewise if we could keep test results centrally, in a secure database for example, that?s a big help too. Because right now you?ve got very poor access to information and no ability to look at profiles of athletes other than what?s in the UCI records, which is only a small part of the testing that?s being done.
There are things that can be done that will give tangible improvements, that use current testing and current information better. Then you?ve always got the potential to do something more with testing. Like the blood volume test that we do, they would have definitely shown these Astana issues, so I think there?s much more, that?s realistic, to do than I thought one year ago.
CW: Can one team affect what the others do?
BS: I think everybody is looking for ideas right now. There is nobody that could dispute the need for change now. Nobody. I?ve had calls from different teams now, teams that thought I was a complete asshole a few months ago and didn?t want to spend ?30,000 to support the UCI?s programme, now they?re desperate to do something.
I think there?s clear recognition of the need to change now, and a lot of it has been sponsor pressure, plus the sport has been kind of embarrassed on the world stage. The Tour is broadcast in around 160 countries, and to have the Daily Doping Diary is really a black eye for the sport. So I think people are really open for change.
The problem is the relationships are broken right now. The ASO and UCI are struggling. I continue to hope that doping is the one thing that people continue to rally behind and really try and solve together. But if not I think a new structure has to be put in place.
If that?s a new league or a new association, it?s got to happen, because I don?t think there is any choice now for the sport except to put forward practical solutions on doping.
CW: Are the penalties tough enough?
BS: I don?t think that consequences are the issue anymore, I think there are tough consequences, it?s really just uniform testing and having everyone play by the same rules. It?s still remarkable how uneven actions are on doping, and I think if you?ve got all the riders testing regularly out of competition, you target suspicious riders like they did with the Men in Black.
If everybody knows that they?re going to get heavily tested, I think that that starts to change behaviour. I think what we see coming out of the Tour is not bigger penalties but a much bigger likelihood of getting caught.
If you do something more on blood, tighter blood profiles, and you increase out of competition testing, and you go after guys that you have a reasonable basis to be suspicious of, that makes a big difference.
That?s why it has to be pushed from the top down. I don?t think the team-by-team doping programmes have much future. They?re just a band aid really for the lack of a more systematic programme that goes across the whole sport.
Once you have that, one of the things that gets into riders heads is that they?re not so they?re disadvantaged, and thinking, ?I don?t know if I can do it.? I think part of the way you break that psychology is for people to view a system that?s fair, that everybody is subject to the same tests, and at the same risks for doping behaviour.
Patrik was insecure about his inability to compete and he reached in to the medicine cabinet. And that ?s what happens I think when guys feel like others are doing stuff,
CW: How did the riders respond after Sinkewitz?s positive test?
BS: I talked to a good number of the riders and I think in general there is still a fair amount of anger. They felt like they made a big commitment, they?re sticking to it and a lot of people?s jobs and even careers have been put in jeopardy by these actions. And the reaction to Sinkewitz?s case has been pretty damn dramatic. It?s my biggest disappointment that a single incident can cause so much potential damage to so many people.
I particularly feel for the women?s team that is just an exceptional group of people. To have them put in jeopardy, or even several weeks of stress, is just really unfortunate. And I take that very personally.
We talked to [Sinkewitz], and when he says he took it instinctively, that makes no sense, right? But I do think it was just a stupid and poorly thought out act. I don?t think it was something he was doing on some calendar. I think he just did a dumb thing and nearly wiped out a bunch of people?s livelihoods.
He?s a vulnerable guy, and I think once he realised what the consequences were he knew it was the right thing for him and a good thing for the sport if he came out and said, ?hey, I?m not going to go on with these crazy denials, I?m just going to tell it like it is.?
CW: There were rumours that he was still friends with Matthias Kessler and that they still trained together?
BS: I think that was true.
CW: Is this a limitation of a professional team, where riders are out of a team structure for most of their time?
BS: They are on their own most of the time, two thirds of the season. A lot of people think of people of these networks that are really systematic and organised, but what it usually is, is ?cells?, groups of guys who decide they?re going to do things and that?s how it spreads. It usually starts with someone who thinks they?re smarter than everybody else. That could have been a factor here.
I really try and understand the psychology of it more, and I do think that?s more typical than these big systematic, doctor organised things. Guys are trying things that they?ve heard about from others. Then a couple more guys do it, then boom! it blows up.
Thank you for reading 20 articles this month* Join now for unlimited access
Enjoy your first month for just £1 / $1 / €1
*Read 5 free articles per month without a subscription
Join now for unlimited access
Try first month for just £1 / $1 / €1