Bradley Wiggins in California: 'Last time I was here I was fat'
Bradley Wiggins recounts the last time that he took part in the Tour of California, in 2008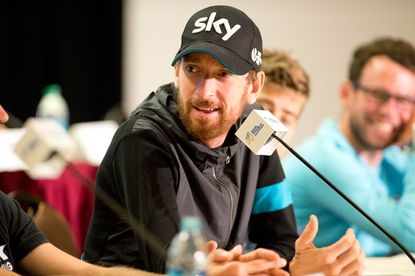 (Image credit: Graham Watson)
Bradley Wiggins gave a typically entertaining performance at the Tour of California press conference on Friday evening.
The Sky leader was asked for his memories of the last time he took part in the event - in 2008, when he was riding for the Columbia Highroad team with Mark Cavendish.
"The last time I was here I was with Cav and we had a horrendous time, it was February and we were both as fat as anything and we struggled," said Wiggins. "I spent one of my worst days on a bike from some town somewhere to San Luis Obispo, it was 230k in the rain.
Jens Voigt interjected: "I was there!". "I know you were there," said Wiggins. "You're everywhere," referring to Voigt's record of competing in all nine editions of the race so far.
"Guys were retiring from the breakaway it was that cold, and I've never seen that in another bike race.
"Then I got sick, and retired. Cav won the stage and then got disqualified. So it was a horrendous race. It can't get any worse than that, so I think we're going to have a good week."
On a more serious note, Wiggins again underlined his intention to win the race overall, saying that it was the second-most important race to sponsor 21st Century Fox after the Tour de France.
The Tour of California starts in Sacramento on Sunday, May 11, and finishes eight days later in Thousand Oaks on May 18.
Watch the full press conference on the Tour of California website.
Thank you for reading 5 articles this month* Join now for unlimited access
Enjoy your first month for just £1 / $1 / €1
*Read 5 free articles per month without a subscription
Join now for unlimited access
Try first month for just £1 / $1 / €1