Bradley Wiggins believes team pursuit world record can be broken at Worlds
GB team pursuit squad "excited" about potentially breaking the world record at the Track Worlds this week, says Bradley Wiggins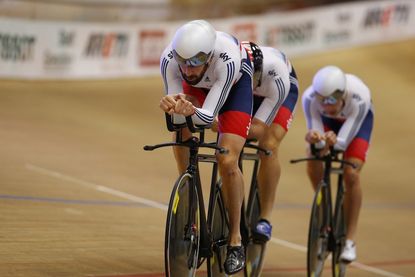 (Image credit: Watson)
Sir Bradley Wiggins believes the Great Britain squad can break the world record in the team pursuit at the Track World Championships this week, if the conditions inside the London Velodrome are right.
The Tour de France winner is aiming to win a career fifth Olympic gold medal in Rio in the team pursuit, and believes the GB squad (made up of Wiggins, Owain Doull, Andy Tennant, Steven Burke, Ed Clancy and Jon Dibben) is capable of breaking the 3.51.369 time set by the Great Britain team in 2012 at the London Olympics.
"I think we're all quite excited that we can break the world record if the conditions are right," Wiggins said.
"It'll either be [at the Worlds] or it'll be in Rio because there is no other opportunity really."
Men's endurance coach Heiko Salzwedel echoed Wiggins's belief. "We are quite certain there is going to be a new world record [at the Worlds], if not by us then by someone else. I think it's long overdue, the team pursuit is moving on," he said.
"We are quite confident, we want to do the best performance in front of our home crowd."
However, Wiggins pointed to his Hour Record ride last June in London as evidence of how much the conditions inside the velodrome can play a part on the track. Although he broke the record, high air pressure inside the velodrome prevented Wiggins, he said, from riding further than he did.
"As I learnt with the Hour you can't compare anything you do here [in Manchester], you go down to London it's sticky in there, whether they get the temperature up. You just don't know what the conditions are going to be like on the day."
He continued: "If the World Championships are in Manchester, we know we can crank this place up to 30 degrees. It's a fast track, we're used to it and I think we would be close if not break the world record if it was in Manchester."
Wiggins last competed at the Track Worlds in 2008. In that time, he explained, the team pursuit has changed significantly.
"It has got harder, the training's a lot harder," he said. "The first time I rode the event in the Olympics in 2000, 16 years ago, we broke the Olympic record in qualification with 4.04 and we're now planning on going 3.50, so it's 15 seconds faster. The whole thing's just evolved and snowballed and the event's got faster and faster."
Yet while he has been clear in his desire to win one final Olympic gold before ending his career, Wiggins admitted he is far from guaranteed a spot in the team pursuit line-up.
"I haven't made the team for the Olympics yet," he said. "There are six of us going for four spots and I might not even make the plane yet. I'm not preselected because I've won the Tour and all that."
He continued: "The good thing about here is you just come in and it's a numbers game we're in — you get shown the numbers after every ride you do. If you're not up to scratch then you go home and you don't make the team. Reputations and results have got nothing to do with it."
Thank you for reading 10 articles this month* Join now for unlimited access
Enjoy your first month for just £1 / $1 / €1
*Read 5 free articles per month without a subscription
Join now for unlimited access
Try first month for just £1 / $1 / €1