Bradley Wiggins: Targeting the Hour is easier than the Tour
2012 Tour de France champion says he now has the ability to hurt himself in training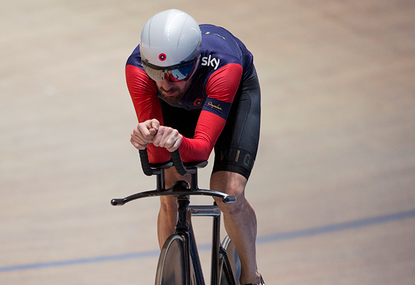 Sir Bradley Wiggins believes preparing for his UCI Hour Record attempt in London this weekend is "easy money" compared to targeting the Tour de France.
Wiggins, who sought a Tour win in 2010 and 2011 with Team Sky before becoming the first Briton to achieve the feat the following year, will seek to break Alex Dowsett's benchmark of 52.937 kilometres in the Lee Valley Velodrome at 6.30pm on Sunday, June 7.
Speaking after only his second session on the former Olympic Velodrome, in which he was riding at the 16.2-second per lap pace that could see him come close to Chris Boardman's 1996 benchmark of 56.375 kilometres, the 35-year-old feels his road exploits mean he can now push himself further than he did during his distinguished track career of the mid 2000s.
>>> The Hour Record: An interactive timeline
"I can train harder and put myself through harder efforts now than I used to do, having come off the road and done the Tour," he said.
"I used to shy away from that, I never liked going and testing myself, whereas 40-minute track sessions are easy money compared to what we were doing on the road ahead of the Tour de France.
"There was that perception of what I used to think was hard – and now I'm doing 55km here at race pace tomorrow."
Wiggins has spent two weeks training on the Palma Velodrome in Majorca, which he described as a "deliberate choice." He added: "It's quite a slow track, I had a heavy bike, which was the intention before coming here [and using the modified Pinarello Bolide HR he'll use in his attempt]."
"We've done quite a few lengthy periods on the track, they've gone well and felt comfortable.
"It's not been a slog – a month ago we were doing 40-minute blocks on the track and Heiko [Salzwedel, Great Britain's men's endurance coach who is overseeing Wiggins's preparation for the attempt] has been saying 'it's a shame it's not on Sunday'.
"I'm trying not to get carried away, I've still got to go through the process, which historically is something I've done well."
>>> Where to watch Bradley Wiggins's Hour Record attempt
Wiggins's Hour Record will be broadcast live on Sky Sports 2HD, as well as online via Sky's free-to-watch YouTube channel.
Sir Bradley Wiggins's time trial minute man
Thank you for reading 20 articles this month* Join now for unlimited access
Enjoy your first month for just £1 / $1 / €1
*Read 5 free articles per month without a subscription
Join now for unlimited access
Try first month for just £1 / $1 / €1