British cycling legend Barry Hoban launches autobiography
Former British professional rider Barry Hoban lunches new book, Vas-y-Barry, with a series of talks and signings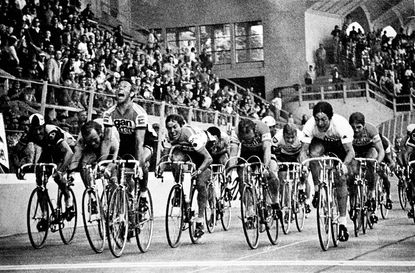 (Image credit: Miroir Archives - PhotoSport Int)
Eight times a Tour de France stage winner, the only British pro to win Ghent-Wevelgem, podium places in Paris-Roubaix and Liege-Bastogne-Liege: these are a few of the highlights of Barry Hoban's amazing 17-year professional career, a career he forged at a time when only a handful of British racers made a place in world pro cycling. He also raced against three of the four five-time Tour de France winners: Jacques Anquetil, Eddy Merckx and Bernard Hinault. Now he's written a book about it.
It's called Vas-y-Barry, or 'Go on Barry' in English, a cry Hoban heard many times in the 19 years he lived in France then Belgium and raced all over Europe. Two of those years were spent as an independent rider and the rest as a pro. Vas-y-Barry is written from the heart and a graphic account of what racing was like in his days.
>>> Barry Hoban: British Legends
The book is published by the Pedal Press, a new venture by regular Cycling Weekly contributor Chris Sidwells, who says: "I want to publish some of the stories that mainstream publishers might not, but stories that I know will appeal to cyclists. Barry's autobiography, for example, isn't a soul-searching tale of angst, instead he graphically conveys what it was like to race against Anquetil, Merckx, Hinault and other the great riders of their era.
"He digs beneath the accounts of old races to reveal what professional cycling was like when he raced. You get the full sense of what it was to be a pro back then, and Barry conveys a true feel for the camaraderie as well as the competition."
Vas-y-Barry will be available from Tuesday, May 5 from www.thepedalpress.uk and from a series of events and book signings that are planned at different venues throughout the spring and summer.
The first is on Tuesday May 5 hosted by Newport Cycling Club at the Wheatsheaf Inn, Chetwynd Aston TF10 9LF at 8pm; followed by another next day (Wednesday May 6) at the Bike Factory, Broughton, near Chester, CH3 5BH, from 5pm to 7pm.
Hoban will give a talk, answer questions and sign copies of his book, which will available to buy at a special event discount. Further events will be announced on the Pedal Press website.
Thank you for reading 20 articles this month* Join now for unlimited access
Enjoy your first month for just £1 / $1 / €1
*Read 5 free articles per month without a subscription
Join now for unlimited access
Try first month for just £1 / $1 / €1