'I can't remember a thing from the moment of the crash until around two weeks after'
Just three weeks after sustaining a serious head injury, Becca Carter was back on her bike; within two years she had signed for a WorldTour team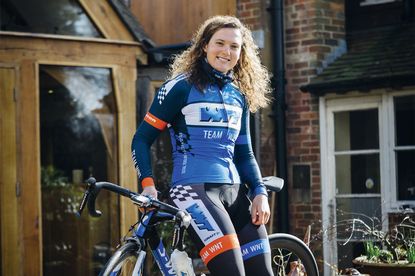 (Image credit: catchpole)
Get The Leadout Newsletter
The latest race content, interviews, features, reviews and expert buying guides, direct to your inbox!
Thank you for signing up to The Pick. You will receive a verification email shortly.
There was a problem. Please refresh the page and try again.
British pro Becca Carter, 26, has just returned from a winter of training in Australia, preparing for the season ahead with UCI team WNT.
She's buzzing as she talks about the Women's Tour.
"It's going to be a big one for us. It will be our first UCI WorldTour-status race on our home roads, with one stage running very close to WNT's headquarters in Sheffield," she says.
>>> The Women's Tour 2017 route revealed with final stage in London
This time three years ago, things were very different for Carter. She recalls the first few miles of a local race in Surrey on March 30, 2014; her next memory is two weeks later.
"It was going well," Carter explains.
"I remember being well positioned, feeling strong and coming into the descent where it happened. I was perfectly happy. And then, boom! Honestly, to this day I still can't remember a thing."
According to other riders on the circuit that day, the bunch was travelling at around 35mph when a fateful touch of wheels sent Carter over the bars.
"Amazingly, the DS of Bonito and one of their riders were doctors, and they stopped and helped stabilise me before the paramedics were able to get to me," she says.
Carter had sustained a heavy impact to her head, causing a brain haemorrhage; she was rushed to hospital.
As well as the brain injury, she had suffered a broken cheek and nose, damage to her right eye, and needed more than 25 stitches to her face.
"I had to be told everything constantly. I'd wake up, panic from the pain or seeing the injuries and not know what had happened until someone told me — that was the scariest part," she winces, recalling the terror.
"I can't remember a thing from the moment of the crash until around two weeks after."
Having been discharged from hospital, Carter needed round-the-clock care, so moved back in with her parents.
"Starting to comprehend things again was the worst, as it was frustrating," she says.
"I remember throwing some epic strops, getting so confused as to what was wrong, and at one time getting readmitted to hospital because of headaches."
Back in the saddle
Many of the physical hurdles were entirely unanticipated:
"I just couldn't fathom what had happened. Other little things were hard too: I lost my sense of smell for months, as blood clots had temporarily blocked my nerves, along with the movement of my right eye."
As a lifelong cyclist, the frustration of not being able to ride began to set in.
"Out of pure spite and bloody-mindedness, less than three weeks after it happened, I sat on a bike.
"I refused to go on the turbo — I wanted to prove that I could still ride a bike.
>>> Four of the best turbo training sessions and indoor cycling workouts
"To this day, I remember that ride: a route that would have normally taken me half an hour took me what felt like a lifetime."
That first ride was a risky challenge, to say the least.
"It was the hardest ride ever. I'd lost a lot of my balancing ability. It was stupid to go out, but anyone who knows me knows it is better for me to learn the hard way than to fight it.
"Let's put it this way, I didn't ride on the road for a good few weeks after that."
Having learnt the hard way, Carter eventually climbed on the turbo and gradually built up balance, progressing slowly to the road, rebuilding her confidence. The next step was a daunting return to racing.
"Crazily, on May 28, 2015, I raced at Eelmore, our local Wednesday night 'world champs'," she says.
"Everyone was amazing but I remember it being a scary feeling. Since getting stuck back in, I haven't looked back."
Signing for WNT
Determined to make a quick comeback, Carter's progress didn't go unnoticed, and she eventually signed for Team WNT Pro Cycling, one of only two women's UCI teams in Britain.
"It means an incredible amount to me to be on a team that wants to help develop women's racing as a whole," she says.
"Last year's Rás na mBan was my proudest moment — the team won overall, and having everything finally fall into place was so satisfying."
Quite a comeback. Even Carter herself, looking back, can barely believe the speed with which she clawed her way back to the top level of competition.
"Five years ago, I would've laughed if you told me I'd be riding full-time; three years ago, after my crash, I would've laughed even more, but I'm living proof that anything is possible if you put your mind to it.
"Today, the effect [of the injuries] isn't big. If I get tired, my scars burn and my eye can get a bit lazy, but I'm so, so lucky, it's unbelievable."
Psychologist's view
Sarah Broadhead, chartered psychologist and director of sport at the Chimp Management Company, explains why coming back from serious injury is a highly individual process.
"Each person responds to a crash in an individual way. It is pretty normal, though, for a crash to result in fear or worry and loss of confidence.
"In this case, it is often helpful to talk to someone about it, and how you felt at the time. This helps the brain process it.
"Some people avoid thinking or talking about it, as they find it too uncomfortable, or they think they should just be able to get on with it.
"Getting support from someone you trust, encouragement to come back, and taking it at a pace you are ready for, can be helpful.
"It is normal to feel different [after a crash]. Experiences in life shape who we are.
"Once the emotions have been processed, it is often easier to get some logical thoughts or plans in place."
Thank you for reading 20 articles this month* Join now for unlimited access
Enjoy your first month for just £1 / $1 / €1
*Read 5 free articles per month without a subscription
Join now for unlimited access
Try first month for just £1 / $1 / €1
Get The Leadout Newsletter
The latest race content, interviews, features, reviews and expert buying guides, direct to your inbox!