Car parking 'free for all' would damage cycling levels
Eric Pickles' parking "free for all" is out-of-date thinking, which could increase car dependency and harm walking and cycling levels, say campaigners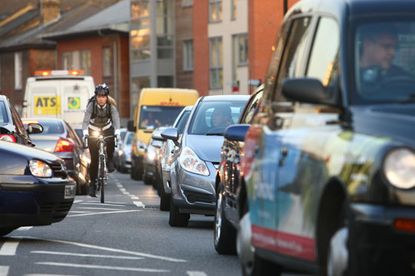 Get The Leadout Newsletter
The latest race content, interviews, features, reviews and expert buying guides, direct to your inbox!
Thank you for signing up to The Pick. You will receive a verification email shortly.
There was a problem. Please refresh the page and try again.
Campaigners have said Eric Pickles' parking "free for all" is not the answer to congested town centres and neighbourhoods, and will increase car use and harm walking and cycling levels.
In two statements on the Department for Communities and Local Government (DCLG) website Eric Pickles, Local Government Secretary, says it should be easier for parking restrictions in town centres to be relaxed, while maximum parking in new housing developments should be increased.
However, Sustrans, the CTC and the Campaign to Protect Rural England say more parking in towns will deter people from walking and cycling, while more parking in new homes will create unpleasant urban sprawl, increasing dependency on motor vehicles.
Allan Williams, Policy Advisor at Sustrans, said: "Local parking policy needs to be subject to democratic control, but the myth of unfair parking charges and over-zealous enforcement ignores the real problems facing the high street.
He adds: "All the evidence shows that shopkeepers tend to seriously overestimate the proportion of customers that travel by car, and that pedestrians, cyclists and bus users spend more on the high street than those in cars. The key to saving our high streets is to make them safer and more pleasant and accessible places for pedestrians and cyclists, not a parking free for all."
In a statement on the Department of Communities and Local Government website, Pickles says a new right could allow local residents or businesses to raise petitions to relax double yellow lines and "unfair parking charges" with just 50 council tax payers or 10% of businesses' or residents' signatures.
Pickles said: "Town centres need to allow for proper traffic flow, but incessant yellow lines, CCTV spy cars and trigger-happy parking wardens make everyday life unbearable for drivers looking for somewhere to park when shopping locally."
Pickles goes on to say "unfair parking charges force people away from the high street", taking a similar tack with residential parking, saying more parking for new homes will "help take the pressure off our congested roads."
However, both Ralph Smyth, Senior Transport Campaigner at the Campaign to Protect Rural England, and the CTC's Roger Geffen say this is thinking founded in the 1970s, and modern evidence shows far from alleviating traffic problems and boosting business, more parking generates more traffic and discourages people from high streets.
Smyth said: "There is some research that we uncovered through a Freedom of Information request, which showed that parking policy is one of the most effective ways to influence travel patterns. If you're going to be increasing car parking that is likely to increase car use."
"The reason car use hasn't grown in central London is because there's so many car parking restrictions," he adds.
CTC's Campaigns and Policy Director, Roger Geffen, said: "Businesses in the UK and the US are saying they want to be in places which are relatively car free. It is attractive living in a low traffic city centre, they can attract better staff, but Eric Pickles doesn't seem to get any of this."
"He still thinks that [more parking] is the way to keep the economy ticking despite the evidence that people want to be doing their living, shopping and working in places with as little traffic as possible."
Thank you for reading 20 articles this month* Join now for unlimited access
Enjoy your first month for just £1 / $1 / €1
*Read 5 free articles per month without a subscription
Join now for unlimited access
Try first month for just £1 / $1 / €1
Get The Leadout Newsletter
The latest race content, interviews, features, reviews and expert buying guides, direct to your inbox!