Census reveals no growth in proportion of people cycling to work in UK
Whilst numbers of those cycling to work has grown in some cities, over the whole of Britain there has been no growth in percentage cycling between 2001-2011 - Policy and infrastructure still lacking in many areas to encourage cycling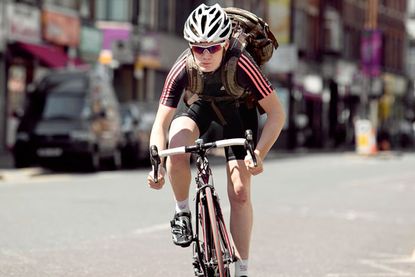 Cycling to work has stagnated in the UK in the past decade, with only a handful of cities bucking the trend, according to census data released today.
While the 2011 census data, released today, shows no overall change to the 2.8% of journeys to work by bike since 2001 across the UK as a whole, in London the same 10 years saw a 101% increase, while Brighton saw a 109% increase.
Data shows those in cities were twice as likely to cycle to work as rural workers, with the greatest 2001-2011 increases in Bristol at 94%, Manchester 83%, Newcastle 81% and Sheffield 80%.
Of 348 local authorities in England and Wales, only 31 saw 5% or more of working residents cycling to work. The highest levels, unsurprisingly, were 29% in Cambridge, with Oxford the next highest at 17%.
However, while cycling has increased in some areas it has decreased in others, with the majority of UK authorities seeing a decline in residents cycling to work over 10 years.
Rachel Bromley, Policy advisor for transport charity Sustrans said the figures reflect failures in local policymaking.
She said: "These new figures are telling of the haphazard approach of many authorities to get with the times and improve provision for the increasing number of people wanting to cycle to work.
"The public demand is there and many urban councils have made good progress in training and infrastructure as is shown by the outstanding urban cycling results. It shows when decision makers put their minds into increasing cycling, real progress can be made.
"Cycling is a silver bullet for Britain's local transport needs through improving access, reducing congestion and tackling air pollution. The benefits to the individual are also huge as cycling is a great way to build physical activity into people's daily routine."
Dr Crispin Cooper, of Cardiff University's Sustainable Places Research Institute, said: "London is the stand-out example of cycling success. Doubtless this is in part down to changes - like the famous Boris bikes - introduced by policy-makers."
He told Cycling Weekly policy and infrastructure have important parts to play but we need wait for further detailed data from the Office for National Statistics on where people are living and working to put these statistics in context. He added: "In those places where cycling hasn't increased it is worth asking why it hasn't increased as well."
164,000 more people switch to cycling as a way of getting to work during 2013, says Cycle to Work Alliance
Proposals for 60-mile network of cycle routes using quiet roads, parks and canal towpaths in a bid to "de-Lycrafy cycling"
Thank you for reading 10 articles this month* Join now for unlimited access
Enjoy your first month for just £1 / $1 / €1
*Read 5 free articles per month without a subscription
Join now for unlimited access
Try first month for just £1 / $1 / €1