Chris Hoy challenges unsuspecting London commuters to a track stand battle (video)
In the build up to the Revolution Series's Longest Lap race, Sir Chris Hoy challenges some London riders to track stand at traffic lights before sprinting away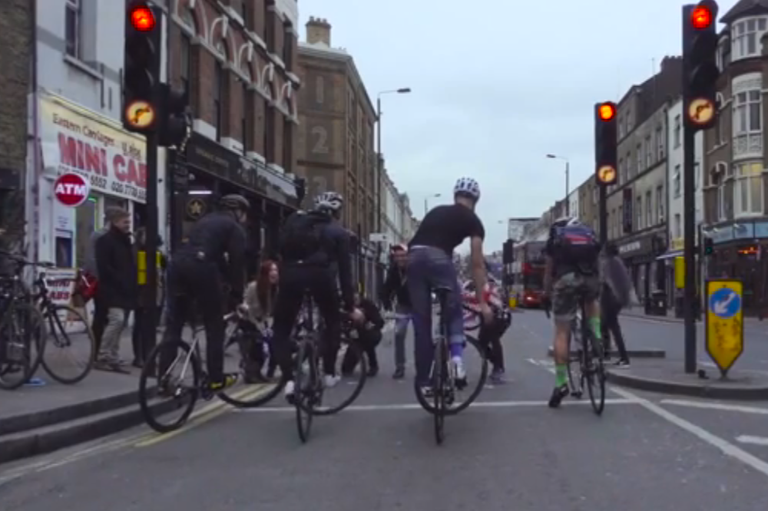 Sir Chris Hoy is certainly keeping himself busy in his retirement, but when he's not watching over his range of bikes and cycling apparel or racing motorcars he can be found out on two wheels, challenging regular cyclists to track stand competitions.
Ahead of the third round of the Revolution Series in London on Saturday, Sir Chris took his bike and a covert camera crew to Brick Lane in east London, where he challenged some unsuspecting commuters to a Longest Lap-type race.
Regular viewers of the Revolution Series will be familiar with the concept of the Longest Lap, or Marymoor Crawl as it's also known - riders must perform a track stand for several minutes, before sprinting round the track.
>>>Watch: Bradley Wiggins in Revolution's Longest Lap race (video)
It's harder than it looks, as the poor London commuters found out, wobbling about on their bikes as Sir Chris - an expert from his cat and mouse sprinting battles on the track - remained pretty still at the red traffic lights.
Cheered on by passers by and his very own flashmob, Sir Chris proved his winning instinct is still in tact by smoking the commuters off the line.
Unfortunately for the six-time Olympic champion, video evidence shows that his wheel did cross the line at the lights, meaning he's automatically disqualified. Sorry Chris.
The Longest Lap will be the final event of the afternoon session at the Lee Valley VeloPark on Saturday. For more information about who's riding, including Geraint Thomas and Peter Kennaugh, and how to buy tickets, check out our preview here.