Sir Chris Hoy unveils his new top of the range aluminium bike
Decorated Olympian Chris Hoy has revealed his latest range of bikes including the aluminium Alto Irpavi .004 which sits at the top of the tree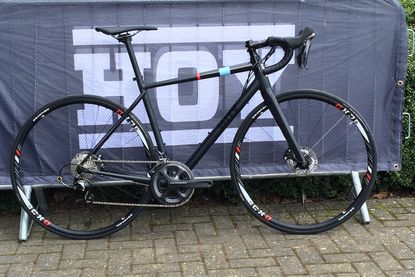 Chris Hoy and Evans Cycles have revealed a new range of aluminium Hoy road bikes for 2016: the Alto Irpavi, Aomori and Shizuoka models.
The flagship Alto Irpavi .004 has an aluminium frame equipped with carbon forks, full Shimano Ultegra mechanical groupset and disc brakes, all for £1,800.
Check out our review of the Shimano Ultegra mechanical groupset
The Alto Irpavi model was initially conceived almost 18 months ago and Chris Hoy first gave a hint of what was to come in a Twitter post earlier this year.
"I wanted to make it [riding the bike] a pleasurable experience, whatever riding you do," the multi-Olympic champion explained as his driver behind his latest bike range.
Aluminium frame
The first big, and unavoidable, question is why choose aluminium over carbon for a top of the range bike? Compared to aluminium, carbon frames give a less harsh ride, are lighter and more aerodynamic. Whereas, aluminium frames are more affordable, more durable and tend to last longer.
Hoy detailed that he is a big fan of aluminium but also really likes carbon if done properly.
"Often you pay more for a carbon bike and at times the quality of the components is compromised," he said, "and aluminium has so much going for it."
The Alto Irpavi aluminium frame is definitely very pleasing on the eye thanks to Hoy's track-line inspired decals, internally routed cables, the clean lines and smooth looking welds.
Hoy explained that to improve the ride comfort the rear stays have been tapered to absorb road vibrations. The seat stays look particularly sleek due to the lack of a brake bridge and, again, the smooth welding.
Disc brakes
The Alto Irpavi .004 use Shimano RS685 Flat Mount 140mm rotors, which begs the question why opt for disc brakes as opposed to caliper brakes?
The 39-year-old also said that despite his initial scepticism he has come round to the idea of disc brakes.
He argued that the weight penalty is minimal and the hydraulic casing now has a slight flex which provides more controlled modulation when braking. Moreover, maintenance is reduced due to the sealed unit and no cable stretching, as well as the extra clearance meaning the frames can accommodate wider tyres.
"I'm not a fan of tech for tech sake, but this [disc brakes] is the way forward," he said.
The Novatec CXD wheels have a claimed weight of around 1,600g and a wider internal rim of 17mm. The wider internal rim profile is said to fit better with wider tyres. Also, good news for those that like a more stealth look, the production wheels will come without decals.
>>> Is this the end for quick release wheels?
Keeping up with other new tech advances the Novatec wheels use a thru axle rather than quick release. Hoy explained one of the main advantages of thru axles, in addition to the increased in stiffness, is that when it comes to disc brake equipped bikes that they should make it easier to fit wheel without the pads from rubbing.
Watch: Five best disc brake bikes of 2016
Evans says that for Hoy bikes all customers will have the option to select the optimum stem length, handlebar width, layback and gender specific saddle.
Sir Chris said, as can be seen from his Twitter pictures above, that he opted to add some Dura Ace components and to use a 140mm stem to his bike. He also confirmed that his bike weighed around 8.1 kg.
There are three versions of the aluminium Alto Irpavi available (.002, .003 and .004) in sizes from XXS to XL.
The .002 costs £1,300 and is equipped with a mixture of Shimano 105/FSA components and Shimano RS505 Flat mount 140mm rotors. Whereas, the .003 is equipped with full Shimano 105 and Shimano RS685 140mm rotors and shall retail at £1,500.
The Alto Irpavi range is expected to be available before the end of the year.
In addition to the Alto Irpavi, the Calobra model is being replaced by the new Aomori collection of road bikes which come with either caliper or disc brake.
If riding about town is more your thing there is also the option of the new Shizuoka range. The whole Shizuoka range has been revamped with a new frame in line with the Alto Irpavi and Aomori models. The new model is said to be 150g lighter than its predecessor.
For more information on all of the new Hoy range of bikes go to Evans.
Thank you for reading 10 articles this month* Join now for unlimited access
Enjoy your first month for just £1 / $1 / €1
*Read 5 free articles per month without a subscription
Join now for unlimited access
Try first month for just £1 / $1 / €1