Circle of Hope charity rides head for North Wales mountains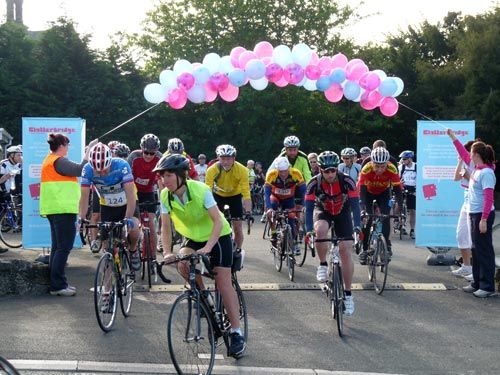 Clatterbridge Cancer Research (CCR) is based in Bromborough, Wirral and the Liverpool Cancer Research Centre. It receives no government funding and relies solely on the generosity of the public. The Centre needs over £2 million a year to sustain the work carried out by scientists, clinical trials nurses.
Website: www.clatterbridge.org
For the sporty sportive rider there is seriously challenging Gold Route, a 100-mile ride into the Welsh mountains.
This takes in Flintshire, Denbighshire, Wrexham and Cheshire. Riders climb up to Coedpoeth,  at 800 feet absl, one of several villages claiming to be the highest in Wales.
However,  Eglwyseg Mountain and the aptly named World's End are the highest points. Up there you feel as though as you are on the roof of the world, where the narrow road cuts through the spectacular moorland plateau high above Llangollen and the Horse Shoe Pass.
Teams of 10 or more entering will pay a reduced registration fee of £12 per person.
As incentive, those who raise over £75 will receive a free T-shirt while those who raise over £200 will be presented with a special cycling jersey.
The 25-mile Bronze Route doesn't  climb so high and takes riders across the Cheshire plain.
Registration costs £15. Participants are asked to pledge to raise to £30 sponsorship, although this is not compulsory.
The highest individual fundraiser will be presented with jersey signed by a member of Team GB.
Last year's inaugural ride attracted 100 starters and the organisers hope to attract 500 this year.
To take part in the event, readers can contact Samantha Archibald at Clatterbridge Cancer Research on 0151 343 4300 or email samantha.archibald@ccrmail.org. Or they can visit www.clatterbridge.org for more information.
Held in aid of Clatterbridge Cancer Research, the Circle of Hope event (May 16) offers three routes to choose from, a seriously challenging 100 miles or 50 miles into the mountains or a less demanding 25 taking in the Cheshire Plain.
This is the second annual Circle of Hope, which takes it's name from the village of Hope near Wrexham, some 12 miles from Chester. Start and finish is at Hope Parish Hall.
Hope is the operative word here, for the organisers hope for 500 entrants, five times more than  for the first event in 2009.  They ought to do it, for the area is a honey-pot for riders from all over, from Liverpool and Merseyside, Shropshire as well as from all over North Wales.
The Silver Route of 50 miles is also a challenge, following the same route as the "100" part way through Flintshire and Denbighshire.