The complete guide to the climbs of the Tour de Yorkshire
'100 Greatest Cycling Climbs' author Simon Warren gives you the lowdown on the major ascents in the inaugural edition of the Tour de Yorkshire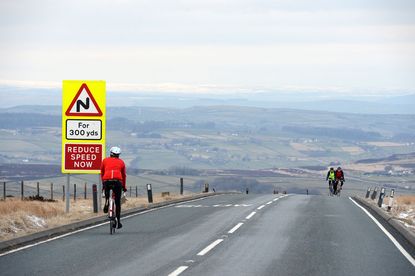 (Image credit: Andy Jones)
Although not quite as hilly as last year's Tour de France Grand Depart, the stages of the Tour de Yorkshire route are certainly lumpy. Here we take a brief look at each major climb over the three days' of racing between May 1-3 2015.
Stage 1: Bridlington to Scarborough, 174km
Côte de Dalby Forest
0.6km and Côte. Those two things may never have been seen together before and they certainly haven't on these shores but here they are, on this route up through the Dalby Forest. Climbing to the dizzy heights of 219m, this 600m stretch of road with an average gradient of 9% will do little more than wake the riders up.
Côte de Rosedale Abbey
As soon as we saw this we all shouted YES, Rosedale Chimney, but then we took a closer look, and our faces sank. Oh, it's not Rosedale Chimney, it's 'Rosedale Abbey'. In fact, it's a manufactured name for the climb that rises out of Rosedale on to the top of the Moor. So alas, no 33% hairpins and riders running in cleats, but this three kilometres of 7% gradient will be a solid test all the same.
Côte de Grosmont
Here we have and even shorter Côte, the Côte de Grosmont, at just 400m it is little more than a steep bump passing up, though and out of Grosmont. We assumed when we first looked that its course would continue to Black Brow on top of Sleights Moor but again it dodges a bullet and skirts along the hillside.
Côte de Robin Hood's Bay
This is the killer climb of the day, the showpiece, rising out of Robin Hood's Bay if you look on the OS map there are four gradient arrows along it's narrow 1500m. With an average slope of 10% this should be where anyone serious about winning this race must make it count and hopefully the attacks will come thick and fast on its vicious slopes.
Stage details for the first ever three-day Tour de Yorkshire are unveiled in Bridlington
Stage 2: Selby to York, 174km
Côte de North Newbald
Very similar in stature to the following Côte de Fimber, this lump on the landscape will offer no serious problems to the race as they roll round the Yorkshire Wolds.
Côte de Fimber
I believe the profile in the race handbook makes this climb look a little tougher than it actually is and as this is the flat sprinters' day, this climb is more of a token gesture to those riders chasing the climbers jersey. At just 1100 metres long with an average slope of 6.2%, expect to see plenty of big ring action as the peloton rolls over it as if it's not even there.
Stage 3: Wakefield to Leeds, 167km
Côte de Holmfirth
It's the Tour de France all over again, except it's not, this isn't Holme Moss, this is the other way out of Holmfirth heading east on the A635. At 2.2km and just over 5% it will do little more than speed up the digestion of the riders breakfasts as they roll up leaving the congestion of Holmfirth behind them towards higher, open ground and the Ford Inn public house.
Côte de Scapegoat Hill
This hill has already been singled out by many as a decisive point in the race. It's very early on the route but with 2km on an 8% slope some climbers could do some serious damage here heading up onto Wholestone Moor. A narrow road, lined with neat stone walls, it's packed with kinks and bends which will shake the bunch into life, and provided the local farmers allow it, there are stupendous viewing opportunities from the adjoining fields.
Côte de Hebden Bridge
Rising harshly out of Hebden Bridge this is the reverse of the route the Tour took last year. Known locally as Cock Hill, it's the longest climb of the day by far and its 4km will take the riders up onto Oxenhope Moor where the weather is likely to be a little more inclement than it was on that glorious day last July. Very claustrophobic at the beginning, the road squeezes out of Hebden Bridge rising up between high stone walls under the cover of towering trees before reaching Peckett Well where the scenery opens up and the slope eases.
>>> Tour de Yorkshire: The difficult second album?
Côte de Goose Eye
A short and savage little 20% ramp, yes 20%, that will hopefully catch many by surprise. There will be those powerful riders who will eat it up like a ripe apple but the rest will grind to halt on it's savage slopes that rise, twist right then left and will hopefully provide one of the highlights of the whole weekend.
Côte de Cow and Calf
This climb should provide that image of the race that will hang on everyone's wall when the dust has settled. The fantastic 17% slopes, lined with jagged outcrops of rock and boasting stunning panoramas will make this the most popular place to set up camp for the day. And of course it boasts the Cow and Calf Inn at the summit, but something tells us there might be quite a queue at the bar!
Côte de Arthington Bank
In the route book this climb is marked as a sprint, but we reckon this is where the whole race could be decided. At 1500 metres long and on an 8% gradient at the end of a long day this should make the final selection. The slope gradually bends left as it climbs obscuring the horizon which will make it hard to gauge any effort so riders wanting to utilise it will do well to do their homework first.
Thank you for reading 20 articles this month* Join now for unlimited access
Enjoy your first month for just £1 / $1 / €1
*Read 5 free articles per month without a subscription
Join now for unlimited access
Try first month for just £1 / $1 / €1