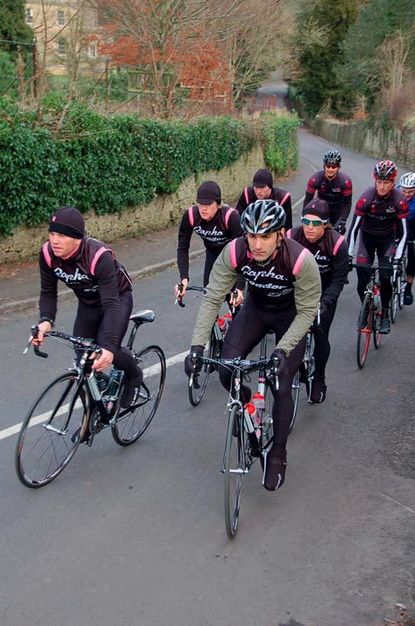 For those of you who follow the Premier Calendar, you may have noticed Ben Greenwood of the Rapha Condor Recycling squad finish a strong third in Sunday?s Tour of Pendle. After a long battle with injury, it appears that Greenwood is on the comeback trail.
Ben has been riding at elite level since 2003 and has several major victories to his name, including many premier calendar events but a maltracking kneecap injury ruined the early part of his season. However, he is currently enjoying somewhat of a comeback.
The injury meant that his kneecap was stuck in a groove, with bone rubbing against bone. A week off the bike in the early season probably triggered it, says Greenwood. The injury put him out of action for five months and ?most of the time I was only doing one hour a day (on the bike)?.
A fourth overall in the tough GP Cycliste de Gemenc stage race in Hungary augured well, which he followed up with a win in the Anderside Classic in Scotland, sixth in the East Yorkshire Classic and third in Sunday?s Tour of Pendle.
Ben suffered a migraine during Sunday?s race, something which affected him in his childhood. ?I?m not sure what triggered it?, he says. The migraine affected his vision from his right eye causing him to go back to the team car and explain his problem. ?I was waiting for (a team-mate) to come across? to the breakaway so he could retire but nobody came. ?Eventually it cleared and I was able to finish?, he explained.
This incident illustrates perfectly the Rapha rider?s determination to overcome setback and adversity.
The next targets on the climber from Lancaster?s calendar are the Tour of Ireland and the Tour of Britain, despite voicing his regrets that there not enough hills in the British Tour.
Click here for a Tour of Pendle race report.
Thank you for reading 20 articles this month* Join now for unlimited access
Enjoy your first month for just £1 / $1 / €1
*Read 5 free articles per month without a subscription
Join now for unlimited access
Try first month for just £1 / $1 / €1