COOKE FULFILS HER DESTINY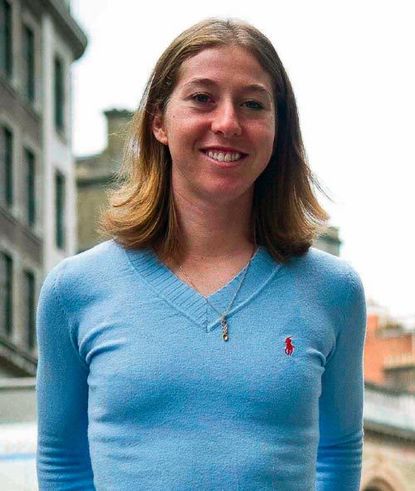 Get The Leadout Newsletter
The latest race content, interviews, features, reviews and expert buying guides, direct to your inbox!
Thank you for signing up to The Pick. You will receive a verification email shortly.
There was a problem. Please refresh the page and try again.
Winning the Olympic title would have been enough to grant her superstar status. But following that up with the first ever double, by taking her first senior women?s World Championship road race title in Varese, Italy, a month later, confirmed it. Nicole Cooke is truly a phenomenon.
And it meant so much to her. Her joyous reaction in the pouring rain as she outsprinted her rivals to win Britain?s first ever Olympic road title in Beijing, and then her first world road title in Varese ? she was ecstatic.
This was deliverance. What Cooke had dreamed of since being a schoolgirl, and had worked so hard for.
But it was also a triumph for the British teams who supported Cooke. Never before have we seen such powerful, tactically superior outfits in either women?s or men?s national teams. This was another feather in team director David Brailsford?s cap, and similarly for women?s team manager Julian Wynn, and the riders? respective coaches.
Of course, backing from Halfords Bikehut played a huge part, too, enabling Cooke to ride fewer events of her choosing in order to free up time for specific training with the rest of the squad. This proved crucial.
But, above all, the Cooke of 2008 displayed a maturity that can only come after six years of professional cycling.
We?ve watched her devour titles throughout her career, snap up junior titles at national and world level, then make the national senior road title her own year after year as she continued to improve her hits abroad.
She?s won World Cup events, the World Cup Championship, Grand Tours, Commonwealth Games medals and any number of national titles. Before this year, Cooke was a one-woman band when in GB colours. She had one or two capable team-mates at best, but the team lacked strength in depth, unlike the professional outfits she rode for during the rest of the season.
Cycle racing is a sport for individuals practised by teams, as Jean Bobet says in his recently published book, Tomorrow we ride. Without decent support, you can be the best rider in the world and yet never carry off the spoils.
Number ONE
This year, Britain cracked it, producing a national team fit to back the Queen of the road. And it threw up another rider who, given the right circumstances, might also win. That was something new for Cooke to deal with, for both Cooke and her team-mate Emma Pooley were considered possible winners in Beijing. I wanted to quiz Cooke about her feelings on this, and also to find out exactly what kind of state she was in the last dying moments of that thrilling World Championship road race.
Appropriately, I was to rendezvous with the world?s number one at a hotel aptly entitled ?ONE? ? a posh joint on London?s Strand.
She?d come directly with her PR manager from a Sunday Times interview and was casually dressed in jeans and a sweater.
She beamed when I told her the women?s world road race was the most exciting road race I have ever seen. Cooke has an open face and her expression often betrays what she?s feeling. She is patient and considers each question carefully, before giving full and frank answers and opinions. But don?t dare ask a naff question, as I did. Then you get the open-mouthed what-are-talking-about look.
When did she last ride her bike? This was a daft question, as it turned out.
I was thinking in track mode ? Chris Hoy, for instance, had hardly touched his bike for an age because of all the public appearances and official functions to celebrate the Olympic success.
I gather you won?t have touched the bike much.
?Pardon? That?s an odd question,? she replied.
?I had to keep riding for the World Championships!?
Yes, yes, of course, I countered, realising I hadn?t phrased the question properly. But since then?
?Well, I?ve been on holiday! Did a bit of cycling there. I chose to take my cyclo-cross bike and ?down train? or ?ride down? after the season!?
With that out of the way, we moved on to far more interesting matters and in much shorter time than I had envisaged, wrapped up the interview, knowing she was due to move on.
?Is that it?? she said. ?Ask me about food.?
Table talk
OK, what do you eat? I replied, thinking of real food on a plate. But I pretty quickly sussed her PR manager was behind this prompt, to push EAS ?doping-free guaranteed? nutritional aids. Cooke has been backed by them for a while, now.
She said: ?Couple of bars in the first part of the race, energy gel towards the finish.
What kind of bars?
She laughs. ?The Myoplex tropical and the banana flavoured ones. Then an energy gel.?
That?s for the sprint, it says in the handout her PR minder Katherine Selby gave to me.
Yes, I said to Cooke, but what about meals?
She trotted out the usual wholesome balanced menu thing. It?s all about timing. After training its important to have the proteins, getting the right quantity for the body and the work you have done. Getting them in at the right time when they can be most effective. You might have the most fantastic energy bar and protein drink but you take it at the wrong time?.
Sounded boring to me. What about fry-ups?
?Not for me, no,? Cooke laughed obligingly.
Cakes, then? Gateaux? That?s what Spanish training camps are all about, aren?t they? I said, pulling her leg. Cooke looked at me askance.
So you?re quite strict?
?It?s about having the balance. When I come back from training I have my post-ride training bar or shake or meal or whatever. Other days I may go in the pizzeria and have a coffee. It?s about getting the right balance.?
So, no chips? What about the pizzas and fried egg sandwiches? Like the American multi-gold medal swimmer Michael Phelps?
Cooke gave me that look.
THE OLYMPIC AND WORLD NUMBER ONE
How Cooke achieved her historic double
My first question to the Olympic and world champion after the unfortunate, ?When did you last ride your bike?? incident, was to ask whether her success had sunk in yet.
?Hmmmm. I think it will mean different things as time goes on,? she replied with a smile.
?Right now, I just think I am one of the happiest world and Olympic champions there has ever been. I?m just enjoying it.?
How often has she been feted since the Olympics and Worlds?
?Well I knew the World Championships were coming up and I wanted to enjoy the moment of the Olympics. I came back for a week at the end of August [for various receptions, including at the Welsh Assembly and in her home village of Wick]. They were fantastic events. I met up with so many friends and people who had been part of my Olympic journey.
Your dad must be proud.
She laughed and said: ?Probably.?
Curious reply, I thought. But didn?t pursue it.
?Probably lots of people are proud. It?s been very nice.?
We continued this preamble for a little longer; I thought it only polite. But I was itching to put questions to her about the Olympic and World title races she had won with such panache.
Cooke?s new approach
In Cycling Weekly, my colleague Edward Pickering, the deputy editor of Cycle Sport, reporting on Cooke?s win from Beijing, wrote: ?All the fluffed chances, near misses and frustrations in previous World Championships and Olympic races were forgotten. As Cooke said later: ?The only thing in my mind was the here and now.?
She told me how a calm descended on her after her Olympic success.
?I think what made the biggest difference was my approach before the Worlds road race. I didn?t feel like I was at a World Road Championship. I was relaxed; happy to be there. I wasn?t nervous like I was in so many of the previous years. And I think I had the self-assurance that I had achieved my career goal of the season at the Olympics and I didn?t have anything to prove. I could just enjoy it. And I think that was the feeling I took with me into the race ? I could just enjoy it. It was the World Championship and I was there as the new Olympic champion.?
So the pressure was off?
?Yes. I was enjoying the racing and just concentrating on doing the right thing at the right time. Which is what it?s like in every race, really.?
It sounds as if you have changed your approach to how you race. You said yourself, you take it ?moment by moment?.
She said she thought that during the build-up this year she had perhaps changed her approach to the races.
?It?s not just the final result and the winning that counts. For me, personally, it?s more important to be on the start line and say, ?Yes, I?ve done my absolute best, I?ve prepared as best as I could. And I can?t ask for any more.? Then I?ll try and do my best in the races, and if my best is good enough to win, that?s great. If it?s not good enough, I can?t ask for any more. And, as you know, at the end of a road race you always get a worthy winner as stronger riders come through, so you can?t do anything about it.?
How Cooke landed the World title
For many, including myself, the women?s Worlds road race was the most exciting road race finish ever seen.
When the former Dutch world champion Marianne Vos attacked for the umpteenth time in the closing metres, and Cooke lunged for her wheel, it seemed to me a last gasp attempt. That Cooke was saying, let?s just get that wheel and then we?ll worry about the sprint. And, of course, we saw Cooke get the wheel and then immediately attack past her for the title.
Did she know then that she was going to go past her?
?Well, I knew she had gone early. So it was a bit of a surprise when she came past me. And the automatic reaction is always; you then have to follow that. And it?s whether you follow it at your own pace and you know they are not going fast enough to come past you. Or they are going fast enough and then you have to get in behind them. So, a lot of things were, again, second nature. The natural reaction then was to get in behind her.
?And, I think, that was all happening sub-consciously. My main conscious thought was that really, it means I?ve got a chance. And that I think was what was really going through my mind.?
Did the manager on the radio play a part in your moves?
?Nothing in the last? Julian said it was down to the riders. We rode well. The support during the race was excellent. Lizzie was in the break. I think when it came to the finale so much was going on, it was down to the rider.?
What if Pooley?s OIympic move had succeeded?
I took Cooke back to the Olympics, to those moments on the climb when Pooley had broken clear.
I said to Cooke, what if Pooley had stayed away? Look, you are a natural winner, a ?killer!? (Cooke chuckled at that). If you had seen the slightest chance of escaping to join her, would you have?
Could she have sat back and played the team-mate, allowed another the glory she had craved? Did she ever contemplate that?
Cooke listened to this and didn?t bat an eyelid, nor betray any outward sign of emotion that this scenario would have caused her any grief.
?Well, the only thing I could do in that position was follow the riders trying to join her. There was no point in me personally trying to do it, because those riders would follow me and I would have taken Emma out of the race, in terms of undoing all the hard work.?
But had the possibility that things could have turned out differently, and Pooley might taken the title, ever entered her head? I restated.
?It?s what we spoke about in our race meetings and tactical meetings, months before. A few months before the Olympics we had a real sit down about the tactics ? six weeks before ? and we went through what would be the ideal scenario.
?Either Emma would go first and come off and we would win because of me blocking, or Emma?s activating the race would play into my hands and help me. So, you can?t do everything. You can only do the one thing you are physically capable of doing. She needed to use the long hills to her advantage and likewise I needed to use the punishing finishing hill for mine.?
I referred Cooke to a well-known incident, not widely appreciated at the time, when Bernard Hinault, the last Frenchman to win the Tour de France in 1985, could barely restrain himself from trying for a historic sixth victory, even though he had vowed to help his American team-mate Greg LeMond win in 1986. LeMond did win in the end, of course. But only after wising up to Hinault?s curious double-edged attacks targeting rivals which could so easily have caught out LeMond, too.
I wondered if there might have been a bit of Hinault?s approach in Cooke.
?I don?t know what was going on,? Cooke replied. ?But definitely at the Olympics, with so many people in such good form, it wasn?t a case of we?re the two strongest, we can play this out between ourselves. We had to save every ounce of energy possible, because we knew that everyone else would take whatever opportunity came their way. And, if we had spent most of the race tiring each other out, then it wasn?t going to help at all.?
Cooke?s plan ? an all-conquering British team
I recalled first meeting Cooke when she was 15 years old. That was 10 years ago, at Milton Keynes, when she told me then of her Olympic aspirations.
?That would be back in 1998,? she replied.
Now you have realised your dream, what is left for the new Cooke to focus on?
Her answer, to bid for the 2012 London Olympics title and to launch a new British team next year with the aim of conquering women?s world road cycling.
?The competitive nature in me still wants to keep on going. So my long-term target now is the 2012 Olympics. That?s very exciting. Another challenge all over again. It?s going to be a new journey starting.
I think that is what is great about cycling. The courses change, the riders change. As an athlete you?ve got different skills and the body is also changing and developing over time. So that?s the long-term racing goal.
?But, I think right now it has given me time to reflect on what I have achieved in my career up until now, and I have been able to realise my dreams that I?ve had since my first days when I started racing.
?It?s a wonderful opportunity for me and I would like to put something back into the sport; to help the next generation of talented riders come through. I?m working on my team now, which I want to take through for the next four years. It?s going to be based on the philosophy of preparing yourself as best as you can for the races and enjoying it. Because it is fun and you have to try and make sure that you don?t lose the fun, which sometimes happens when the racing can get too serious. That doesn?t mean we are going to take it lightly. We are going to be professional about creating a team and spirit where you?ve got balance between professional attitudes that are developing and enjoying it.?
Will it be a British team?
?Yes. We want to take British youngsters and I think create not just one of the strongest British teams but one of the strongest nations in cycling by the next Olympics.? The team was incredible in the Olympics and Worlds, I say, and Cooke agrees.
?Exactly. The opportunities are incredible. Not just the riders. The staff I?ve worked with over the last 12 months to achieve the Olympics and World title. I really want to keep on working with that group of people and basically, spread it.?
Will Halfords Bikehut remain as sponsor? She hoped so. When will she be announcing her team? Not yet.
?We are working on it now. We?ve got people in place. That is the most important thing. If we can go forward, continue the good work which we have done this year, it will be great.
?Halfords have been very supportive this year. They gave me the opportunity ? which no other team support has given me ? to enable me to really concentrate on the Olympics and Worlds this year.
I asked her about doping. Is doping still going on in women?s racing, as in the men?s?
Cooke remained silent for a while ? she is strongly anti-doping and the subject irks her.
?Yes. There is doping in women?s cycling just like there is in men?s. No matter what you achieve as a rider you have to look at yourself in the mirror and you have to live with what you do for the rest of your life.
?So,? and she smiles, ?I want to be happy when I look in the mirror. And every rider has to make their call with what they are happy with.?
Has she seen anyone in any of the races she thought might be doing stuff?
?I don?t think about that. That is something beyond my control. I take pride in the way I race, and the results I achieve are down to my own hard work.
I asked if her aggressive riding style wore her bikes out. I can recall how former world champion Tony Doyle, for instance, wore front tyres out faster than the back. At speed his shoulder work gave the front wheel more grief. Cooke thinks for a moment and says, no. She?s not worn her bikes out. But, she said, having a good pair of rigid wheels, with the emphasis on rigidity rather than having the most aero rims, has worked well for her.
?The Boardman bikes that I?ve ridden have been really good and have lasted well.?
And she is pleased with the new cycling book, written with Steven James and fully illustrated: Cycle For Life. It?s full of tips for all types of cyclists: for commuters, leisure riders and aspiring racers.
?It was fun to do,? she said.
VISION 1 Racing is the new team for Nicole Cooke, announced a few days after this interview.
This interview originally appeared in Cycling Weekly October 23 2008 issue
RELATED LINKS
Rider Profile: Nicole Cooke - results, stats, photos
Thank you for reading 20 articles this month* Join now for unlimited access
Enjoy your first month for just £1 / $1 / €1
*Read 5 free articles per month without a subscription
Join now for unlimited access
Try first month for just £1 / $1 / €1
Get The Leadout Newsletter
The latest race content, interviews, features, reviews and expert buying guides, direct to your inbox!
Founded in 1891, Cycling Weekly and its team of expert journalists brings cyclists in-depth reviews, extensive coverage of both professional and domestic racing, as well as fitness advice and 'brew a cuppa and put your feet up' features. Cycling Weekly serves its audience across a range of platforms, from good old-fashioned print to online journalism, and video.