Cookson: We could see disciplinary action from CIRC findings
UCI president Brian Cookson says he may ask the CIRC to provide extra information to aid any potential disciplinary action arising from its report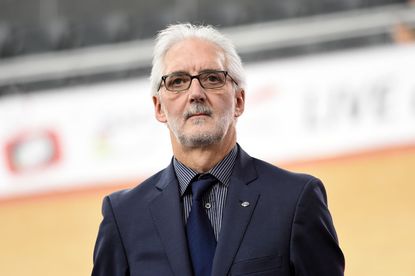 UCI president Brian Cookson has not ruled out disciplinary action based on information in the report from the Cycling Independent Reform Commission (CIRC) into doping and corruption in cycling and the UCI, published today.
"I understand that there are witness statements and that was given under condition of confidentiality, however it may be that we can look at some of these contributions with a view to learning some lessons at some point in the future," Cookson told Cycling Weekly.
"I don't rule out disciplinary action as a result of some of the information that the commission discovered. So we will be analysing anything that we can, and if we feel that there might be additional information elsewhere in the papers and the files of the commission, we will ask for them to reveal it to us."
>>> McQuaid and Verbruggen hail CIRC for clearing them of wrongdoing
Despite being 230 pages long and containing testimony from 174 individuals involved with the sport, the report preferred broad statements and generalizations over specific information and details. This anonymity was one condition attached to testimony.
One area that came in for particular criticism was the Therapeutic Use Exemption (TUE) system, with the report citing claims from doctors interviewed that riders and teams are routinely taking advantage of TUEs in order to use corticosteroids to lose weight and enhance performance.
>>> Lance Armstrong praises CIRC anti-doping report
Cookson explained the UCI was limited by the World Anti-Doping Agency (WADA) Code regarding reform of the TUE system but explained he was keen to address their inappropriate use.
"TUEs are allowed under the WADA Code, but what we've got is a particular set of circumstances where TUEs are being used in a way that is problematic," he said.
"I'm not referring to any individual or case, but it does appear to be the case that TUEs are being used in a way that is probably inappropriate. If it's the case that a process is open to misuse or abuse, then we've got to look at how we can do a better job at controlling that."
>>> What did we actually learn from the CIRC report?
The UCI also hopes to introduce a 'fit and proper persons' test for team officials, doctors and medical staff. Many former riders who have served bans for doping are still involved in the sport; Alexandre Vinkourov and Bjarne Riis are both managing teams.
"We do have some difficulties with statute of limitations and employment law," Cookson said. "As we've seen in other case that the UCI has handled recently, we have to be absolutely certain that if we take action it is legally defensible. We can't always give a knee jerk reaction to things; that's what's gone wrong I would suggest in the past."
"I do think we've got to look again at a whole range of issues, like TUEs, like how and where out of competition testing is carried out, even these dreaded middle of the night anti-doping tests that are proposed; I know they would be unpopular with the riders, but maybe that's the price we have to pay.
"Continuing to operate in a way which has the support of WADA and the various anti-doping organisatiins and stakeholders, all of those things are important. But I'm also calling on riders, teams, sponsors, suppliers, all to take their responsibilities seriously as well."
Thank you for reading 10 articles this month* Join now for unlimited access
Enjoy your first month for just £1 / $1 / €1
*Read 5 free articles per month without a subscription
Join now for unlimited access
Try first month for just £1 / $1 / €1
Richard Abraham is an award-winning writer, based in New Zealand. He has reported from major sporting events including the Tour de France and Olympic Games, and is also a part-time travel guide who has delivered luxury cycle tours and events across Europe. In 2019 he was awarded Writer of the Year at the PPA Awards.