CIRC report says UCI hindered anti-doping efforts
The key points of the findings in the Cycling Independent Reform Commission's investigation into doping practices and allegations of corruption within the UCI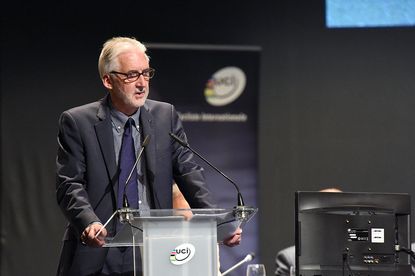 (Image credit: Graham Watson)
If you were hoping for lurid revelations to emerge from the Cycling Independent Reform Commission's report into cycling's doping culture and allegations of corruption at the UCI, then you might be out of luck.
Stretching to more than 200 pages, the report is a small step towards understanding the complex narrative that it describes as the sport's former 'endemic doping culture', as well as consistent allegations of corruption and failures of governance within cycling's governing body, the UCI.
The report stops short of any charges of corruption within the governing body, but highlights significant levels of incompetence and mismanagement of anti-doping procedures and transparency, as well as substantially covering the UCI's inappropriate relationship with Lance Armstrong.
Here you can find a summary of main findings from the CIRC investigation, as well as some of the Commission's recommendations.
If you want to read the full report, you can download it here.
UCI governance
The report's main findings focus on the UCI's anti-doping practices. In particular, it is highly critical of what it calls an "autocratic" institution. Former presidents Hein Verbruggen and Pat McQuaid are portrayed as frequently circumventing procedure, intervening in independent committees (including the Cycling Anti-Doping Foundation) and generally making any decision they desired with no consequences. While the former was credited by interviewees as at least being strong in his decisions, McQuaid was described as a "weak leader".
A "siege mentality" and disputes with other organisations (particularly WADA) are highlighted as examples of poor management and leadership since 1992, with a personal rivalry between Verbruggen and Wada president Dick Pound hampering due process within the UCI.
The CIRC's main criticism is that Verbruggen was acutely aware of the endemic nature of doping and yet continued to try and "contain" it, saying that his methods were only to give "the impression that cycling was trying to address the doping problem". This specifically concerned the UCI's approach to out-of-competition testing.
The report also highlights the "poor public management of crisis situations" as well as alleging that management provided favourable treatment to big-name riders such as Lance Armstrong and Alberto Contador. It says that this has led to the cycling community's mistrust towards the UCI.
Lack of transparency in elections, threatening and silencing of opposition and a governance deficient in democracy within the organisation also makes for damning reading.
The CIRC acknowledges that while the UCI has had made progress in tackling doping in recent years, its anti-doping regime still does not operate to its full potential. The report notes that micro-dosing to avoid detection by the biological passport is a serious issue that needs combating.
Lance Armstrong
The alleged cover-ups
As you might expect, Lance Armstrong is a significant figure within the report's findings.
Allegations that the UCI attempted to cover-up positive tests from Armstrong in exchange for money have lingered for sometime now, but have never been firmly established.
Specifically, this concerned rumours that Armstrong tested positive at the 2001 Tour de Suisse and paid the UCI to make it go away, as well as the American supposedly contributing to the Vrijman report which began in reaction to allegations in 2005 that he had retroactively tested positive for EPO in the 1999 Tour de France.
CIRC says it has no evidence that money Armstrong donated to the UCI could be connected to cover-ups of tests, and that donated money was all recorded as being for the "fight against doping".
Favourable treatment
The report was unequivocal in its indictment that the UCI had been working in tandem with Armstrong for personal gain.
This particularly concerns the UCI using Armstrong's profile to advance the status of cycling and closing its eyes to whatever else was going on.
In fact, the report highligts eight events from 2001 up to 2012 that should have led to a closer investigation of the American rider.
The report implies that Armstrong was allowed to resume riding early for the 2009 Tour Down Under in exchange for riding the Tour of Ireland (which was organised by people close to McQuaid). It also cited Verbruggen's interference in the 'independent' Vrijman report, and allowing Armstrong's team to amend the report.
Even in 2012, as USADA closed in on Armstrong, the UCI was still hoping the Texan would get off for the sake of image, as this letter between UCI legal counsel Philippe Verbiest and McQuaid shows.
"This may be lethal if it is shown indeed that LA doped," Verbiest wrote. "For the sake of the image UCI has an interest that LA is acquitted as otherwise UCI will be seen as not having done its job properly and as having 'protected' LA. In addition the whole LA period, cycling's pop star and above all cycling's credibility will be in the drains. On the other hand, for the sake of the fight against doping UCI cannot object (or be seen to object) to the truth coming out."
TUEs
More than one interviewee stated that they believed Therapeutic Use Exemptions were and are "systematically used" as part of doping. Moreover, one rider who spoke to CIRC claimed that 90 per cent of all TUEs were used for performance enhancement.
The report shows the UCI has been weak in this area, allowing riders to consistently bypass the rules and provide backdated prescriptions for use of corticoids for example, including Armstrong for testing positive at the 1999 Tour.
The furore around Chris Froome's TUE at the Critérium du Dauphiné last year doesn't go unmentioned, as the CIRC recommends a review of how TUEs are granted and that medical issues in the peloton are given closer attention.
Amateur and masters doping
There is a strong belief within the report that doping is spreading to amateur cycling, where testing is much more sparse and access to drugs is much easier through the internet and gyms.
Reports of masters riders performing like pros on EPO, and Gran Fondos plagued with doping, make for a chilling picture of cycling beyond the pro peloton.
"Some professional riders explained that they no longer ride in the Gran Fondos," the report reads, "because they were so competitive due to the number of riders doping."
Youth riders are also still extremely vulnerable to doping, claims CIRC, with incentives to dope to reach the next level. The report urges the UCI to implement education schemes to try to combat the problem.
Technical cheating and race fixing
There was concern expressed in the report over the possibility of a growth of 'technical cheating', with riders adapting or using equipment illegally to make gains. Interviewees told the Commission that technical cheating was becoming more widely used, since the effects of doping has decreased with advances in testing.
The report asks for the UCI to make regulations on equipment clearer, while it briefly addresses the grey area of race fixing. It doesn't make any reference to any specific cases, including the ongoing Alexander Vinokourov and Alexandr Kolobnev bribery allegations.
Women's cycling
CIRC says it "regrets" that it couldn't investigate doping within the women's scene, but said that it believed that while doping existed, it wasn't as widespread as on the men's scene. However, it warned that procedures should be put in place now to prevent it becoming a major issue.
Worryingly, the Commission said it was given examples of female athletes being exploited financially and sexually by management staff that is primarily made-up of men, and encouraged the UCI to investigate.
Recommendations
UCI should work closer with governments and authorities
Doctors found guilty of doping practices should have their general practice licences investigated
Leaks, or "public shaming" of alleged dopers should be stamped out to conserve resources and maintain credibility
Conduct a "prevalence study" of doping in amateur cycling
Adopt qualitative testing, rather than quantitative
Use night-time testing rule exception for suspicious riders
Systematic retrospective testing and restesting as a deterrent
Setup an independent "whistleblower desk" to allow people to come forward with information
Investigate those involved in doping as soon as possible as well as those in who may have been involved in the past (subject to statute of limitations)
Notable interviewees
174 of those interviewed by CIRC allowed their names to be published (list available in report), including riders, former riders, team personnel, UCI affiliates, national federation staff and journalists. The Commission didn't state whether the testimonies would be handed on to the UCI for further investigation if it called for it.
Leading names include:
Nicole Cooke (former pro rider)
Lance Armstrong (former pro rider)
Tyler Hamilton (former pro rider)
Scott Mercier (former pro rider)
Riccardo Ricco (former pro rider)
Michael Rasmussen (former pro rider)
Bobby Julich (team personnel/former pro rider)
Bjarne Riis (team personnel/former pro rider)
Alexander Vinokourov (team personnel/former pro rider)
Jonathan Vaughters (team personnel/former pro rider)
Brian Cookson (UCI president)
Hein Verbruggen (former president)
Pat McQuaid (former president)
Dick Pound (Wada)
David Walsh (journalist)
Thank you for reading 10 articles this month* Join now for unlimited access
Enjoy your first month for just £1 / $1 / €1
*Read 5 free articles per month without a subscription
Join now for unlimited access
Try first month for just £1 / $1 / €1
Follow on Twitter: @richwindy
Richard is digital editor of Cycling Weekly. Joining the team in 2013, Richard became editor of the website in 2014 and coordinates site content and strategy, leading the news team in coverage of the world's biggest races and working with the tech editor to deliver comprehensive buying guides, reviews, and the latest product news.
An occasional racer, Richard spends most of his time preparing for long-distance touring rides these days, or getting out to the Surrey Hills on the weekend on his Specialized Tarmac SL6 (with an obligatory pub stop of course).